Its about you
2oceansvibe.com is a local Cape Town based lifestyle website run by Seth Rotherham.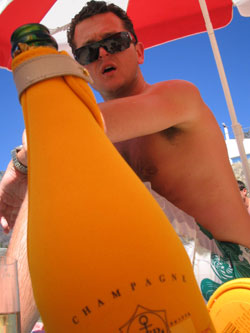 Seth grew angry with the empty bottle of Veuve
Seth is in his late 20's and lives on the Cape Town Atlantic Seaboard. In his quest to live by the 2oceansvibe slogan, 'Work is a sideline, live the holiday', Seth makes the most of the city of Cape Town - enjoying the best there is on offer, from sea and sand to restaurants and nightclubs, insisting on only the best service wherever he goes.
With a particular weakness for the finer things in life (including his 'angels'), Seth spends his days (and nights) playing nicely with Cape Town's fun loving locals and visitors.
Using a special brand of humour (and unable to avoid his own idiosyncrasies) - his thoughts, reports and writeups often result in brutal, hilarious commentary. This is further fuelled by Seth's unique network of friends and contacts which, due to their great diversity, allow him more accurate and further insight into topical conversation.
You'll find yourself slipping into the 2oceansvibe community pretty swiftly. You'll see why so many people are unable to get through the day without their 'daily dose of 2oceans'.
It is highly advised for new users to take some time off and go through the ENTIRE 2oceansvibe archives. CLICK HERE FOR ARCHIVES.

Below is Seth's toast to the 2oceansvibe readers before 2oceansvibe's second consecutive overall victory in the 2006 South African Blog Website Awards.
Click HERE to get in touch