Tim Henman - The People's Loser
[permalink]
[ THIS ARTICLE IS FROM LAST YEAR
AND WILL BE REPEATED EVERY YEAR
AROUND WIMBLEDON TIME, AS IT WILL ALWAYS APPLY.
ITS ABOUT TIM HENMAN
THE FOUR-TIMES WIMBLEDON SEMI-FINALIST ]
One of the joys of getting SKY News (besides from being able to view live footage of English Football Yobbos preparing for Euro 2004) is the exposure we get of 'COME ON TIM' fever! I used to think it was reserved for Wimbledon but it looks like we get it throughout the year! And what fun it is to watch!
It is virtually every sportsman's hidden superstition that his performance can be 'jinxed'. Particularly through something verbal. The dictionary definition explains the word as 'bad luck, or a person or thing that is believed to bring bad luck. My trusty Microsoft Word thesaurus gives 'curse' and 'gremlin' as alternatives. 'Gremlin' did not give Bishop Tutu's name.
Supporters of various sportspeople and sports teams would never dream of uttering words like "God, I hope De Wet Barry doesn't get injured". It just wouldn't make sense to risk such magical mystery.
Then you get the British Public who, fully aware of the potential power of 'jinxing', manage to give Tim Henman more exposure before an event than any other individual in the world. Not that other nations don't support their players - it's just the way the press over there handle it.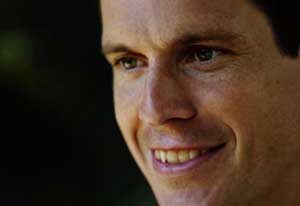 Here we see Timiny, wearing his trademark gum-guard.
Living in London for just under three years allowed my digs mates and I to witness it first hand every year Wimbledon came around.
"COME ON TIM ! YOU CAN DO IT"
.......would not seem out of place in the slightest. They never go for 'Good luck, Tim' or 'Do your best'. It always seems to be in the form of a whine and the annual question..... 'Is this Tim's year?'
They were having discussions yesterday on Sky about exactly that -'Is this Timiny's year'! What they are referring to is obviously the winning of something big. I browsed over Timiny's website which produces some very dull stats. He won the Paris Masters last year, but really, it's not Wimbledon, its not the US Open, it's not the French Open, it's not the Ozzie Open, its not Stella Artois!
He has won three singles titles since October 2001 - The Adelaide International Series (Jan '02), The Washington International Series (Aug '03) and the Paris Masters (Nov '03).
I notice on Sky News that they are now whining before every event. This time the Stella Artois Championships. Yesterday they had Tim interviewed with the hopes of a nation clearly on his shoulders (once again). Needless to say he was knocked out of the second round! I nearly fell over this morning when I turned on the news. Please do yourself a favour and get the Daily Telegraph today. God, the pain of seeing another full front page pic of Tim dealing with the letting down of a nation.
I wouldn't be surprised if they hit him with 'WAIT FOR WIMBLEDON TIMINY - YOU CAN DO IT !!!' tomorrow.
Needless to say, I think the poms need to do everyone a favour and back off a bit. The guy must be wearing hair dye because you have to be completely grey to deal with the kind of expectations and let downs he does.
It would probably help if Timiny was less of a nerd, mind.
I don't know if I will be able to cope with him actually managing to win Wimbledon so I'll get it started.......
GO TIM !!
WIMBLEDONS YOURS FOR THE TAKING
YOU CAN DO IT
Seth Rotherham
Editor
2oceansvibe.com
[permalink]