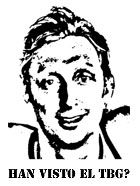 Have YOU seen the TBG?
CLICK HERE
To order your TBG
TBG-shirt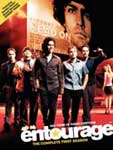 ENTOURAGE DVD
SERIES 1, 2 & 3
CLICK HERE
CLICK HERE
TO DOWNLOAD
THE CAPE TOWN
SUMMER RAP
"NO MATTER"
BY WILL & G
RESTAURANT / CLUB REVIEWS
Cape Town
Below you will find Seth Rotherham's reviews of random Cape Town restaurants (including markets and food/health shops), bars and nightclubs including:
Wadda, The Woodstock Market, Riboville Restaurant, The showroom (theshowroom), Miss K, Mombasa Cafe, Cafe Roux, Arnold's, La Cuccina, Blues, Manna, Caprice, Bayside Cafe, New Cafe, Hemisphere, Yindees, Codfather, Nelson's Eye, Colcacchio, Baraza, Mugg and Bean (Waterfront), Vacca Matta (Durbanville) and Tuscany Beach.
Enjoy - Seth Rotherham
7 July , 2008
50% OFF SUSHI
Salushi Intaba sushi and noodle restaurant in Claremont
[permalink]

Surely that MUST be something to talk about? I mean, half price ribs at the Cattle Baron wouldn't be headline news, but SUSHI - well, that's another story altogether!

If there was ever a special to track down..
So someone from the internet sent me this little titbit about a 50% off special at Salushi sushi restaurant in the Intaba Building, Claremont.

Nothing wrong with that, I thought, given the volume of the well-heeled student angels pouring out of the foyer of the exclusive Claremont development. That was almost CERTAINLY one of the highlights during my last visit to Salushi! (Sister restaurant to another fave of ours - Wakame on the Atlantic Seaboard).

God, I miss the 'burbs sometimes..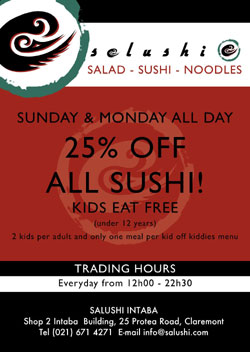 Now I know what you're thinking. That little flyer doesn't say anything about 50% off. But don't worry about that, I did the legwork and managed to get you the following info:
Salushi specializes in Salads, Noodles and Sushi and we've recently introduced some fabulous soups onto the menu including a Tom Yum Soup, a Spicy Butternut Soup and a Laksa Soup and will be pushing these together with a choice of a Spring Roll, Fashion Sandwich or Noodle dish as a Winter Special Promo.

We have a 50% off sushi promotion between 12pm and 3pm Tuesday – Saturday (on presentation of leaflet) and 25% off all sushi all day Sunday and Monday (kids eat free off the kids menu).
So there you have it. Don't say I don't love you.

CLICK HERE for the 50% off voucher
(print it out and present at Salushi for 50% special)



Seth Rotherham
Editor
2oceansvibe.com
[permalink]
10 March , 2008
MOMBASA CAFE DOES NOT HAVE TABASCO
Is coincidentally the most empty restaurant in Cavendish
[permalink]

I'm spending a bit of time in Claremont today - getting back to my roots and all that. I dropped off my car at Hannibal's car wash and sauntered into Cavendish Square to find a little spot to write you something titillating; something completely different to what I am writing about now. I wandered around, looking for somewhere not too obvious and away from the madding crowds of suburbia. I knew exactly where to go - the restaurant where Scoozi's used to be. It's ALWAYS failed and it's ALWAYS empty - no matter WHAT the name or who owns it. Perfect for a spot of work and some peace and quiet.

True as God, there it stood - as empty as a priest's conscience.

Welcome to Mombasa Cafe!

Mombasa Cafe - you can hear crickets in the background
Not that I was going to judge them for being empty. The only waiter in the establishment welcomed me as I chose a seat, suggesting he brings me a lime and soda with the menu.

I opened up my divine little Sony Vaio laptop as the drink arrived.

My SHOCKING toasted chicken mayonnaise experience at the Kelvin Grove pool on Friday (where I chilled before getting ready to watch Rupert Mellor and the Thunderbirds in the Kelvin Grove ballroom) had left me yearning for a decent variation, so I gave my order to the waiter.

"Toasted chicken mayo on wholewheat please with chips. Please also bring some cheap white vinegar, Tabasco sauce and a Hansa." (They didn't have Jack Black).

"We don't have Tabasco sauce," came the reply.

"Chrrrrrist, are you fucking serious?"

"Yes Sir"

"Must I go and buy some for you?" I asked.

"Heh heh," he laughed nervously. "Can we make you some fresh chilli?"

"Yes," I said. "I won't use it but I want you to make it as punishment."

Off he went to put in the order, as I decided to write this article. The beer never arrived as our boy fucked off out of the restaurant for over 10 minutes. I kept an eye on the bar to see when the beer would appear so that I could fetch it myself.

Freak Show came back and I asked him how the beer was looking. "Oh shit" came the reply as he sprinted to the till, realising he had forgotten to put the beer order in. Bearing in mind that I was and STILL AM the only person in the restaurant. WHAT a fucking knob-end!

He brought the beer and the food which was fine, I suppose.

Whilst I was eating I heard a discussion between him and the barman where he mentioned, somewhat surprised, that La Scala and MOST of the other restaurants in Cavendish Square were full.

Yes, my love, they are full.

And I am still the only person in your restaurant.

I wonder why.

I'm not saying the reason is because you don't have Tabasco sauce - but I'm quite sure it's helping your quest for zero turnover.

Good bye.

Seth Rotherham
Editor
2oceansvibe.com
[permalink]
12 February, 2008
MISS K FOOD CAFE - GREEN POINT
Squeezes in, and stretches out
[permalink]

You may have noticed that new block to the right of the Vida e block on Somerset Road, Green Point. You may not have noticed our new favourite eatery called "Miss K - Food Cafe" that sprung up out of nowhere. I popped in the other day.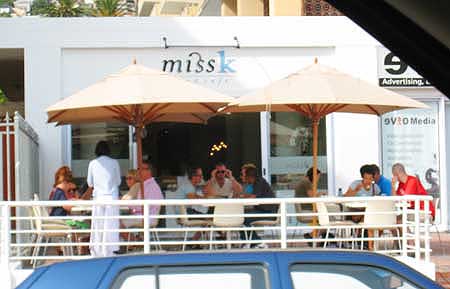 miss k
People who go there get laid more often
than those who don't.
FACT.
I worked out that the name of the food cafe comes from the name of the delightful owner and chef, Kirsten! Miss K = Kirsten. See what she did there? No? Well, she took the first letter of her name and then...... I'm kidding.

So anyway I cruised in there the other day. It's so fucking cool. There's plench outside space and the sun pumps it beautifully, with umbrellas if you need a bit of shade for your pip. There is enough parking for an oil rig so you won't be a dithering wreck when you walk in. The vibe inside is perfect - clean lines, slick, happy, with skylights. Apart from free standing tables and food display area, I enjoyed the other section set alongside the open kitchen, with a strip of tables and sexual padded seating all along the one wall. Like something you'd fine in New York or something. It's so fucking cool. It's like "Hey - I'm eating heeeere!"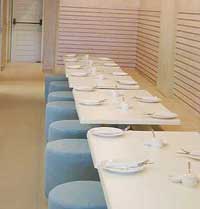 Too cool
So after being blown away to smithereens by service so rarely found in Cape Town (Manna Epicure might want to pop in with pen and paper), I was very pleased with the menu which had everything Daddy Cool wanted. They've got a similar (but better) range of chow to Melissa's with buffet etc., and the bill arrives with one less zero.

I've eaten there a couple times now and, besides my daily visit to Vida e next door, this little place is quickly becoming a permanent fixture for me on Somerset Road. The food is quick and so very very tasty - probably tasty enough to please Kirsten's string of past private contracts for some of planet earth's most famous sportsmen.

You'll enjoy it.

Feel the food inside you.

Miss K is open from Tuesday to Sunday.

That's right - Sunday as well.

Go today.

Go now.


12 November, 2007
CAMPS BAY VIDA E CAFFE OPENS
The Strip is complete
[permalink]

I surveyed Camps Bay from The Safe House, caned a joint, hopped on Libby (my scooter) and took a cruise to The Strip to scope out the skirt. You'd be a fool not to on a day like today. I liked what I saw. I parked the beast and made a couple calls on the grass section between the road next to Caprice and the beach. It's a good spot to make calls. Try it. The next time you're nearby and you have some calls to make, park your car and make the calls on the grass. The sea air will do you good. I mean, Christ, look at yourself - you're a fucking WRECK!

Whilst brokering a deal between two global superpowers, I noticed a bit of movement a little further down The Strip - in the new section that we chatted about the other day.

"Well lookie here," I mumbled under my breath, intrigued, as the person on the other end of the line carried on about "diplomatic pouches" and the like.

Yes.....as I thought, the new Camps Bay Vida e Caffe had opened!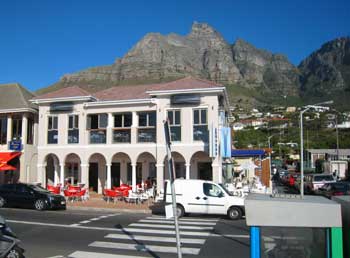 The red chairs - very naughty
"Whatever, Gordon, I've heard that bullshit before" I said, as I hung up the phone and directed my important-looking phone-pacing towards the red chairs.

Ja, look, there is no question - this is easily going to be the coolest Vida yet. I mean, the others are cool - but this one is going to be a joke. It's all so perfect - you've got Cappers on the one corner, and Vida on the other - and enough beautiful babies to fill them both! With every hour of the day suiting one of the two, and ablutions on hand when you need, you could probably LIVE there.

The boyz..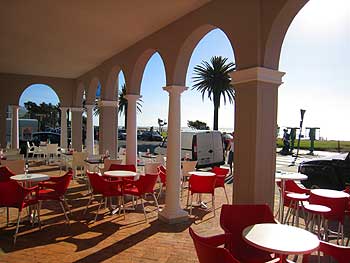 Fine..
Yes...yes. That's all fine.

I think you''ll find the house beer and wine working particularly well at this branch...


Welcome to The Strip, boys.


| Seth Rotherham
Editor
2oceansvibe.com
[permalink]
25 September, 2007
ALL'S WELLNESS THAT ENDS WELLNESS
The Wellness Warehouse opens on Kloof Street and blows us away
[permalink]

One of the rules that I constantly try and enforce on myself is not to stock up on junk food. If I have the need for chocolate or biltong or sweets of any sort, I am forced to go to the shops and get it. I can't keep a stock of sweets and only tickle it now and then. I can pretend to, but that only lasts a couple of hours and before I go to bed I would have devoured all of it and found myself positioning mirrors in the hall at the Safe House to get a good view of the TV as I settle into a painful extended stay in the bathroom. (I don't think that was too graphic? I mean, I didn't use words like stool or anything).

Another angle to the problem is going to shops for something good (healthy), and being tempted to buy crap at the same time. It's like running the gauntlet when you're queuing at Woolies and you find yourself subjected to temptation only Eve could describe. It's radical - you are surrounded by enough chocolate and sweets to give you full-blown acne and an extra 3 kg's by sunrise. Sin, sin, sin!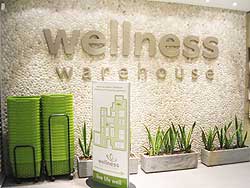 You'll have your own reasons why you love it, but for me the Wellness Warehouse in Cape Town's Kloof Lifestyle Centre on Kloof Street is what I call a "safe zone" - you can do what you want, buy what you want and EAT what you want with COMPLETE gay abandon and you won't hate yourself when you're done! PERFECT!

I don't know where to start but this place is a complete mind fuck! It is MASSIVE and basically takes up the whole of the Kloof Lifestyle centre's top section. It doesn't end! You walk in and see the usual mainstream convenience products lined-up over several aisles and are impressed by the pharmacy in the other corner - reminding you of of a classic Boots setup - but then you realise that this theme takes up only a QUARTER of the store.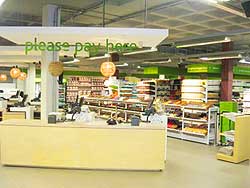 You walk further and discover what-can-only-be-described as four or five other themes. Like you've walked into a CENTRE of sorts, with different stores offering different things - all falling under the heading health and wellness. But this is not a centre, my friends, this is ONE FUCKING SHOP! You'll never want to leave!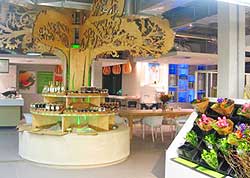 One section is dedicated to supplements and complimentary medicine, whilst another offers pilates and sports equipment. You go further into the wonderland of health and notice a plants and flowers section, a book shop focusing on body, mind and soul, a naturopathic dispensary, a spa (full, including hairdressers, massages etc.), standard cosmetics section including the likes of Clarins and Garnier, a section with stuff that is normally hard to get (like Dermalogica), a food market with wide organic choice and even recommended special bed mattresses and shower heads demonstration area! Then, just when you think it's all over, you collapse in the deli section with full Kauai-type counter with sandwiches, smoothies and everything else you want to gobble up. It is completely out of control!
Just like the question "have you joined facebook" was on everyone's lips for WAY too long, "have you been to the Wellness Warehouse" is picking up momentum and I SUGGEST you get your answer ready. Go there, and you'll be pleased you did. You'll get lost and won't want to leave. Then you'll go again. And again. Then you'll join discussions over dinner asking WHAT we did before the Wellness Warehouse came along. Like HOW did we cope without cellphones? It's the same thing - but it doesn't give you radiation burn.

It's ALL good and it's something you have never experienced before. It makes the classic South African retail experience look like something out of Tarzan.

You'll love it! I suggest you get in there quick!

Look at yourself man, you're a WRECK!!

Seth Rotherham
Editor
2oceansvibe.com
[permalink]
13 August, 2007
OPIUM ON THE BEACH - SHAME
The self destruction continues
[permalink]

So Thursday was a holiday and nothing had been planned for Wednesday night. I was meant to be sick so didn't want to drink a lot of alcohol (I have a weird recollection of a Doctor, somewhere, telling me that "a little bit of alcohol is actually quite good for you"). I had given G-man a guilt trip recently about neglecting me and we agreed to do some "boys time" at Opium on the beach (Caprice is being renovated and I'd rather go down on Manto than deal with Tuscany Beach). G-man said there was a pool table at the back of Opium and the novelty of playing pool next to the beach appealed to our senses. We drank a bottle of JC le Roux sparkling at The Safe House (sorry Mum, the Pierre Jourdan was finished and someone gave the JC as a gift) and rumbled down the hill for a spot of pool.

Shame
The muffshow began when we ordered two whiskeys and acknowledged to the barman that we would like to start a tab. The barman asked for a credit card to secure the tab, which I handed over as we walked towards the pool table. G-man and I had already started the "you know I'm going to kick your ass" banter, when the barman shouted out something that sounded like "mehvarentou shia bwemer."

"WHAT?!?!?!" I asked, squinting my eyes as I turned back from what was a very excited walk towards the pool table.

I walked ALL THE WAY BACK to the bar and asked what could possibly be the issue that is holding me back from my first "on-the-snap-Vincent" Color of Money break I was about to give.

"Your name" was all the barman said, as he waved my credit card in the air - referring to the tab that he was starting.

"My name," I asked?

"Is that a sentence? What about my name? Don't you like it," I enquired - confused.

"I need your name for the computer so I can start a tab," came out of his mouth.

"Well, let's think about it," I suggested. "Why don't you put it under 'theonlypeoplehere' or 'pooltable' OR, now this is just thinking out the box, YOU COULD LOOK AT THE NAME ON THE CARD YOU'RE HOLDING IN YOUR HAND WHICH FEATURES MY NAME IN CAPITAL LETTERS - RO THER HAM."

Christ!

I returned to the pool room and took in my surroundings. There was a toilet door at the corner of the room, RIGHT next to the pool table. The door had no handle on it and it turned out that this was THE bathroom for the entire establishment - boys AND girls. It's quite cool for a chick to take a pee 15 inches away from two men drinking whiskey, playing pool. Nice vibe.

We settled into a number of games of pool as The Kitesurfer arrived, sending the night into a rude spiral. More pals arrived so we ordered some plates of snacks. The average calamari went well with the plastic chicken pieces - some taste was needed in the form of Tabasco sauce. The waiter informed us that there was no Tabasco sauce and after a few minutes, without our insisting, the manager arrived asking if we were the people looking for some form of hot sauce. After educating him that Tabasco fans are looking for a specific taste rather than a burn, and, looking for any sensation besides that given by cardboard, I relented to his offer of a 'hot-sauce' made by his very hands.

He returned when we were near the end of the chow and the Thai Green Curry Sauce (Huh!!!???) went quite well with the left over chips.

I would say that the other door next to the loo door, leading to outside, which couldn't close, was definitely a feature of the evening. There was CONSTANT heavy-duty staff-traffic going in-and-out of the door the whole evening. There was a helluva draft and we were left with no option but to pile two handy bricks (have we not finished building, nearly a year on?) against the door to keep it closed. The humour of staff knocking the bricks over when opening the door provided a distraction from the bitterly cold air breezing in from outside (ex-pats will be pleased to know that we are having the ODD chilly moment in Cape Town).

We also amused ourselves by plugging in a concert-type red spotlight which was lying around next to the cigarette machine. Very odd - but useful when trying to compensate for a negative ambience.

It was good humour and a clear indication as to why Opium on the Beach finds itself consistently empty. I mean REALLY, what is going on?!? There were even builders walking in and out of the door next to the pool table, carrying stuff - THE WHOLE TIME! On a Wednesday night! After 8pm! Carrying all SORTS of shit. Doors, planks, sheets of metal.... What the fuck is going on, man? Are you KIDDING me? We're trying to have a fucking game of pool here? What are you building? Is there a secret MINE SHAFT underneath here? (Racist?)

Very bizarre vibe. It was quite obvious that the only thing left to do was to ascend upon the party happening at Ignite which was the kind of party I've been needing for a while - even though it took Dale QUITE some time to sort us out with the access problem we were having. You came through in the end, my love, and we thank you for that.

To the other Camps Bay commercial entities out there, the market is still WIDE OPEN for a little pool table vibe - let us know if you get one.

Seth Rotherham
Editor
2oceansvibe.com
[permalink]
2 July, 2007
OH, SO THIS IS WADDA BAR?!
As we descended upon Wadda Bar in Claremont
[permalink]

The Driver fetched The Kitesurfer and me (it's not The Kitesurfer and "I" in this case, Mum) from the Fresnaye Heights dinner party on Friday night at about 23h30 and was given a fresh instruction, "Wadda Bar please, driver. That's in Claremont. And let's get some AC/DC cranking, otherwise these 13 Harman/Kardon surround sound speakers are nothing but a COMPLETE FUCKING WASTE OF TIME!"

The Driver negotiated Head Road as we took some dinky bottles of Moet out the car fridge and sucked them through a straw. I put in an sms to my man at Wadda Bar...

"Daddy Cool is en route for his debut. Please prepare the door - Seth"

"Everything is arranged, Daddy", came the reply in under 45 seconds.

"They run a slick operation, these Wadda Boys," I mused.

"Back in Black" worked well upon arrival, as red ropes dropped at the entrance to Wadda. I didn't know what to expect and only looked up once we had been ushered through the entrance area, across the dance floor and up the staircase. I looked over the railing and across an ocean of smiling faces. "Oh my fuck," I politely exclaimed.

A pride of angels
A young man approached the bench as I ordered our first round.

Nodding his head, he quipped, "Seth Rotherham....... it's about time." He seemed aware of, and was no doubt referring to, the fact that this was my first time at the establishment.

I was impressed.

"Indeed, I have been slack. And for that I apologise," I replied as I rewarded him with a tequila.

A generous group of the most gorgeous angels had assembled around us by this stage, as we stumbled into the VIP area and joined forces with The Personal Jukebox and last week's Safe House guest, The Hooker. The Personal Jukebox informed me that they had already played the crowd pleaser - Roxette's "How Do You Do" (I see you comb your hair, and give me that grin...it's making me spin now, spinning within....before I melt like snow, I say hello - HOW DO YOU DO!)

Fuck, it's sick!

Wadda Bar - they finally got Falkor smashed
We played so nicely. I cannot remember exact moments, but I know that some time was definitely spent on the dance floor and I'm pretty sure we left with a couple of angels (little black G-strings don't just APPEAR on the Safe House lounge floor on Saturday mornings). God, I've been getting so much action these days - ever since I watched "The Secret". That movie has changed my life!

With so many blank parts of the evening to fill, we're gonna HAVE to return to Wadda quite soon. Stunning little angels, pumping tunes and some slick bar action is a pretty good recipe for some hot action.

I can't remember your name, my baby, but I'll bring that little black G-string with me next time if you want to introduce yourself and get it back.

Seriously, I don't remember your name.

I'm not being a dick.

I'm not, my baby.

I'm TEASING, babba! OBVIOUSLY I know your name is Tamryn!

Tamsynne, sorry.

Oh shit, sorry.........TARRYN!

IT'S NOT TARRYN?!

HUH?

WHAT?

SAY IT CLEARLY, YOU FUCKING COW!

God! It's not like you'll be able to reply when you've got a snooker ball in your mouth.



Seth Rotherham
Editor
2oceansvibe.com
[permalink]
19 March , 2007
FINDING THE MARKET RATHER BULLISH
The Neighbour Goods Market at the Old Biscuit Mill in Woodstock
[permalink]

I must just warn you that I am writing this after annihilating two joints and half a bottle of Whiskey. (For those who wish to increase their knowledge : whisky from Scotland has no 'e', but whiskey from Ireland has an 'e'. Jamesons, therefore, is spelt WHISKEY). Ja, you know - you learn something new every day. Or so they say. I've been drinking in the safe house on my own all day and I can confidently confirm that I have learnt fuckall today. I am watching the Sharks game and, once again, I feel more of a connection to the Sharks as I do with the Stormers.

Back to the lecture at hand....

The P.A. and her BMX gang have been going to "the market" virtually every Saturday morning this year. They gave it rave reviews and I was keen to check it out. The only problem was that I was always too broken on Saturday mornings to attend. They usually went at about 11h00. Too hectic.

I would have to make a plan.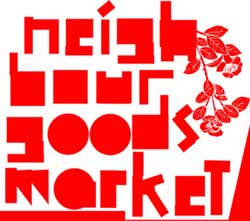 There's your Loerie, right there
I came one step closer to the market experience when I attended The Dirty Skirts' (South Africa's only act that TRULY rock. Seriously) new album launch held in the same venue as the market a couple weeks ago. The layout appealed to me and I looked forward to my first daytime visit.

[This is where you would normally turn the page of a magazine or book. But that's in real life - it doesn't apply here, inside this so called "internet" scheme]

After promising myself that I would have a quiet Friday, The Marketer and I agreed to make an appearance at the market the following Saturday. I did, and we did. I felt safe going to the market with someone who makes a living doing "marketing". I woke up as fresh as a daisy, raped a joint and picked him up.

We went to the market.

[insert music - something playful]

BEHOLD! THE MARKET! Well! NO ONE told me that you can RENT wine glasses and spend two hours cavorting in (and?) amongst a fuckfest of organic food and snacks - including cheeses, sauces, peanut butters, clothing, fresh bread, quiches (a rich unsweetened custard pie, often containing ingredients such as vegetables, cheese or seafood), samoosas, sushi and enough wine merchants to keep those glasses topped up at all times. It is surprising that a man of The Marketer's girth gets fucked so quickly. (It's quite evident that he has a drinking problem. But let's all pretend that everything is fine).
I was already flying when I arrived so we made a good team.
We paused to chat next to a stall selling honey and peanut butter, which included an actual pyramid of peanut butter jars. I had just finished off yet another hilarious Luke Watson joke as I was approached by a Cape Spanish couple who were very focused on the peanut butter (they had probably also had the peanut butter craving we have all had since DSTV starting flighting 'Meet Joe Black' again).

"How much are these jars of peanut butter," the lady asked me (thinking I was part of the peanut butter sales team.)

The prick side of my brain took control of me and I realised that I had been put into a position which was too much fun to ignore.

"Well," I explained to her, "it's quite funny that you ask that! We have actually, just this second, started our promotion for today. All peanut butter is free for the next hour. One jar per person!"

"Are you seeeerious?" she pleaded.

"Big time, madam! I know! It's crazy! That jar is yours! Enjoy it!"

"That is very generous of you," she declared.

"Well, madam, this is our way of giving back to the consumer! It's the least we can do."

"Thank you so much," she squeeled as she walked away with the jar.

No one noticed a thing.

I don't know if it gets any more fun than making someone steal something without them realising what they've done. I'll be honest, I thoroughly enjoyed it. Now, there is no way that the incident fucked with her karma, because she was unaware that she was stealing. I, however, might be in a bit of a predicament. That is why I went back the following weekend to buy a ton of peanut butter, in an attempt to equalise my evil deed. Alas, the stall was not present that weekend. But I will be back..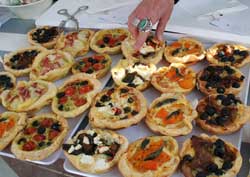 A quiche in need
is a quiche indeed
Our glasses were close on empty as fate issued us with a new stall selling some sort of port. I was genuinely intrigued and instructed my body to walk nearer to the table, without bumping into people. I focused my attention on the bottles standing on the table. "Peter Bayly - Calitzdorp", was the name and region. "Cape Vintage Port," it went on to say on the impressive label. I looked up at the salesman. Well, suck me sideways, it was SA Survivor host, Mark Bayly. As a long-time 2oceansvibe friend and Caprice breakfast compatriot, Mark received a full strength high five. Then, following some investigation it seems that his dad, Peter Bayly, is producing his own limited supply of hand bottled port. We had a little taste tester and it was QUITE STUNNING! Mark very kindly gave me a bottle.

I have the bottle right here next to me and am compelled to open it and tell you about it.

[Seth glides to the kitchen and back]

I have just opened the bottle and poured myself an adorable little glass.

[sip]

Good Lord! That is QUITE pleasant!

Whilst this is a port, I must pause and tell you what The UK Showbiz Guy believes is the best way to pretend you know what you're doing when tasting red wine.

Here it is:

You should take a sip, swirl it in your mouth, swallow it and then close your eyes as you pretend to have some sort of a debate with yourself in your head - always playing with the after taste in your mouth. Your expression should be similar to that of someone trying to listen to something very faint. Then, with a little nod and a smirk to yourself, you slowly open your eyes, seemingly impressed, whilst simultaneously agreeing with yourself on something you were just discussing inside your head.

[The key thing here is to give the impression that you are enjoying a healthy debate with yourself, inside your head. You have no choice but to discuss it with yourself as the surrounding company are SURELY not capable of such deep thought]

Then, with a light laugh, you should mutter (somewhat embarrassed about the long silence and compelled to give an explanation for your private taste-testing amusement), "Yes......very interesting." (Throw in another short chuckle to yourself.) You pause....thinking of the easiest way to explain your thoughts in simple words that your present company would understand.

Then you say....very slowly...still chuckling to yourself :
"Very clever [pause] It's PRETENDING to be a '96 Bordeaux,
[pause and chuckle to yourself]
but it's too vibrant to get away with it!"
How fucking funny is that!? It's PRETENDING to be a '96 Bordeaux, but it's TOO VIBRANT TO GET AWAY WITH IT! Like the wine was trying to trick you! It's genius.

Anyway, back to the port....

I'm no wine pro but I can tell you that the Peter Bayly port is QUITE special. It is perfectly sweet and is not shy to come across as a little flirtatious - showing a (very welcomed) little bit more leg than necessary. You need to get some of this juice. I don't know where else to get it, but I'm sure you will find it at the market on a Saturday morning. Have a gander.

I interacted with other stall owners and told the samoosa guy (white) that he was wasting his mother-fucking-time selling his samoosas for R4 a pop. Pump those little fuckers up to R5 each and enjoy the fruits of your success, my boy. We bought 4 samoosas and swaggered outside.

Moments later, outside the main market area, the samoosa guy ran up to The Marketer and me (no, it is not "The Marketer and "I"" in this case.), asking if we would like to try out the produce he was holding - some sort of pretzel thing made of sesame seeds or something. We took a bite. It was horrific. I told him it was awesome. He left. We threw it away. Let's focus on the samoosas, my boet - that's your cash cow right there... samoosas. Let's pump the fuckers out there. Forget about the sesame seeds - no one gives a fuck. Don't be a hero. Stick to your game. Find your niche. It's so obvious. You're the white samoosa guy - it's brilliant! The ball is in your hands, run with it, my angel.

We walked out of the actual market, but remained in the "complex". The Marketer directed my body to a plethora of retail stores selling everything from art to white belts with diamante studded gun-shaped buckles. Naturally I had to have one. It is SO awesome. I wear it at home. I'm wearing it now, over my Woolies short sleeve Pajamas. It's like Hugh Hefner meets 50 cent, meets Clint Eastwood.

The pajamas make me look quite young. I can pretend to be a naughty little boy and you could pretend to be an angry nanny. You would spank me for swearing...and I would enjoy it. You would warn me (unaware that I was enjoying it) that you would spank me again if I swore.

"FUCK", I would scream.

You would spank me.

I would enjoy it.

Touch me here...

Is that nice?

Seth Rotherham
Editor
2oceansvibe.com
[permalink]
[Hi Mum. Listen, obviously the joints mentioned in this story weren't real - I just say stuff like that so the readers will think I am cool. I know that is pathetic, Mum, but, as an only child, the 2oceansvibe readers are everything to me. I must keep them happy. We must seem to follow the mantra, "Work is a sideline, Live the holiday" at all times. Love you, Seth]
18 January , 2007 - Restaurant review -

Riboville Restaurant
RIBOVILLE RESTAURANT
Oh, don't you know about it?
[permalink]

I don't know why, but I have a tendency to NOT get excited about incredible things that are apparently going to happen, until they do. Invariably they fade into oblivion.
A good friend of mine, Tom K, an architect (we'll call him The Architect), has been telling me about a restaurant that he and his respective company, 'dhk thinkspace' have been working on. He has been telling me about it for a while (seriously ...months) and it sounded so exciting that I purposefully pretended that it wasn't going to happen. He said something about one of those old, classic, high-ceiling banks on Adderley Street being turned into a restaurant.

Too good to be true. I mean, what are the chances? You may have visited one of them before - perhaps the First National Bank, which still operates in their original (I assume) premises along Adderley Street. They are SO old-school and huge and great and marble and ceilings and columns. Some of them still operate, unabashed, without three-inch bullet proof glass - still throwing around a bit of the old school - simple brass bars at the tellers. I was/am always tempted to get into crime and fucking nail the FNB on Adderley Street. Seriously, someone should give it a shot. Put together a good team and nail it. Get Nick Goldblatt on board and you won't go wrong.

So The Architect told me that they have finally opened "it". So much time had lapsed that I didn't know what he was talking about.

"Riboville", he tells me.

"What the fuck is Riboville?", I asked.

"That restaurant....."

I did a couple of brain exercises and found the file. I blew off the dust.

Good Lord! It materialised!!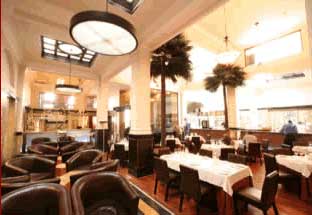 Riboville - it exists
I didn't waste time.

No-one had mentioned it yet. It was unknown. The 250-seater restaurant had been keeping under the radar whilst they fine tuned everything. Now was my time to claim a new, hot restaurant (Mr. Lawrence, I will mix present and past tense in the same sentence - and there is fuck all you can do about it).

Piglet put together 25 fine individuals and we gave Riboville a visit.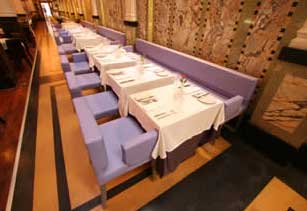 Oh, you like that?
Aesthetically, it was just as I imagined. A six meter high ceiling greeted us with all the old-school detail you could hope for. Random glass plates in the floor gave a glance into what used to be the bank vault - which is now an extensive wine cellar. Once we had gathered ourselves in the wood-paneled cigar lounge, we graced our three tables. Our ensemble was immediately interrupted with a welcomed tour of the wine seller. A ride in the original elevator (which also goes up to the loos - which is another story altogether) took us into what was the old bank vault where, during a brief educational, we chose our wine for the evening. Mind blowing.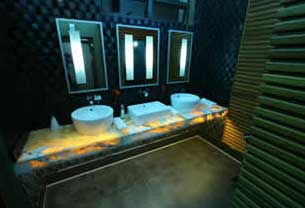 I won't say too much about the loos
Have a little wee - and enjoy
The evening ran away with itself as we enjoyed swift, slick service with a menu that could make a grown man cry. I can honestly say that I have never seen such an extensive menu. And that was just the main restaurant - there is a separate sushi kitchen and dining area at the arse end of the restaurant which I am DYING to try. (As we slip into full camp mode)

I am often invited to new restaurants and, whilst they may dish a good meal and impress you with semi-average service, there often (particularly with the more extravagant lot) seems to be an underlying, desperate panic in the air as the owners/partners sweat to make their money back.

You've heard it a thousand time - "So-and-so spent XYZ on that new restaurant - he is cucking himself to make it back". Owners and managers are regularly seen, post-snort, freaking out about the table turnover, as the editor of God-knows-what magazine hovers at the entrance.

I am happy to report that the owners of Riboville have spent so much money on Riboville, that it is quite evident that their aim is clearly no more than pride - to own and present the finest and greatest restaurant that Cape Town has to offer. The kind of shit you see in London. I'm not kidding. Honestly, there were no favours when I was there, we simply called and booked...AND paid (although a blow job upon entry would have been nice).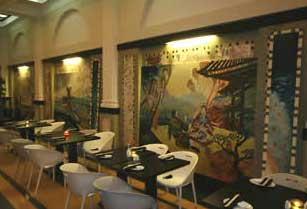 I think we'll start with the oysters
And then you'll be in big trouble, young lady
Ladies and gentlemen - enough of the rubbish.

Let's be serious for a second.

The restaurant you've been looking for has arrived. Get in their early so you can scream at them on the phone, "Fully booked? Are you fucking kidding me? I've supported you guys from day one!".

Thank you, Riboville.

Riboville Restaurant, Cape Town.
ABC Bank Building
130 Adderley Street
Phone: +27 21 426 0324
Email: info@ribovillerestaurant.co.za
Website: www.ribovillerestaurant.co.za

Seth Rotherham
Editor
2oceansvibe.com
[permalink]
11 September , 2006
SPEND MORE TIME AT CAFE ROUX
It's what you've been looking for
[permalink]
I had heard that some friends of mine had opened a new restaurant in Noordhoek and was waiting for the big call, inviting me for a taste. Weeks went by and I heard excited reports from other friends saying what a great time they had at "Cafe Roux". From the reports, it sounded like the kind of place one could spend an entire afternoon in the sun, outdoors, with a generous supply of white wine with-a-large-glass-of-ice-on-the-side-please. I knew I would enjoy it and knew that, if I went, I would want to write a review on it. I didn't like the idea of paying for the meal AND giving them a review, so I waited patiently for the call that never came.


Cafe Roux Restaurant - Noordhoek


Owner Paul le Roux, FINALLY sent in the email.

Rotherham,

Le Roux, here

When are you coming to have lunch at Cafe Roux?

All complimentary of course...

Cafe Roux

Hah!

Got him!

I replied:

Ja well WAKE UP LE ROUX HOW LONG HAS IT TAKEN YOU?!!!

I get everyone telling me how amazing the bloody restaurant is and I keep on having to call Jimmo Winter to check if Vodacom is working cos my effing cellphone seems to be broken because Paul le Roux MUST BE TRYING TO GET HOLD OF ME!

But TODAY seems to be my lucky day!

Saturday or Sunday?

Seth

That was on August 31. I've been twice since then and ate the same thing both times (I paid the second time). You would think that if you're blown away by your first meal in a restaurant, that you would try something else the next time. True, but unfortunately I had the steak roll with garlic mayo and God knows what else on it. It's quite hard to order anything else after that. I might try something else next time which will be equally incredible (the rest of my table were close to licking their plates), but then what about the steak roll?

There it is. That's what you've been looking for.
Cafe Roux, Noordhoek
With the combination of gourmet-style presentation, delicious plates, perfect portions and an outdoor La Med-of-old environment, you'll realise that this is what you've been looking for (there's even a bar to keep your eye on the rugby). Our super-human waiter, Deo, was our unique taste of a completely unpretentious staff compliment, which manages to give you 10 out of 10 service, with smiles that can only come from a team that is well rewarded behind the scenes. I must say, it was expected - after owning and running Bishopscourt's premier guest house, "The Bishopscourt", Paul and Bernadette le Roux, together with Paul's sister, Lindi, are made for the service industry - it is quite evident that these people adore what they do. They possess something that is all too rare these days...........passion.

Cafe Roux's "All day breakfast".
Don't rush your morning

Well, it's more a lifestyle, than a chocolate brownie.
It doesn't stop there - after an indulgent morning or afternoon at Cafe Roux, you'll be pleased with the added bonus of a very user friendly bill. You'll be paying just below what you expect to pay, which works for me. Then you can return to reality, which is not as far away as you'd imagine. Cafe Roux is part of the Noordhoek Farm Village (on your left as you exit Chapman's Peak on the Noordhoek side) and is a mere 10 minutes from Hout Bay and 20 minutes from Camps Bay.

I know, it's all too easy.

Take your friends, take your family and chill out. You need it.

Oh, and, beware the steak roll.

Seth Rotherham
Editor
2oceansvibe.com
[permalink]
31 July, 2006
FULL BREAKFAST FOR R7 - EVERY MORNING
No kidding! Arnold's Restaurant, 60 Kloof Street, Gardens, Cape Town
[permalink]

Look, they HAVE hiked the price up to R7 from their initial launch price a number of months ago of R6. We won't have a go at them for that. You're still able to use car guard money in your ashtray to pay for 2 eggs, 2 slices of toast, 2 strips of bacon, 2 slices of grilled tomato and ostrich wors. I know, you're probably a little bit thrown now. You're probably wondering what the catch is? Don't fright, it's all very simple. I've been going there for morning meetings with The Marketing Guy for ages and it just keeps on happening.
Another nice thing about Arnold's Restaurant on Kloof Road is the staff seem to know you. They understand what you want. They don't get confused and they smile. There are three or four 'hosts' in the restaurant cruising around helping out. They're big guys who scream and shout from every corner of the restaurant to the other staff and the kitchen - great atmosphere and the food comes out at lightning speed.

Try it for yourself - you know we only choose the best for you.

Arnold's restaurant, 60 Kloof Road, Gardens, Cape Town.
Seth Rotherham
Editor
2oceansvibe.com
[permalink]
3 July, 2006
LA CUCCINO - NO RELATION TO AL PACINO
As we welcome the second half of the year
[permalink]

I know, I've been quite distant lately. But it's nothing to do with you - don't blame yourself. I think I know what has caused it. You see, a week or so ago I popped into Harley's liquor on Buitengracht Street (defiantly open on Sundays) to top up on the stock of Jamesons at the safe house. I have the Skyy vodka for the good times, but I need the Jammies for Sundays - particularly Sunday nights. Harley's had run out of Jamesons and I had no option but to buy Johnny Walker black. I don't hate it, but it doesn't allow me to churn out the drivel that you're used to. Don't blame me, blame Harley's. Anyway, I went back today and it seems they have sorted out their stock take issues. Welcome back Jammies. God it's smooth. 'Triple distilled' is obviously a good thing.

It seems neither e-TV nor MNET won the Sunday night 8 o'clock movie war - with MNET giving us 'Taxi' with Queen Latifah and e-TV farting out 'The 6th day' with Arnold Schwarzeneggar (is that racist?) - both of which create as much excitement as a tray of stuffed eggs. I have settled for a new DVD I bought - Billy Joel live at the Yankee Stadium..... an absolute treat.

"Oh my God! I ALSO love Billy Joel!!!!"

"Whatever..."

Speaking of food, I had another perfect breakfast at La Cuccino at the bottom of Suikerbossie in Hout Bay (turn left at the lights at the bottom then it is a part of the small shopping centre on your right) - and I felt they needed a mention. I had gone twice before with G-man and thought I would tempt fate and see if they could succeed three times in a row - a rarity in Cape Town. Take a bow, La Cuccino.

Ok, that was a bit dramatic. "Take a bow" - Christ, give me a break.

Seriously though, I just felt so content at the end of my meal. I've only ever eaten the same thing there - poached eggs, toast, bacon, grilled tomato and grilled banana. I know, grilled banana is not what you're used to for breakfast and certainly not something that I would normally allow. I can't stand banana on pizza and the thought of banana served warm generally makes me nauseous - but it seems to go down a treat at La Cuccino's. It's not just the banana that makes me happy - it's a combination of everything. It's all good. They even have a fridge section with sauces and home made deli-style products. I bought the Harrisa chili sauce that has been warmly received at the safe house.

They seem to have a good following and on closer inspection appear to cater for a diverse crowd. On your left you've got your new-Audi station wagon couple who 'feel bad' about leaving Romeo, their Ridgeback puppy at home, and on your right you've got four early-20's angels with Chanel dark glasses on - nursing post trance party come-downs. I am told that weekdays produce an orgasm of bored, hot Range Rover housewives (including the Constantia private school mums I'm sure - the kind that'll give Heather Mills a run for her money) - something I intend to investigate. None of Hout Bay's tree people were anywhere to be seen - not a bad thing. Don't give up on making Hout Bay a republic, guys.

Shame.

Ok, I think that's enough for now. The Jammies is taking it's toll and Billy is about to sing Piano Man.

Much love.

Seth Rotherham
Editor
2oceansvibe.com
[permalink]

26 May, 2006
CAPRICE CAPRICE
The love will never die
[permalink]

It's true that I frequent Caprice in Camps Bay more than the average person. Circumstances have allowed Caprice to be the nearest cocktail bar / restaurant to my place of residence. You see, God has blessed me - and I will shamelessly punt Caprice until I can punt no more. This is not the first time, nor is it the last time.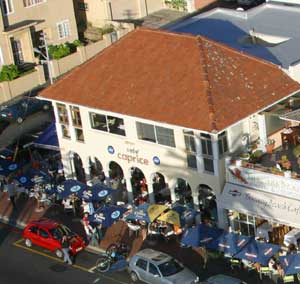 Cappers
I must make mention of the fact that I am in a semi emotional mood at the moment as I have set the iPod to play Bilitis by Francis Lai. If you don't know it, it is QUITE moving. My folks played it since before I could walk.

I'm back on the scotch now. Ok. Caprice.

I'll start by saying that many people don't know that Caprice is not all about Sunday nights. Granted, Sunday nights is, was and always will be their signature night - but don't knock a breakfast, lunch or early evening drink any time of the week. It's not all about the mad party - Caprice is also tailor made for chilling out. Caprice is perfect for every mood. Great for Saturday morning breakfasts. If you're hungover or not in the mood, they understand. You can't be in your underwear on the bar counter every night of the week. If you want attention, they give it and they understand your insecurities. They are like you. They understand you. In fact, I'll tell you what.... Fuck Spur, Caprice has a taste for life.

And last night was no exception. Caprice owner, David Raad, deserves a gold medal. Not only is Dave an accomplished closet break dancer (previous article mentioning his skillz can be found here), but also a true embodiment of service. So last night was a Camel party at Cappers. Wow! I'll say one thing, the angels came out VERY nicely last night. A VERY naughty mid-week party! I see the two blondes who seem to be joined at the hip were there again - the last of the Mohican's - waiting for their ride to come through town. Don't worry girls, he'll come. All over your face, in the back of his laundered Lambo.

More scotch.

So last night was a haven of excitement. All the guests were given "dollars". Each one equated to 10 South African Rands. Because I felt I was far too important to stop at the front door to sign in, I did not receive my dollars. I sent a sms to Dave who appeared next to me at the bar, stuffing dollars into my jeans and introducing five blondes to me whilst the bar lady had already begun pouring ten tequila's in front of us - all at the same time. Dave told the girls they should thank me. For what? God only knows. The point is Dave is a fucking legend and he runs a good show. Blues restaurant could learn a thing or two from one of Dave's farts. Caprice is the institution Blues was in the 80's.

Even more brilliant was a facility for the partygoers (first time I've ever used that word 'partygoers' - feels weird) to go up and have their picture taken. There was basically a full on developing service on the premises and each photographed patron would get an A4 print of themselves on the cover of a magazine! But the mind blowing thing was not that. No, no. What really struck me was the name of the magazine was '2oceansvibe'.

Nothing short of hilarious.

So that's what this article is all about, really. Cappers. Ignore the idiots. Enjoy yourself. Look around, you're in a good place. The staff are hysterical. Someone for everyone. The moaners, the groaners, the happy-go-luckies, the hungovers, the perky, the smiley, the sad, the positive, the negative, the bitch, the model, the cow, the youngster, the hippie - they have them all, and we love them all.

God bless you, Caprice.

Seth Rotherham
Editor
2oceansvibe.com
[permalink]
15 May , 2006 - BLUES RESTAURANT
IT'S TRUE WHAT THEY SAY
Blues restaurant in Camps Bay is completely and utterly diabolical
[permalink]

Sunday was a fun day. Sunday was also Mother's Day. With my parents living abroad there is a distinct lack of friends on these family related days. I did the usual and called up a few bastard child friends who also have parents living far away. G-man accepted the invite and we headed off to Blues restaurant. We were meant to go to Primi Piatti in Camps Bay but decided to treat ourselves. Like the moment Eve met the snake....that, right there, was our big mistake.

Having been a waiter at Blues for nearly two years in the late 90's, the first thing that surprised me was the fact that we managed to get a table on the balcony.......on Mother's Day......at lunch time..... without booking.

Sitting down on my chair was awesome. My arse was in with troduced to a puddle that had formed on the chair from the previous evening's rain. Jerk-Off, the host, apologised and got me another chair but that didn't change the fact that my arse was now saturated. In fact.......hold on a sec.......yup....it's still wet.

I just want to stop there and say one thing. There is nothing that annoys me more than people jumping on the "Blues is shit" bandwagon. I have always maintained that they (the critics) obviously went at a bad time. So I think it is important to be aware of that before you read another rant about Blues Restaurant.

Thanks for letting me say that. I feel better now.

I see some others have arrived to listen to my story. Come in, come in.....gather round people.

Our waiter had the charisma of a starfish and looked like he could have very easily spent the previous night sleeping inside a barrel of cocaine. I watched to see what new tricks the staff had been taught, but everything seemed pretty standard. Even the line fish was the same as it was eight years ago. I would tell you what it was, but do you really care?

Fart-face left us to look over the menu. Wow! I've been in soup kitchens with a better range. The R450 price tag for the crayfish was nothing short of hilarious. I chortled and decided on 12 oysters to start and lamb shank for my main.

G-man and I chatted for a bit as the starfish set the table. I was drooling for my oysters - and then................. they arrived.



OH






MY






GOOD






LORD



NOTHING on this earth could have prepared me for what was placed before me. My hands are visibly shaking as I type this. I am not even sure if it can be put into words.

BEFORE I attempt to do that I just want to say (for our non oyster eaters out there) that it is a general universally accepted understanding between humans that oysters are served in their shells on a bed of ice. It's just standard stuff. There is no need to bugger around. It's terribly simple. Open the oysters, make sure they're fresh, put them on ice and serve them. The idea behind this is to keep them cold and to go through the motions of adding tabasco, pepper, lemon...... tearing the oyster out of the shell, eating it and drinking the liquid that is left behind. It's a process. A fun process. Probably 50% of the enjoyment of eating oysters.

I can see some of you nodding. Glad you're still with me.

Now I want you to read this slowly, because you need to fully grasp what I am saying. Slowly and carefully.

THE OYSTERS WERE SERVED OUT OF THEIR SHELLS AT ROOM TEMPERATURE, WITH EACH ONE SEPERATELY PRESENTED ON WHAT APPEARED TO BE THE STALK OF A LETTUCE-LEAF. ALL SERVED ON A PLATE, WITH NO ICE.
[I think we need a moment to reflect and to read that over again]
The first thing that I wanted to say was "Are you fucking mad to not mention that your oysters are served COMPLETELY unconventionally?" And PLEASE don't tell me that the menu describes this serving technique. I am very sure (I hope to God) that this debauched cleverness is described on the menu but I think it would be fair to have, at the very least, a flashing light bulb built into the menu next to the oyster description. If you're telling me that no-one has been mind blown to the point of sending back the oysters then I'll tell you that you're lying. It actually verges on being humorous. It's like they're TRYING to make it revolting. If you thought oysters looked like nasal excrement before, you simply HAVE to see them served like this.

"Sorry, my roast chicken tastes like shit"

"Yes Sir, as it says on the menu, all of our poultry is served with a smattering of poo"

"Yes....but.... come now.......you should have probably checked that I read the fine print and was aware of the unconventional poo extravaganza."

Point?

It doesn't get easier
By the way, the classic seafood platter for two is now called the "Seafood Extravaganza". Whaagh !!! Hilarious. That is R720 for a crayfish tail, a few langoustines, some prawns, line fish and calamari. I am not sure if this comes with poo.

Now I need you to bear in mind that NONE of the juice applied to the oysters is collected anywhere. All liquid applied to the oysters simply falls straight off the lettuce leaf and on to the room-temperature plate.

There was also a receptacle of sorts in the middle of the plate holding some sort of shallot sauce/vinegar. There was a lemon wedge LYING INSIDE the shallot vinegar - drenched.... like my bum. God only knows how this liquid is meant to be applied to the oysters as the receptacle had no pouring spout. So I had to pour it straight out, messily, over the oysters, down the lettuce leaf, onto the plate.

Needless to say I couldn't eat more than four. They tasted absolutely revolting and I am STILL experiencing the after taste when I burp. Quite simply, they were the worst oysters that I have ever eaten in my life.

So that was par for the course......obviously the lamb shank was appalling. We had two bites, asked for the bill and ran out - taking note of the fact that the restaurant's actual soul was completely dead. Funerals have a better vibe.

It's a pity that the Blues of old is gone. Where did it go wrong? Oh give me the days when people used to arrive for lunch and stay for dinner. When the staff had character. When the air had an element of excitement. When movie stars used to struggle to get a table. It really makes me sad because I used to ADORE Blues. As a spoilt child who took to oysters before he could talk, all I ever wanted to do was to be grown up and to be able to come to Blues with my friends and experience extravagant long extended lunches. I can't do that now and it makes me sad.

Blues is going through the dying swan days. We've seen it before....when you hear about a restaurant that gets bought and sold every year - passed around like a red headed step-child.

And then.... BANG...it's gone.

I hope it doesn't happen. Really I do. I think deep down inside, every Capetonian wants Blues to be amazing again. But for some reason, Blues just doesn't seem to want to meet us half way. What a pity.

Goodbye Blues.
[lights dim and music fades into Sinatra's "My Way"]

Seth Rotherham
Editor
2oceansvibe.com
[permalink]
5 January, 2006
BAD MANNA'S
'Manna Epicure' Restaurant on Kloof, Cape Town
[permalink]

Manna (Epicure) Restaurant on Kloof Street was the venue for our New Year's day headache. I had been to the establishment before, but only for half an hour. I looked forward to my next visit and was glad that the time had finally arrived. After an extravagant lavish New Year's night, I really wanted to follow through with a good solid New Year's day lunch. I visualised a number of bottles of wine and good food. I also wanted very badly for Manna Restaurant on Kloof to be the hidden gem I desperately need/ed in my restaurant repertoire. I did the odd drive by and was very much sold on the serene, crisp, fresh, white linen vibe that hits you as you drive past. All of the tables and chairs are white, the walls are white, the staff wear white and pretty much everything else is white. It's a nice vibe to go for and I'm sure they've had a few column centimeters thrown around, stating how clever it all is. Unfortunately they don't realise that the key to a slick vibe is to be slick all the time, even on New Year's day. If you're open on 1 January just to feed the community then please, open up a soup kitchen, or don't open at all. That said, the excuse "It was New Year's day" does not apply here. If I had known it was amateur hour I would have rather gone to the Woolworths 24 hour garage in Gardens and had an all-day-breakfast sandwich.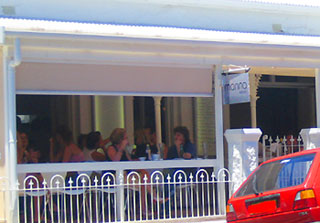 Manna Epicure on Kloof - All the makings...
My favourite game of walking deep into a restaurant and standing in the middle of nowhere until somebody realises that an actual human-being has walked in, kicked of the proceedings. We used our initiative and approached a table which was being cleared up by a poor man's Val Kilmer lookalike who couldn't see what he was doing because his eyeballs were stapled to a very sweet table of guys behind us. Kilmer's eyeball stapling also caused him to bring me the poor man's parma ham (they have another name for it), instead of my original request - salmon. I made use of the R90 screw top wine, hoping to dissolve the scene that was unfolding.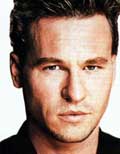 Val Kilmer - now working at Manna on Kloof
We discussed the merits of Manna employing models to compensate for the rather bland-looking clientele. Our conversation caused a temporary escape from reality and a subsequent realisation that the staff no longer knew that we existed. I asked our ginger haired manager if he could see us or whether this was perhaps the twilight zone. Acknowledging their error, he offered us compensation in the form of complimentary dessert. Because, let's face it, dessert is exactly what you feel like in 30 degree weather with a slight hangover on board. We forced down some cheesecake. Naturally the bill came with the desserts included.

There were a few more balls ups including incorrect drinks orders and the like but I'm not going into detail - I think we all get the point. Sometimes food is so good that people can forgive even the worst service. The food at Manna was great.... when it arrived (and after we were allowed to order it). Naturally, success/reputation can very easily breed complacency. I think we should keep in mind that there is a point where shit service surpasses amazing food.
Seth Rotherham
Editor
2oceansvibe.com
[permalink]
25 November , 2005
BAYSIDE CAFE - CAMPS BAY
Where Hollywood funnymen go to chill out
[permalink]

I'm surprised I haven't really said anything about Camps Bay's Bayside Cafe before, but I've just never really thought of it. I go there a lot and I suppose the regularity of it didn't necessitate a mention; so I never did. (Seriously, you have to admit, I am CLEANING UP semi-colons lately). But I went there, the other night and it ALL CAME TOGETHER. I finally realised why the one waiter had always intrigued me. This revelation has finally necessitated a mention. He either IS, or LOOKS VERY SIMILAIR to John Turturro.

"Who the fuck is he", I hear you asking.

Well, allow me to respond. He is the guy who played the character 'Jesus Quintana' (nailed Mark, you didn't know the surname. NAILED.) in the movie 'The Big Lebowski'. He was also the butler in the movie, 'Mr. Deeds', by the name of 'Emilio Lopez'. Remember the guy who told Adam Sandler in the movie that he was "very sneaky sneaky". Fucking funny. If you haven't seen either of those movies then (A) you're disgusting, and (B) you have until tomorrow to watch them.

The beautiful John Turturro as 'Jesus' in 'The Big Lebowski'
Now working at Bayside Cafe, Camps Bay.
Anyway, he works at Bayside Cafe now. Seriously, go there and hope to God he is serving you - it's a treat to be served by Jesus.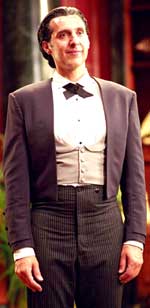 God, John, you were beautiful in Mr. Deeds.
Look very carefully at his face.
"I am very sneaky sneaky"
You can find him at Camps Bay's 'Bayside Cafe'.





That's your guy
If the spectacle of being served by Jesus is not enough of a scene for you (I hope to God that he works there forever), then you'll probably enjoy everything from their steaks to their seafood. Seriously comma they do it all and they do it well.

Bayside Cafe, we like you. Thank God.

Seth Rotherham
Editor
2oceansvibe.com
[permalink]
15 August, 2005
NEWS CAFE IN GREEN POINT TRAINING VOL 1
First lesson - Over Easy Eggs
[permalink]
There was always something that bothered me about News Cafe in Green Point but I couldn't quite put my finger on it. It was suggested by a friend as a potential breakfast spot for Sunday morning. I asked if it was cozy enough. Apparently it was.

What joy on arrival to find that it was, indeed, cozy! With a full frontal fireplace and sofas - what a pleasure. Breakfast in semi-Winter next to a fire. God, this is good.

But then it fell apart at the seams.

I won't go on about having to ask three times for my coke, or the fact that the actual breakfast took over 30 minutes to get to the table - these are not things to moan about - these things are normal - we are used to crap service. BUT DON'T FUCK UP MY EGGS WHEN I ASK YOU TO MAKE THEM 'OVER EASY '.

To all breakfast chefs throughout Cape Town, 'over easy' fried eggs does not mean 'hard' fried eggs. It means lightly cooked on the yolk side. This generally forms a white film over the yolk. Usually created by momentarily flipping the egg over.

When I insisted to the waiter that the chef should be careful not to make them hard and that I only wanted a slight white film over the yolk, I thought he would've chatted to the chef about it. If I stress something so intricate, I am probably going to take note of the results when the food comes. The result produced two rock hard light yellow yolks. Why did you understand so well what I meant when I ordered, and yet you're quite happy to bring me something COMPLETELY different? It was the only thing I stressed. I didn't give a fuck about how your sausage came out, or how you should grill the tomato (longer next time)..... I just asked for one thing - my eggs over easy. I didn't even articulate the migraine I was developing as a result of the front door that slammed every time someone entered the establishment. I just wanted over fucking easy eggs.

I ate an egg this morning, purely to photograph it. It wasn't the hardest thing in the World. A little trick, crap chefs of Cape Town - place the lid of a pot over the eggs while they cook. It instantly and effortlessly produces an over easy egg. Without the risk of breaking it.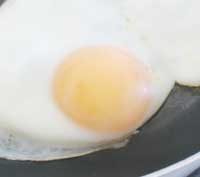 Seth's 'over easy' egg this morning
Seth Rotherham
Editor
2oceansvibe.com
[permalink]
13 June, 2005 - VEGAS ROOM
VEGAS ROOM - THIS IS IT
A 100% full-frontal party
[permalink]
I don't mean to cuss, but I just came back from a fucking evening of note! Some good guys have opened a new club called Vegas Room. Oh, ok, I see what you've done. It's like VEGAS. Ohhhh, VEEEGAS. Crazy mental! Is that what you want from us? Do you want us to go crazy? Aaaargh!! I'm crazy! Hold me down! I'm a fucking lunatic!
[insert 6 hours of sleep here]
So the owners of Vegas Room made us feel special by giving us a 6-seater booth for the launch party on Saturday night. WHAT THE FUCK DID YOU SAY? I said they gave us a BOOTH. God that feels good! I'm so stoked my arse is happier in a booth than other people's arses at normal tables. Thangyaverymuch.
So I never quite got the brief, but Vegas pumps very nicely for you. It's at 98 Long Street (The same venue as the Dirty Skirts album launch coming up on Wednesday) and is probably the same size as Eclipse. The idea is for comedy acts and God knows what else to do their thing on the stage and then for everything to be cleared away to make way for a party. The shareholders include Sox from Caprice so you'll struggle to get off the dance floor. Last night was no exception. Angels were seen pumping their hands towards the roof shouting (in unison) key-party-phrases like 'Pump it up some more'. Is that not what it's all about?
The evening was introduced and hosted by comedian Cokey Falkow, who is also involved in the club. Finding good comedy is a bit of a task these days. I don't have an expert's knowledge of Cape Town comedy, but I think it would be absolutely fine if you physically pissed yourself watching Cokey. The mess created from peeing yourself would probably be fine with your fellow patrons. They realize how hard it is to watch this guy and restrain yourself from having the best laugh of all – the one where you pee yourself. The guy has it spot-on. Jesus, Cokey! When you have a hamster in your head than runs on its wheel at 300 revolutions a second – you certainly don't have to plan your stand up act. That's why he doesn't. And that's probably why it's so fucking funny! Cokey, you're good.
The second guy, somebody Taylor from some TV show was pretty funny. He was followed by the fat white guy from Plumstead who brought a good chuckle - but the LAST act, Bevan Cullinan, can only be described as completely HYSTERICAL! At one stage he described someone's hair as a 'Recently Sodamised Badger'. I can't hold in any amount of pee when stuff like that is being thrown around. At the end of the show he did a dance to Queen's 'Bohemian Rhapsody' that was completely and utterly off the charts. It would do it great injustice to try and explain it. Either you've seen it or you haven't. Personally, I'd pay money to a get a video clip which can play it on repeat on a plasma screen at home until I die. Thank God it was the last act because you couldn't end on a better note.
Non-booth tables and chairs were removed to open up the dance floor and, after Rizla was finally outsourced (An 'A+' for service – a rarity in this town), some funk-ass tunes sailed through the air. Teasing us. Wooing us to the dance floor. 'Come to me', the dance floor said. After seven rounds of tequilas with our GORGEOUS angel waitress (They let them drink. We're all adults here), we were more than ready to pull some intoxicating dance moves. Do those little angels on the dance floor want a piece of me? You're fucking right they do. The girls knew the only option was to feed off me. They did, and let's face it, it worked out for everyone. I'll conceptualize our dance moves for this song. I want you to see what I'm doing, and feed off me. That's it. Feed. And feed. Good.
Two paragraphs have now ended with the word 'good'. Is that bad?
Mother of God, I just remembered that Caprice's Dave was breakdancing - I shit you not. Read that sentence again. Visualize it. He's pretty good as well. Interesting. So that's Dave's thing. He throws out some signature breakdancing moves. Everyone has to have their own secret signature. Daves is breakdancing. It's different. It's good. I like it.
"Isn't that the guy we saw breakdancing the other night?".
"Yes, I've heard about that breakdancing guy".
Vegas Room is tailor made for top quality mayhem. There really is nothing better than pissing (there is now, officially, too much pee on this page) yourself with laughter for an hour and hitting the dance floor afterwards. It is a fact that laughter makes the angels feel sexy. So in this case they laugh their heads off, drink Red Bull, tequila, vodka, wine, digest God knows what else and THEN they hit the dance floor. What a pleasure! Say it like some of your friends' fathers used to say it.
"What a PLEASURE".
Or they'd throw in an 'Aaaayyyyy' beforehand.
Like, "So John, I believe you visited the new Shambokkie game Reserve. How was it?"
"Aaaaayyyyyyy, WHAT A PLEASURE!"
Thanks guys. Give me more.
Seth Rotherham
Editor
2oceansvibe.com
[permalink]
25 May, 2005 - PO NA NA
THE TUESDAY NIGHT RIDDLE IS SOLVED
Now you CAN deal with work on Wednesday
One of my social co-ordinators informed me of something that should be investigated. Apparently 'Po na na' (my choice of pre-going-out-drinks venues (along with Osaka (Dharma's boy))) had launched a vibe for Tuesday nights involving the screening of a movie. I went along with the plan.
We scurried along on Tuesday night and, upon arrival, were ushered to a little room. Surrounding the room were six little 'booths'. The booths basically split up a 30 seater sofa with a little table in each section. We kicked off our shoes and watched 'The Incredibles' over a few toots and pizza. Excluding booze, the entry and pizza is R35 a head. Not a bad vibe for a Tuesday. Not a bad vibe for rainy weather. Not a bad vibe for Winter. There's a new movie every week until January.
And right there, just like that, Po na na cornered the Tuesday night market.
Seth Rotherham
Editor
2oceansvibe.com
16 May, 2005 - HEMISPHERE NIGHTCLUB
HEMMERS
After Planet
[permalink]
Once you've dealt with Morpheus the bouncer at the foyer entrance, you get the feeling that you're on your way to an illegal poker room. It feels like some sort of an opening scene of a Steven Segal movie. The silence of the high-speed elevator ride, girls giggling, guys shuffeling. Everyone staring at the changing digital floor numbers above the door. I commented to the tart on my right that I thoroughly enjoyed her fish net stockings.
"They're actually from Woolworths", she tells me.
"Does it matter where you bought them? They're fish nets".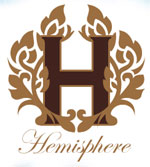 The doors opened on the 31st floor presenting a complete change of senses; music pumping, large pods of angels hurtling around at high speeds and a vulture's view of the City of Cape Town at night time. (Did you enjoy my semi-colon back there?) Sand blasted glass surrounds the VIP section where girls dance on tables and the club owners knock over buckets of champagne. Welcome to Hemisphere night club on the 31st floor of the ABSA building. It's quite fun here.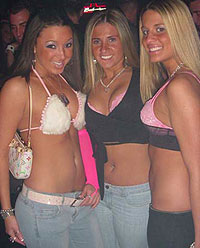 Angels. Three of them. Three angels.
We farted around and danced with some of the underage angels (These we refer to as 'UNDERangels'). I threw out some moves, allowing them to feed off me. They did. I had to have a chat with Janine the VIP hostess. Gorgeous.
My barman (earlier seen skulking around the loos) was very silly. Do barmen still argue that the incorrect drink they just served you REALLY IS what you ordered? No one cares if you think I said 'lime' and not 'ice'. Take the fucking glass.... empty it........ and pour a double Jameson with ICE, not LIME, white guy.
It's not that easy. This particular prima donna stormed over to the sink, turned to me and shouted over all of the music and the noise, "I'll have to put in (pay) for this!". Still looking at me, with his arm outstretched behind him, he turned his hand - allowing the contents of the incorrect drink in his hand to pour expertly into the sink, without him having to look at it. With his foot tap tap tapping on the floor like a proper little bitch.
VERY IMPRESSIVE...........TOOL. But please note that your little toy throwing exercise has taken 20 seconds out of our evening. Get that double Jammy and then, if you behave, I'll use your head as a step, allowing me to climb up and over you to reach things. Like if I wanted to reach up and get a cooler box on top of the kitchen cupboard. I'll use your head like that - like a step.
As I write this, MTV has gone back in time and played Britney Spears 'Baby one more time'. God I miss you, Brit. Can't we just start over?
Back to the bar. The double Jammy's and ice finally arrived.
"Thanks, Dave"
"My name's not Dave"
"...........what?"
"I said my name is not Dave"
"....whatever"
I must say, the dance floor was heaps of fun. Heaps. And the angels played so nicely! Groups of four, sometimes five angels at once - dancing, playing, smiling, laughing.....jumping. You're very cute, Romi. Sadly the DJ wasn't able to play my current late, unhealthy obsession with Good Charlotte's 'I just want to live'. I didn't expect him to have it, it's not the right "vibe". The DJ left later in the evening allowing the actual club to take over the choice of music. It was around this time that our ears started to bleed. That little "Greased Lightning" medly causes migraines - does no one realise that?
I'm still not ready to use their valet parking. Might take the chopper next time and go in directly from the 31st floor landing pad.
Seth Rotherham
Editor
2oceansvibe.com
[permalink]
25 April, 2005 - YINDEES RESTAURANT
I THINK I KNOW A LITTLE BOY
who needs a lie down
This is not a restaurant review so I won't tell you that Yindees restaurant on Thursday night was very good, apart from the fact that the entire table left starving. I also won't tell you that four stuffed calamari tubes just won't cut it as a main course. What I will tell you is what happened afterwards.
It was a friend's barmitzvah so we went to Eclipse and settled down a bit at the outside bar. It seems Eclipse don't believe that people outside have credit cards. They also don't believe you should be told this until you have to pay.
"That's R85"
"Thanks, chum. Take this here credit card"
"Oooh..."
(draw in breath through side of mouth clenched teeth)
"Shit, bro, we don't take cards outside"
"Do they have a card machine inside?"
"Yes"
"Cool, make it R95"
"Sorry bro, we can't leave the bar"
"Cool, make it R120"
"I'll be right back with your card"
Amazing.
Still at Eclipse.... Good to see Jaime, the current 'Waitress Watch' waitress has come a long way since we saw her on her first shift. The trademark flashy smile, combined with slick tray control and a dash of chutzpah is all she'll need to hold her position for a few more weeks. Good luck with that. Jaime was not sharing her shift with Sianne (who joined her on Waitress Watch) on Thursday night so we, sadly, had to let Sianne go. Thanks for the memories. And the great jokes.
That reminds me, the Rock Star Fund crew were there. With bells on, I might add. More about them in another article.
We revisited 90's coke-whore stronghold, The Fez, once we were done with Eclipse. We've said it before and we'll say it again - Welcome back Fez. A new breed of Vodka Red Bull freaks have taken over where the 90's crew left off. The dance floor was hot and the angels were in effect. I sauntered upstairs and made a little nest near to the DJ box.
[Enter 'Mike' - stage left]
A young fellow, Mike, approached us. Like some sort of an ancient Roman messenger type, he came bearing good news. Mike informed us that there would be a little change in our evening and that another old friend, Spiced Gold, would be looking after us for the duration of the evening. After thanking the kind gentleman, we made a swift changeover to Spiced Gold for the rest of the evening. I took my first sip of Spiced Gold with ginger ale. I nearly broke down in tears with the overwhelming cloud of nostalgia that engulfed my body. "Where am I!" I cried. Naughty's? Crowded House? Lloyds? The Cave? The Pig? I couldn't quite place it. I even had a flashback to a Rondebosch social. But it couldn't have been - it must have been SACS. Rondebosch hadn't acquired the fine taste of Spiced Gold by Standard 8 and preferred Tassies down down competitions. But lets not get sidetracked. The point I'm trying to make is I totally forgot about Spiced Gold! It's helluva versatile and allows one a spot of creativity. It's a great excuse to pump some Appletizer into the body (the king of fizzy drinks). You'll find a lot of people joining you after you order your first. Chants of "Christ, I remember Spiced Gold" will surround you.
It's been there all the time and we shouldn't be frightened!
A story entitled 'Laura Branigan Rollercoasters inc.' to follow.
Seth Rotherham
Editor
2oceansvibe.com
19 January, 2005 - CODFATHER
CODFATHER - CAMPS BAY RESTAURANT
Eeeeer, yes and no. Mainly no.
We had a pizza at Dizzy's Jazz Cafe in Camps Bay the other night. Our table at Dizzy's was outside, right next to the entrance to The Codfather. There was a constant stream of red-hot women strolling into the Codfather and because we hadn't been there for a very long time we vowed to attend in the near future.
We booked a table and cruised into Codfather a couple of weeks ago and sat down at our table of 10. After 20 minutes our waiter (who turned out not to be our waiter) decided we might need a drink. I asked for an Amstel, to which the guy replied, "A Heineken or an Amstel?".
[hmmmmm]
Now I spend a lot of my day on the telephone and believe I have a good idea of which words sound similair. I can confidently say that there is nothing about 'Amstel' that sounds like 'Heineken' and vice versa. You could rhyme 'Amstel' into other words/songs - for example you could sing to the tune of the Elton John's 'I'm still standing' with the words 'Amstel standing' - now that makes sense. But 'Heineken Standing' just doesn't sound like Elton's song.
I informed him that my decision of an Amstel would stay and that my decisioning making process would remain inside my head until further notice.
The second drink took another 15 minutes to order after finishing the first. Can I give a little tip to any restaurant anywhere in the world?
Little Tip: SERVE DRINKS AS THE PATRON SITS DOWN AND GET THE SECOND DRINK BEFORE THAT DRINK IS FINISHED. THIS WILL ENSURE THE PATRON DOESN'T FIDGET. IT WILL ALSO NOT DRAW ATTENTION TO THE WAITER BEING SH*T.
The last memory of the evening was to do with a glass of ice. I asked our waiter for a pint glass of ice - for our wine. 15 minutes later the ice had not arrived and I stopped our first waiter to ask him for the same thing. Whilst I was explaining to him what I needed the SECOND WAITER grabbed his arm and dragged him from the table to help somewhere else. I think you may have missed that. Listen to me - HE LITERALLY GRABBED HIM AND PULLED HIM AWAY WHILST I WAS ORDERING SOMETHING. I'll stop there.
That's the end of the story. The food was good and there weren't the hot women I expected. But these things pale in comparison to the other high(low)lights of our evening. Pity
Seth Rotherham
Editor
2oceansvibe.com
3 January, 2005 - NELSON'S EYE
NELSONS EYE RESTAURANT
In Gardens
Grabbed a steak at Nelson's Eye restaurant in Gardens last night before Caprice. Nelson's Eye is renowned to serve 'Arguably the best steaks in Cape Town' so we had to have a go.
I arrived early, hoping to sort out a table for the boys before they all arrived. I walked into the restaurant. They've gone for the open plan kitchen vibe, so you can watch and listen to whats going on in the kitchen whilst you eat. As I walk in I am greeted by the back of someone. The someone looks like the manager/owner type. He is busy talking to the staff who have huddled around him. I catch the person with the back's conversation mid-way:
"But what did he say" - enquired the guy with his back to me to the other staff.
Remember now that I am standing inside the restaurant at the entrance, waiting for service. The staff huddled around His Royal Highness are giving me awkward looks - knowingly embarrased by HRH.
"They were just upset and said you were rude" - replied one of HRH's staff.
"But how can they be upset?!?!? All I said was ........". - carried on HRH
I didn't listen on but the shock was not that he hadn't greeted me, but the fact that he was happily carrying on at the top of his lungs about a situation to do with a disgruntled (we should use 'disgruntled' more often) customer. Are you openly publicising this? Are you a fool? A Buffoon perhaps?
I leant over to the chef and asked who would normally greet me and organise a table. He pointed at His Royal Highness who was STILL carrying on. He tried to get the attention of HRH as I walked out to get some air outside. Eventually I organised a table after finding out His Royal Highness's name. Steven Albert (Might be 'Stephen', but we'll take our chances).
Well, that was not enough. It seems Mr Albert finacies himself as quite the showman. He was shouting and carrying on the whole night. He really thought he was creating a vibe. Steven/Stephen, you can only do that if you are Italian and work in an Italian restaurant. You can't do it if you are a self-conscious South African with the sense of humour of a moisturizer. Also, shouting things like 'Where's my carbonara?' just sounds better than 'Is the Sirloin meant to be medium rare?'.
That's enough about that. The food, funnily enough, was incredible! And our waitress, 'Andy' was red hot. Just wish Steven would slow down to a gentle roar and stop emboerrissing himself.
Seth Rotherham
Editor
2oceansvibe.com
30 November, 2004 - COL'CACCHIO
COLCACCHIO PIZZERIA - CAPE TOWN
You're a fool if you haven't been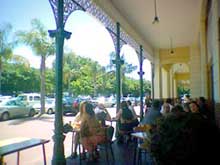 We received a tip off from one of you lot (our loyal, ever adoring 2oceanvibe readers) saying that the pizzeria at the very end of Bree Street was definitely something to check out at lunch times. The main reason to go was apparently the staff - 'smoking hot' we were told.
Well we were in for a treat - it turns out the food was as good as the staff! Our motive will definitely have changed next time we cruise round - although the angels will certainly make it a treat.
Four of us cruised in on Friday last week and were perched on an outside table. Immediately we were captivated. There was something going on. Something was alive. It's the city buzz. Sun was streaming down and we were surrounded by the Cape Town City Cool Crowd - something we're not used to. I'll give it to you kids - very cool. But in amongst the city cool is a smattering of the observatory cool type - that laid back 'hey whatever' crew. One guy with his hair in braids and another table catering for an ad agency type with his new G4 apple mac laptop. This place certainly caters for the mixed crowd - something we like.
The staff have an attitude that draws you in - and they're pretty hot I tell you what! Our waitress, Janna was an absolute star. She's the kind of gal who would tell you to go f*ck yourself if you were out and said something at the wrong time.... but for now she's all over everything and super sweet. The food came out perfectly - the Buitenverwagting Buiten Blanc (This season's favourite again kids) was poured with such precision I thought she was a surgeon!
We pushed it a bit. We had the wine, the sparkling water, the started salad, the starter garlic pita bread and then pizzas all round. God those pizzas were amazing! I had the Morituri - bacon and avo I think. I added extra feta. Anyway check it out yourself. I also had a few bites of another one with salmon and caviar. Who says you can't kick at a pizza joint?
But seriously guys and girls, when last did you go to a pizzeria which served fine wines? And when last did you have an exceptional genuine Italiano pizza? Pizza with 5 star service and a bit of vino for lunch on a Friday!! It's f*cking crazy man!!! In the sun!! With gorgeous angels serving you! And serving you damn well I might add!
The place must rock at night time too. Such a vibe! We'll sort that out another time but for now...... if there's sun and it's lunch time and you've got an hour on hand.... don't waste your time at Tuscany Beach - come 5 minutes in land. Go to the botom of Bree Street to the parking area next to Investec - where Vacca Matta was/is and check out Colcacchio Pizzeria - you'll be happy you did.
Did I mention that Colcacchio is the only pizza restaurant approved by the heart foundation? It's true my love.
Thanks Janna.... gorgeous angel....
Seth Rotherham
Editor
2oceansvibe.com
HAVE YOU ENTERED THE DIRTY SOUTH COMPETITION?

25 November , 2004 - BARAZA
BARAZA - CAMPS BAY
Enjoy these goons
We hit Baraza in Camps Bay (next to Blues) for a toot before we went to Eclipse last week Thursday. There were these two youngsters spicing some tunes with a keyboard, flute and all other sorts of paraphernalia. Even machines with 'Roland' emblazened on the side!
Now listen to me. These kids were HOT! Hard to describe the music exactly. It's the kind of music you'd play before going to rip Eclipse up. Up beat, electric, funk. J*sus, I don't know!
They're called Goldfish. Check out their website HERE.
Do yourselves a favour and stop by Baraza before you go to Eclipse. I presume they'll be there again.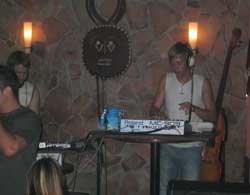 Seth Rotherham
Editor
2oceansvibe.com
HAVE YOU ENTERED THE DIRTY SOUTH COMPETITION?

22 November , 2004 - MUGG AND BEAN
MUGG AND BEAN - WATERFRONT
Kobus the manager needs to have a little lie down
I will not get myself too worked up about this one because a person of such little importance doesn't deserve more than a couple of words.
A friend of mine and I made the fatal error of doing a spot of shopping at the V&A Waterfront on Saturday morning at 9am.
GOOD GOD
Please promise us that you will never do the same thing! From start to finish everything was a dog show. There seems to be a very large amount of freaks who are from the Cape area but decide to wreak havoc at the Waterfront on Saturdays. They even take photos of each other as though we were at Disneyland. I started slitting my wrists when I found myself waiting in a ten-strong queue at Musica with only one till open. The chap in the front of the queue was arguing with the fool at the till for over ten minutes. Thank God I was buying Michael Buble who would sooth me on the way home. I know we slated Buble a few months back but we've matured a bit since then and we're giving him another chance!
Moving swiftly on..... we decided to get some brekkie at Mugg and Bean which is situated at the front door of the new section at the Waterfront.
We sat in a section of the restaurant which was a bit away from the main action. As we sat I asked the manager if they would be able to handle us sitting where we were. It's amazing that you can smell sh*t service before it happens. I was told everything would be fine. I expected the coffee I ordered to arrive before my eggs. Obviously it didn't. I summonsed a waiter and reminded him of the coffee and asked if he could also bring some black pepper. Towards the end of my eggs I had received neither. I hunted around for black pepper and asked for the manager.
When 'Kobus' arrived and explained the situation and asked him what the problem was. I reminded him that I could smell the sh*t service when I walked in. Then something very bizarre happened. His eyes turned almost to slits (do it as you sit at your desk now - make your eyes slits - you need to picture this) and he gave a slight smirk (please smirk whilst holding your eyes like slits) and he gave very small slow nods (give small nods whilst smirking and keep the slit eyes) and he looked DIRECTLY INSIDE ME with a look that seemed to say:
"You try'na f*ck with me?"
Speechless, I asked for the bill and we got out of there. That's when I thought I knew a little boy who needed a lie down.
Kobus, I don't know who the f*ck you think you are but you should maybe stop drinking before shifts. Also please try to remember that you are a twenty-something BREAKFAST RESTAURANT MANAGER. You're in the SERVICE INDUSTRY you revolting man - pull yourself together.
Seth Rotherham
Editor
www.2oceansvibe.com
16 November , 2004 - VACCA MATTA
GO TO DURBANVILLE VACCA MATTA
And see why
We had an early Thursday night so that we were ready for Friday night in the Northern Suburbs. My team mate and I packed our passports the night before and spent the whole of Friday going through the game plan.
Oozing sex, we cruised into Cubana. Obviously they had another 7/8 foot bouncer who must have had a stint in the NBA. WHERE DO YOU FIND THESE GUYS? We quaffed a couple of toots and decided to head towards El Vacco (Vacca Matta). Oh, must also mention that Ferdi (remember Ferdi from Big Brother? The one that made a quiet poo on the Big Brother lawn) was there looking after one of his tour groups. I must say, he has a wonderful recipe for looking after tour group. Three words.... GET THEM SMASHED. Obviously they'll always have a good time. Good work Ferd.
After my team mate convinced me it would be fun, we stopped by Stones (snooker/pool establishment) before moving on to the Durbanville Mecca - Vacca Mecca. We were inside Stones for 28 seconds. I had visions of my face being cracked open on the corner of a pool table as my assailant's buddy attempted to win the game by sinking the 8 ball into my eye socket. Moving on.
We had to deal with a small hiccup when we arrived as the portly fellow on the VIP door entrance had no idea how important we were and wouldn't let us in. Thank God we threatened the lady at the front desk who was more than willing to give us our deserved stamp.
It was at this point that we ran into Durbanville's only hope(s) in this years Homegrown Honeys competition.
WHY DO WE KEEP ON RUNNING INTO HOMEGROWN HONEYS?
WHAT THE F*CK IS GOING ON?
THERE ARE ONLY 100 and we've met 4 in a week!
"What are your names, girls?" we questioned. That's when a very simple man in bad jeans and t-shirt walked past and said "Those chicks are homegrown honeys". We knew what to do.
We took them up to the 'VIP' room and funnelled champagne down their throats. I chatted to the younger one who was as exciting as the food at Tuscany Beach restaurant in Camps Bay. Shame. Can you get more dull? My conversation topics included things like, "Wow, it must be quite nerve racking going head to head with your sister!!".
Trust me guys, vote for Dani. Wait for her shoot and you'll see what we mean. The two sisters look like Bambi in headlights. In fact, when they're done looking into the headlights and they turn their heads, allowing the headlights to shine into their ears, their eyes light up. It's true.
So the partying continued and we ripped the dance floor apart. The resident dancer at Vacca Matta is one of the hottest dancers I have ever seen. Michelle, just keep going angel!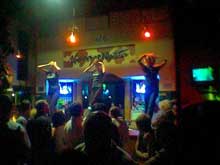 CLICK HERE TO DOWNLOAD MP4 VIDEO OF THE
VACCA MATTA DANCER (Michelle)
(1.62 Mb QUICKTIME FORMAT)
Oh, I think the song of the summer is that one that goes 'Nah Nah Nah.... Oh Oh Oh'! Too mean!
Seth Rotherham
Editor
2oceansvibe.com
4 October , 2004 - TUSCANY BEACH
TUSCANY BEACH RESTAURANT - CAMPS BAY
Catch a wake up! Everyone thinks you suck!
We would like to now take this opportunity to give a big WAKE UP to Tuscany Beach Restaurant in Camps Bay. Yes, the restaurant next to Caprice. Yes, the one that looks, from the outside, like it could be a bit of fun. Upon closer inspection you'll find the restaurant is as appealing as my mouse pad. So, Tuscany Beach Management, have a good listen and jack yourselves up.
I thought my memory was failing me when another friend moaned about Tuscany Beach and I told him I was charged R30 for a glass of wine a while back. Some friends and I decided to give it another chance the other day for lunch and see what exactly went on there. Well.... I tell you....
Our waiter, who looked very much like he was going cold turkey off some drug was our first find of the day. We were told the specials were quite extraordinary and we needed to listen. We did. Whatever-his-name-was said there is an AWESOME SEAFOOD SPECIAL.
"WELL, I CAN'T BELIEVE IT, THIS IS AMAZING....YOU CAN NOW ORDER 8 PRAWNS FOR ONLY Rxxxx. THEY ARE USUALLY Rxxxx AND THAT MEANS YOU'RE IN FOR A 40% SAVING. BRILLIANT!! IT REALLY IS QUITE INCREDIBLE"
Those were his words. Wierd.
I was expecting him to tell us we could have a free oyster if we order in the next ten minutes. Selling food like an infomercial is not normal. I looked at the wine menu and noticed some of the wines by the glass were less than R30. So either I was dreaming, or they had dropped their prices, or they bring the expensive wine if you don't specified. It turns out to be the latter as a very good friend informed me that her daughter was horrified a couple of weeks ago when they charged her R30 for a glass of wine. More R30 glass of wine stories have appeared since we first came across the revelation.
A friend was looking for something light to eat and after puzzling with the waiter for half an hour the waieter RELUCTANTLY brought out ANOTHER menu which had lighter (and, it just so happens, cheaper) meals on it.
I'm not going to go into the fact that all our meals were crap as I'm sure you are starting to realise that that goes without saying. But I must just mention that the noise from the Waiters' horseplay in and around the bar was above irritating - all being watched by the manager who was slouched over a corner table next to the till, looking SO bored and SO over it. So much so it put me off my food - which was shit anyway.
Who do you think you are, Tuscany Beach? Take a leaf out of your neighbour's books - Caprice and Bayside Cafe. Stop rating yourself and try to make the most of your insane location. Stop ripping people off, in particular the locals. WE WILL EAT YOU ALIVE. Get some proper waiters and get a decent chef in and humble yourselves a bit.
Pathetic.
Seth Rotherham
Editor
www.2oceansvibe.com
4 November , 2004 - TUSCANY BEACH
TUSCANY BEACH
Balls it up again
Keep those reports coming in. this report was given to me verbally at Caprice on Sunday. Shame, our angels at Tuscany Beach restaurant in Camps Bay are getting so inventive when it comes to bad service.
Apparently a party of 8 had a table last week and the first incident included the finding of a 'pube' in the food. This could obviously have been someone's hair which could have fallen into the food so we can't get too excited about it. Although the kitchen staff should have a helmet of some sort on.
The kicker was the drink that tasted funny. The freakshow waiter was told about it and instead of taking it back to the kitchen,
HE DOWNED HALF OF IT AT THE TABLE TO TEST IT
THEN HE TOOK IT TO THE BACK
Shame. Who does your staff training guys? Is it the manager we saw the one night? The guy falling asleep, virtually drooling, against the till?
Thanks for the amusement. Keep it up. Between you and Bush it's gonna be an action packed summer.
Seth Rotherham
Editor
2oceansvibe.com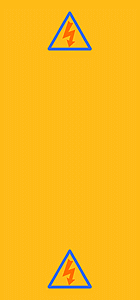 PLAY THE WORLD'S
RICHEST LOTTERY!
CLICK HERE


CLICK HERE FOR
NEW GOLDFISH CD
"Perceptions of Pacha"


BUTLERS PIZZA
(Cape Town's #1)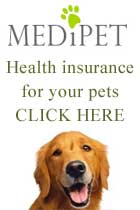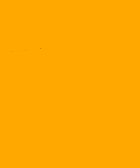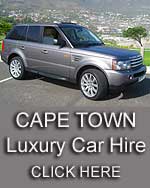 Sea Point



Gorgeous 3 bedroom
furnished ground floor apartment with
private courtyard.
R12,000 a month
CLICK HERE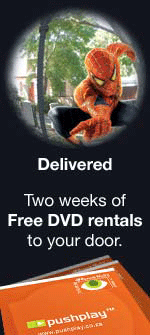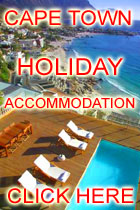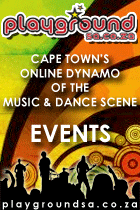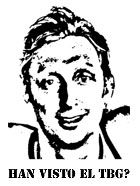 Have YOU seen the TBG?
CLICK HERE
To order your TBG
TBG-shirt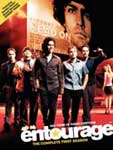 ENTOURAGE DVD
SERIES 1, 2 & 3
CLICK HERE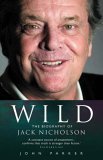 JACK NICHOLSON
BIOGRAPHY- "WILD"
READ REVIEW &
BUY THE BOOK
CLICK HERE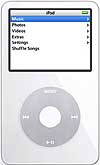 IPOD FROZEN?
CLICK HERE
to reset iPod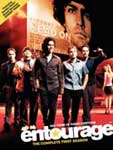 ENTOURAGE DVD
SERIES 1, 2 & 3
CLICK HERE


YOU MUST READ
THIS BOOK
CLICK HERE


CLICK HERE FOR FREE VODACOM
UPGRADE CHECK

IMPORTANT
MESSAGE
SETH TALKS TO
THE PEOPLE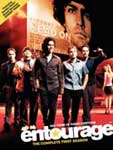 ENTOURAGE DVD
SERIES 1, 2 & 3
CLICK HERE


BELOW YOU WILL
FIND A LIST OF
SETH APPROVED
CAPE TOWN
THINGS & SERVICES