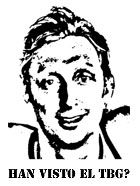 Have YOU seen the TBG?
CLICK HERE
To order your TBG
TBG-shirt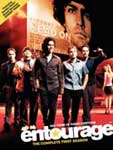 ENTOURAGE DVD
SERIES 1, 2 & 3
CLICK HERE
CLICK HERE
TO DOWNLOAD
THE CAPE TOWN
SUMMER RAP
"NO MATTER"
BY WILL & G
SERVICES REVIEWS
Cape Town
Below you will find Seth Rotherham's reviews of random Cape Town Services.
Enjoy - Seth Rotherham
17 June , 2008
"MY DRIVER WILL BE HERE ANY SECOND"
Drink, be smart, drive home and look cool - all at the same time!
[permalink]

I was once again amused the other night when we went to Chris Rock. The Lawyer and G-Man went with me to the event in my car and attended the VIP after party held at the same venue (Grand West) afterwards. As with most of these VIP after parties, booze was on tap and it wasn't long before people were grinding on the dance floor and I was ordering more champagne for the beautiful angels who were jostling for position. My phone rang and I excused myself, giving the newly-popped bottle to "Bambi." I headed towards an exit sign and opened the door, revealing a fire escape. I closed the door to muffle the mayhem of the party.

"Mr Rotherham?" a woman's voice enquired.

"Yes, this is he!" I barked.

"Hi, this is Natalie from Good Fellas. I just wanted to let you know your driver will be meeting you at the entrance in 30 minutes" she said, very professionally.

"Natalie, you sweet, sweet angel. I'm having a wonderful time here, could the driver please rather come at 01h30?" I asked.

"No problem, Freddy will be there at 01h30!"
Seconds later I received an sms detailing the new pickup time and place. Beautiful! I returned to our "booth" where people were, funnily enough, discussing how they were getting home - given the now very boozy theme of the evening. They asked me; and this is the part that amuses me.

"How are you getting home, Seth? Surely you're not driving after all that champagne?" they asked.

"Nought, I'm not driving. My driver is driving us home," I replied.

"Ooooh! your DRIVER! God, you are so POSH! I wish I had a driver!" they whined and gaaned aan.

It's quite funny, really. It's like they've never heard of Good Fellas - the service that comes to where YOU are and then drives YOUR CAR home, with you in it! It's not like I have a 24 hour driver. Christ, what do you think this is, Dynasty?

"Have you seen my driver?"
But the beauty is this whole vibe that gets created when you see the same people at the same parties and functions and they keep hearing you referring to "your driver" (only when they ask - we don't want to come across as crass, darling) and they keep seeing you leaving in the back seat of your car with "your driver" driving the car.

Good Fellas is a very slick professional service and they offer various packages, starting at as little as R60 a month. You need to check out their website and you need to get involved. You can't drink and drive. It's not cool and you will get caught. I've been using these guys for years and, because I'm a member, I don't even have to pre-book them - as long as I call them 30 minutes before I need them, it's fine. Nothing wrong with that - VERY convenient for when that lunch starts getting a little carried away...

It's also pretty cool dropping off drunk angels at their places on the way home. They like you more because of it.

Check out the Good Fellas packages and details, FAQ's etc. They're available in Cape Town, Schweeburg, Durbs, East London, P.E., as well as Pre..Pre..PreTORIA (sung to the tune of Duran Duran's Notorious).

Get signed up to Good Fellas ASAP.
Good Fellas
The smart way home

0861 433 552

www.gfellas.co.za

Seth Rotherham
Editor
2oceansvibe.com
[permalink]
3 June, 2008
POWER TO THE PEOPLE
As Eskom hints at more drama to come
[permalink]

You've probably noticed that things have been a little quiet around here of late. There is a reason for this. We've had an installation of sorts, here at 2oceansvibe HQ. Some techie guys came in yesterday to install a "UPS" for us. Whilst some of you probably think this might be the name of a courier company, I can confirm that it is in fact an "Uninterruptible Power Source." Check out the new toy. Oh yeah, that's what I'm talking about!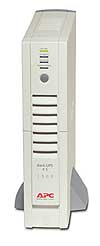 My new UPS - very sexy
In layman's terms, it's one of those things that keeps the electricity going, even when there is a power failure or load shedding. And it doesn't take petrol - it just plugs into the wall and recharges - like a rechargeable battery! No noise at all! I know! How can this be!? I was compelled to get one after a recent report that Eskom cannot confirm 100% that there won't be load shedding during winter. No shit. Have you ever been able to confirm anything 100%?

This little puppy I bought gives me an hour of power, even when there is no electricity. Are you with me? It won't keep me going for ever, but when there is a power failure I will have enough time to send off important emails and write whatever drivel I have for you at the time!

The guys I used, called Uninterrupted.co.za (fair enough) have other units that can power you or your company for MUCH longer, if you want to go for that vibe. Whatever it is you require, they are pretty cool and speak English, rather than Geek. Basically they don't leave you feeling sodomised, having paid for things that you don't understand.
So I told these guys that if they had the installation done in less than an hour, I would mention them to the trusting 2oceansvibe readers and community.

Well suck me sideways, it took them half an hour!

So if you don't know the first thing about computers and electricity, and you're looking for people that speak YOUR language, get in touch with these guys. It just so happens that they're cheaper as well..

Check out their website www.uninterrupted.co.za and give them a go! They come with the 2oceansvibe stamp of approval!


Seth Rotherham
Editor
2oceansvibe.com
[permalink]
6 May , 2008
YOUR LIFE ORGANISED
Freelance P.A. service hits Cape Town
[permalink]
I've had a Personal Assistant for as long as I can remember. They get switched every now and then - but they are always there. You'll remember I was recently advertising for a new P.A. - well I found one and she has become The P.A. on the 2oceansvibe Characters page. She replaces the old P.A. who has jetted off to London and has now become The Character Formerly Known As The P.A.

All of that said, I have noticed that not everyone has a P.A. That is very unfortunate. People will often come up to me and ask if I think they should get a P.A. I always say yes - P.A.'s are worth their weight in saffron. But some people aren't quite ready to make the jump - they're worried that they "might not be able to justify it." They don't know if they will have enough things for their P.A. to do.

Fair enough.

Enter My Life Organised: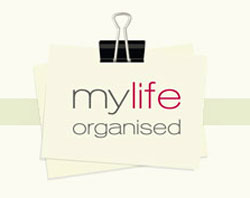 www.mylifeorganised.co.za
Check this out:
"My Life Organised is your ultimate in premier lifestyle management – your second pair of hands, your own personal PA - to get those jobs done and those lists ticked off. Ultimately our tailor made packages, for all walks of life, give you the time to do the things you love and not the chores you hate, and eventually regain the time and freedom to focus on living your life list free.
We stop at nothing. My Life Organised can drop your pet at the vet for her check up, pop into Woolies for the forgotten groceries, gather quotes for that long awaited alarm installation, stand in line for your passport application, meet the plumber at midday as your dishwasher has exploded once again – we can fax, send, phone, research, find, quote, arrange, meet, collect and deliver – you name it and we'll organise it…"
That's what I'm talking about!

Although I already have a P.A., I am AWFULLY busy and thought I would test having another freelance P.A. So I commissioned My Life Organised to take care of some odds and ends for me. Funnily enough the one job was to wait for the plumber as the dishwasher had vomited on itself in The Safe House. I tested them to see if they could do two things at once and asked for my fridge to be stocked, as well as for fresh flowers to be positioned in the lounge.

All done! Perfectly!

Bloody impressive and everything itemised and billed for correctly on a stunning little email!

I didn't use them again because The P.A. was getting a little miffed at the idea. But, for those of you who can't seem to get it all done, do yourselves a favour and get in touch with

www.mylifeorganised.co.za




Seth Rotherham
Editor
2oceansvibe.com
[permalink]
10 April , 2008
QUALITY ONLINE GIFT DELIVERY SERVICE
Finally, hand-picked gifts with quality presentation - at your leisure!
[permalink]
I recived this gift from Dail-a-Surprize on my birthday and, I'll be honest, I was pretty fucking impressed. This is premium, high quality stuff.

Check out what I got: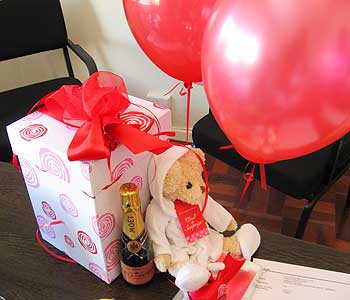 Quietly enjoy the little dinky bottle of Moet!
Very naughty!
What was in the box, you ask? Well, OBVIOUSLY it was a brand new 4-year-old Campbodian child (I have names her Tevvy, which means "angel") , to add to the very few I have left, living under my floorboards. This new addition will increase my flip-flop production considerably! I just never remember to feed them so the numbers have, admittedly, dropped.

Just kidding! (Or am I?)

Seriously though, you need to check this website out. Finally someone has got it right - the layout is brilliant and they can deliver ANYTHING for you from flowers to chocolates to champagne! And, as I said, you can be assured that when it gets to the receiver, it's quality!
Seth Rotherham
Editor
2oceansvibe.com
[permalink]
15 January , 2008
EXCLUSIVE CAPE TOWN REHAB LAUNCHES
Montrose Place amongst world's best luxury drug rehabilitation centers
[permalink]

Cape Town and South Africa has finally joined the ranks of the world's best and most exclusive luxury drug treatment and rehabilitation facilities. Montrose Place outshines most of them, offering an extended care retreat with exceptional world-class facilities and highly sought after staff, positioned in Cape Town's most pleasurable surroundings.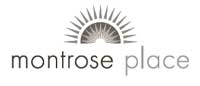 And what better time to talk about Cape Town and South Africa's newest and most exclusive drug treatment retreat! Just after New Year! - JUST as most of Cape Town finds themselves madly rummaging through the bathroom cabinet, desperately trying to find that last razor blade to finally end the pain. The self-loathing. The Loser Complex.

PUT THE BLADE DOWN, MY ANGEL! EVERYTHING WILL BE OK!

Shhh! Come with me.. Look what Montrose Place has to offer!


Montrose Place
South Africa's most exclusive and luxurious rehab facility
I'm amazed it took Cape Town so long to get this together! It's absolutely PERFECT! Not only has Cape Town produced the best drug addicts in the world, but the WORLD has desperately needed a luxury substance abuse facility in Cape Town. Foreigners LOVE this city so much - the natural beauty simply lends itself drug rehabilitation! We've seen the celebs and playboys first hand - they could come into town, party their heads off one last time, and finish off with a visit to the most exclusive drug rehab treatment retreat in the country! An extended holiday featuring extended care! And the people behind Montrose Place couldn't have picked a better suburb - Bishopscourt - Cape Town's oldest and most prestigious suburb.

I'm no pro on rehabilitation and treatment centers, but I must say that total luxury would be an essential for me. The fact that it comes with a private chef and maid service would make sense - and the irony certainly wouldn't be missed, given that my own domestic executive, Mavis, would more than likely be the cause of my entering rehab in the first place.

Oh very nice. Sort yourself out in style.
Private en-suit bedrooms with kitchenettes, as well as a personal driver will back up the rumours that both Lindsay Lohan and Britney Spears have been making enquiries. The retreat's promise of "discreet airport transfers" certainly does suggest this type of clientele. Let's face it, this place is right up their street; certainly a lot easier than having helicopters swarming you during the usual stints in the U.S. Britters reckons she doesn't need rehab. Fair enough, she probably didn't see this video.

Using the latest scientific treatment standards, as well as the classic "12 steps" and "Minnesota" models, one wonders if they will put together some sort of a mini-rehab package for Capetonians. They could call it the "Camps Bay Model". You know, just a quick 3 day clean up... until next time. Very useful for the playas and coke whores found on the other side of Table Mountain!

I visited the centre the other day and, with home theatres, 15-meter swimming pool, khoi pond, spa and salon treatments, yoga room, library, internet and air conditioning, I begged (to no avail) one of the Directors to tip me off when any of our favourite worn-out starlets (or 6-foot Minnesota models) have checked in. I'd be glad to help the rehabilitation process with my own special jacuzzi treatments. And then, once checked out, we could also test the process by seeing how they handle saying no to the bottle of rose Dom I CRACK open as the sun gently sets in front of The Safe House, with some Pink Martini playing on the iPod.

Just one sip, my babba.. it'll be fine..

God, look at that sky.

I love you.

Hold me.

Mmm.

Montrose Place
Email: info@montroseplace.co.za
Web: www.montroseplace.co.za
Phone: +27 21 797 9270


Seth Rotherham
Editor
2oceansvibe.com
[permalink]
5 December , 2007
ADAM & EVE ONLINE CLOTHING COMPETITION!
Featuring Blue Bay Clothing
[permalink]

It's competition time, friends! South Africa's first and foremost online clothes shopping website, Adam & Eve (www.adamandeve.co.za) is THROWING it around at the moment!


South Africa's #1 online clothes shopping portal
Outstanding!
In an EXCLUSIVE competition with 2oceansvibe, ONE lucky reader will win one of these STUNNING summer dresses from every Cape Town girl's best kept secret, Blue Bay - one of the brands featured on Adam & Eve.

Adam & Eve is the brainchild of Frankie Fleck, better half of ex-Springbok and previous 2oceansvibe Show guest, Robbie Fleck - and she has done a magnificent job.

And you wondered where Robbie Fleck got his cool smooth sense of style..

This competition is OBVIOUSLY for the girls, but also for the smart boys out there - should they wish to stack up points in return for sexual favours from their girlfriends/lovers. And trust me, you'll get PLENCH! Chicks dig this stuff.

Have a look at these gorgeous garments.
Christ that chick is gorgeous!

And those dresses!

(Let alone that naughty little jump suit effort at the end!)..

...you'll be the BELLE OF THE BALL!

Ok, so to stand in line to WIN one of the above featured garments, all you have to do is the following:

Go to the Adam & Eve website - www.adamandeve.co.za and then tell us how many DIFFERENT CLOTHING BRANDS are available on the website.

Email your answer to editor@2oceansvibe.com with the subject
"Adam & Eve competition."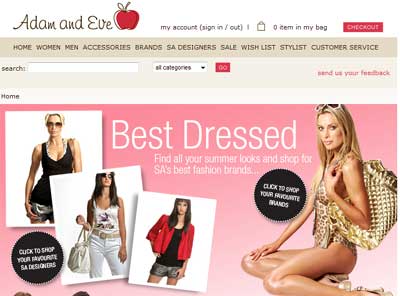 South Africa's #1 online clothes shopping portal
Adam & Eve

Correct answers will go into a top hat (like a magician uses) and the winner will be pulled out of the hat, next week, Friday 14 December.

Ooh, that's a VERY easy way to take care of a Christmas prezzie..



Seth Rotherham
Editor
2oceansvibe.com
[permalink]
5 December, 2007
HEALTH INSURANCE FOR YOUR PET - CLEVER
Finally
[permalink]

Well it had to come to South Africa, didn't it? I mean, it makes sense - cheap pet health insurance for your dog or cat! In South Africa. Why didn't YOU think of that?

How about a warm round of applause for South Africa's premier veterinary pet health insurance company - Medipet.

See what they did there with that paw and the 'i'..
..nice.
Ever since these guys have hit the scene, I've found myself in some high level talks with some very low level people, about the validity of pet health insurance in South Africa. This stuff is MASSIVE in the UK and I am intrigued as to why the idea might sound crazy to some people. But then I find out that it is mostly people who have never had a pet. And I've had pets, people. I've had many pets.

Mostly my Mother's pets.

Let me tell you something.. I've been talking about the dire need for pet health insurance ever since our (my Mother's) SECOND Yorkshire Terrier, Meggy, developed a rare skin disorder. It is only right that an only child surrounded by 1,000 antique porcelain dolls and dolls-houses, should be subject to the development of a rare Yorkshire Terrier skin disorder. A skin disorder that reached such staggering proportions, that my mother was, at one stage, seen signing cheques in the tens of thousands of Rands - as samples of Meggy's fucking skin and DNA (ARE YOU LISTENING TO THIS!!!?) were medically couriered (REFRIDGERATED) to the United States of America for ANALYSES by some of the world's top animal skin scientists!

I swear to God.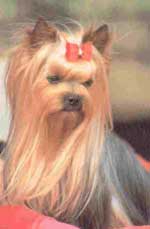 A Yorkshire Terrier - similar to Meggy.
And what a beautiful coat.
Naturally, this was all QUITE a surprise for all of us, knowing that Meggy was sired by Duke Remington - a famous "Yorkie", bred by one of South Africa's most well-known breeders. I mean, Meggy's mother was none other than "Dynamite!" - a FAMOUS local Yorkshire Terrier who used to bounce on her hind legs when her master cried the words, "DANCE, DINAH, DANCE!"

Dynamite obviously belonged to my grandmother...

I got carried away a little there, but at least now I've written it down - because I'm tired of telling people how expensive animals can get. But you love them so much you don't even realise that R20,000 has gone and you've got nothing to show for it but another vet bill. Animals are expensive things my friends - and if I had a pet right now, I would have pet insurance. And if you have a pet any bigger than a canary, you'd be a fool not to have any pet insurance. It's not a lot of money..

Check these guys out. I'm really impressed.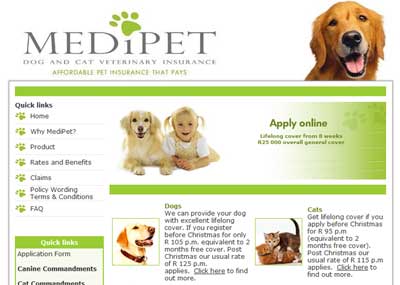 Medipet's website - you can apply online
You'll LOVE it - it's riddled with cute puppies and kittens
These guys charge around the R100 mark per month (you can apply online) for pet insurance that covers virtually everything up to R25,000 - including some things you didn't even think about - like if your dog eats someone else's child..

Medipet's pet health insurance covers accidental injuries, ANY illnesses, operations, dog fight lacerations, gastric torsion (nice), tumour removals, hip replacements and more.

These guys even put in money for kennels, reward advertisements and prescriptions diets. I'm serious, check out their rates and benefits at Medipet's website.

You can even apply online for dog and cat pet health insurance in South Africa - with Medipet.


www.medipetsa.co.za


or call 0800 MEDIPET or 021 701 2023


ps. I am not sure if these guys would cover that revolting 16 year-old Corgi who's owner beat me with an umbrella a couple week's back.




Seth Rotherham
Editor
2oceansvibe.com
[permalink]
21 November , 2007
THE HANDYMAN YOU'VE BEEN LOOKING FOR
Finally! The ultimate Cape Town handyman! Grab a pen...
[permalink]

I thought I had found the perfect "tame" Cape Town handyman. He was not very different to the naked guy on the beach in Along Came Polly. He was very foreign, had a pony tail and was nothing short of "steamy." He did everything from painting my house to tiling my deck - everything was going great!

That was until he charged R350 to lead a wire along the wall from the TV in my office to the plug socket. R350! To secure a wire to the skirting board! Like I was some sort of a fool. Like I had never touched wire before. Like I didn't know how to hit a hammer against the small nail that secures those little plastic clips around the wire onto the skirting board. Like I couldn't calculate out how much work was involved. I told him to go fuck himself and buried my head in my hands, wondering if people will ever stop fucking people over.

That was before I was put in touch with HomeFixers.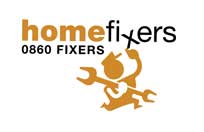 HomeFixers - Thank God
One of the partners is a good friend of mine and his timing couldn't have been any better. He understood that I wouldn't comment until I had taken them through their paces...

Since then The P.A. has called these guys for every job, big and small. Their first job was replacing virtually every light bulbin the Bantry Bay house. That was the job. Nothing else. They came to check the bulbs, went to BUY the bulbs, then came back and put them in! I'm FINE with that! It cost virtually nothing and took them no time.

Then they rewired the "new" stove at The Castle. (You might remember when The Kitesurfer decided to half-install the stove the other day, at 7pm - dinner time). This rewiring process included breaking into the garage which was locked from the inside. No problem whatsoever. That was after we realised the electric board wasn't in another room which was locked - which resulted in them getting someone else to BUY and BRING one of those door keys that have a code written on them, so we could get into the room in the first place. Hectique!

These guys are out of control! And yes, I have had them at The Safe House. They planed down the front door (which mysteriously decided to grow), turned up the geyser, and even installed a little digital safe I bought to store the multitude of raw uncut blood diamonds I keep with me at all times. That, and Lennon's original hand written lyrics for Woman.

There seems to be no limit to what they can do. Here are some other things I found out they can do: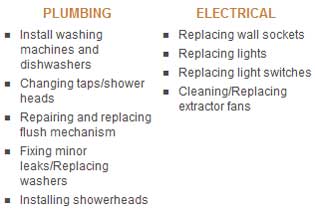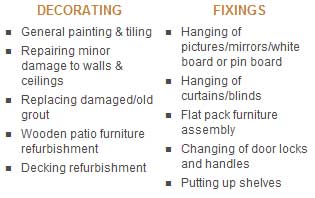 That's pretty much EVERYTHING!

Their pricing system is EXTREMELY fair, charging for time, not bullshit - producing a beautiful well-structured invoice every time. And these boys work FAST. None of the work they have done for me has taken longer than an hour. Check out their rates here. They even have special deals for a full day's work.

They could probably build a condo in that time..



So if you're looking for a Cape Town Handyman, check out my boys, Homefixer's Website HERE.

OR call them on 0860 FIXERS.

Call them now, they're tame.



Seth Rotherham
Editor
2oceansvibe.com
[permalink]
25 September, 2007
ALL'S WELLNESS THAT ENDS WELLNESS
The Wellness Warehouse opens on Kloof Street and blows us away
[permalink]

One of the rules that I constantly try and enforce on myself is not to stock up on junk food. If I have the need for chocolate or biltong or sweets of any sort, I am forced to go to the shops and get it. I can't keep a stock of sweets and only tickle it now and then. I can pretend to, but that only lasts a couple of hours and before I go to bed I would have devoured all of it and found myself positioning mirrors in the hall at the Safe House to get a good view of the TV as I settle into a painful extended stay in the bathroom. (I don't think that was too graphic? I mean, I didn't use words like stool or anything).

Another angle to the problem is going to shops for something good (healthy), and being tempted to buy crap at the same time. It's like running the gauntlet when you're queuing at Woolies and you find yourself subjected to temptation only Eve could describe. It's radical - you are surrounded by enough chocolate and sweets to give you full-blown acne and an extra 3 kg's by sunrise. Sin, sin, sin!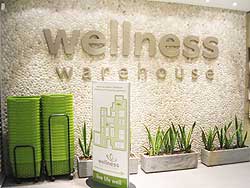 You'll have your own reasons why you love it, but for me the Wellness Warehouse in Cape Town's Kloof Lifestyle Centre on Kloof Street is what I call a "safe zone" - you can do what you want, buy what you want and EAT what you want with COMPLETE gay abandon and you won't hate yourself when you're done! PERFECT!

I don't know where to start but this place is a complete mind fuck! It is MASSIVE and basically takes up the whole of the Kloof Lifestyle centre's top section. It doesn't end! You walk in and see the usual mainstream convenience products lined-up over several aisles and are impressed by the pharmacy in the other corner - reminding you of of a classic Boots setup - but then you realise that this theme takes up only a QUARTER of the store.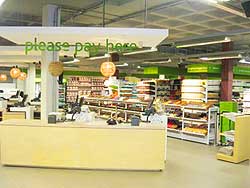 You walk further and discover what-can-only-be-described as four or five other themes. Like you've walked into a CENTRE of sorts, with different stores offering different things - all falling under the heading health and wellness. But this is not a centre, my friends, this is ONE FUCKING SHOP! You'll never want to leave!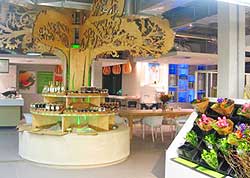 One section is dedicated to supplements and complimentary medicine, whilst another offers pilates and sports equipment. You go further into the wonderland of health and notice a plants and flowers section, a book shop focusing on body, mind and soul, a naturopathic dispensary, a spa (full, including hairdressers, massages etc.), standard cosmetics section including the likes of Clarins and Garnier, a section with stuff that is normally hard to get (like Dermalogica), a food market with wide organic choice and even recommended special bed mattresses and shower heads demonstration area! Then, just when you think it's all over, you collapse in the deli section with full Kauai-type counter with sandwiches, smoothies and everything else you want to gobble up. It is completely out of control!
Just like the question "have you joined facebook" was on everyone's lips for WAY too long, "have you been to the Wellness Warehouse" is picking up momentum and I SUGGEST you get your answer ready. Go there, and you'll be pleased you did. You'll get lost and won't want to leave. Then you'll go again. And again. Then you'll join discussions over dinner asking WHAT we did before the Wellness Warehouse came along. Like HOW did we cope without cellphones? It's the same thing - but it doesn't give you radiation burn.

It's ALL good and it's something you have never experienced before. It makes the classic South African retail experience look like something out of Tarzan.

You'll love it! I suggest you get in there quick!

Look at yourself man, you're a WRECK!!

Seth Rotherham
Editor
2oceansvibe.com
[permalink]
31 May, 2007
GLASSHOUSE - REJUVENATION FOR MEN
For the poof in all of us
[permalink]

I think this little mention comes at a good time - shortly after my review on John Shannan's book, "Modern Man is a Wimp" where Shannan makes an alarmed reference to "metrosexuals" and the fact that men find it necessary these days to use moisturisers and other products to beautify themselves. Personally I don't have an option as I suffer from the same condition as my mother, in that my skin and body turns out to be QUITE delicate and requires only the finest and costliest products to be applied at all times. It is well documented in my article I wrote about Bededas bubble bath.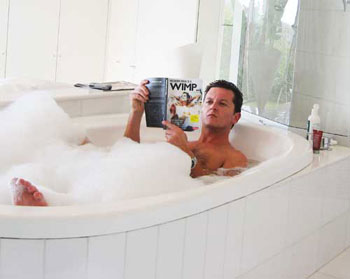 Seth is pampered from time to time
That aside, more and more of today's men are taking time out to pamper themselves and have joined the previously female-only strive for eternal youth - ever aware of the prime condition of the men seen in adverts gracing the GQ's and Vanity Fair's of the world. My mother was sending me to secret facials behind my dad's back since I was 16. I remind you that I was, and still am an only child.

I got a call from Glasshouse the other day, inviting me for a pampering. They received a swift "yes" from my side and welcomed me at their premises in "The Foundry" (near Beluga there) a few days later.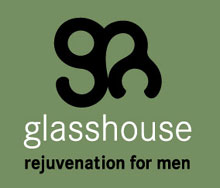 Glasshouse - Rejuvenation for men

Glasshouse - "Rejuvenation for men" was started by sisters Carol and Beryl Erikson, who's motives for starting this company are slightly dubious, given that they are both single. Their full-service grooming parlour STRICTLY for men offers everything from facials, peels, manicures, pedicures, massages and body wraps to teeth whitening, waxing, tinting (pushing it a bit) and will even serve you a cold beer (in a glass) for your troubles! You can even watch sport on plasma TV's whilst they tend to your gorgeous body.

They treated me to a Hot Stone massage and educated me in the ways of grooming by informing me that these massages don't come with a happy ending.

Fair enough.

I just thought.....you know....for the price you're charging.........never mind.

So that's it people. Treat yourself. Live longer. Look younger. Score more chicks. Find love. Get Married. Keep pampering yourself. Look younger. Get a divorce. Score more chicks. etc. etc.

Their website has a full breakdown of all their services, prices etc. Check it out here.

Or go and visit them at:
110a The Foundry
74 Prestwich Street
Green Point
Phone: 021 419 9599
www.glasshousemen.com
Seth Rotherham
Editor
2oceansvibe.com
[permalink]
12 January , 2007
SATELLITE INSTALLATION
An art form
[permalink]

I have just had a PVR satellite decoder installed at the safe house and I thought I should let the earth see the following video. Particularly if you're looking at getting a satellite decoder in Cape Town, or want ANY work done on your TV.

Before we get into that, I must just tell you a story I heard this morning. The Surfer called me and told me that The Chief bought a new PVR decoder and got in some guys to install it for him. They arrive at the house and he leaves them there to finish up. Apparently it was a fuck fest. The satellite dish had to be changed and all sorts of shit. They stay there SIX HOURS!! From 14h30 to 20h30. He assumes they have left and gets a call at about 20h30 from ADT. ADT tell him the alarm has gone off at the house and they have caught some burglars. He arrives home with two ADT guys holding guns, standing over the two satellite installation guys SITTING ON THEIR HANDS ON THE FLOOR.

Beautiful.

Anyway, back to the video...
Seth Rotherham
Editor
2oceansvibe.com
[permalink]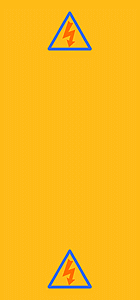 PLAY THE WORLD'S
RICHEST LOTTERY!
CLICK HERE


CLICK HERE FOR
NEW GOLDFISH CD
"Perceptions of Pacha"


BUTLERS PIZZA
(Cape Town's #1)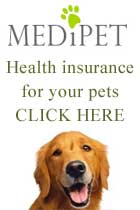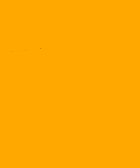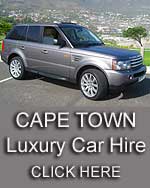 Sea Point



Gorgeous 3 bedroom
furnished ground floor apartment with
private courtyard.
R12,000 a month
CLICK HERE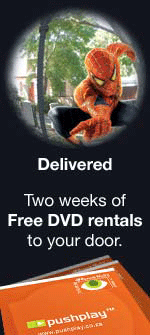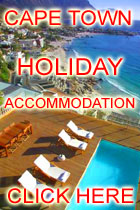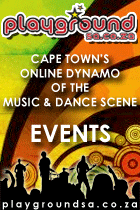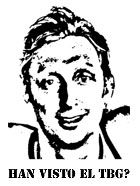 Have YOU seen the TBG?
CLICK HERE
To order your TBG
TBG-shirt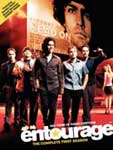 ENTOURAGE DVD
SERIES 1, 2 & 3
CLICK HERE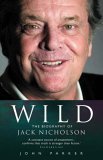 JACK NICHOLSON
BIOGRAPHY- "WILD"
READ REVIEW &
BUY THE BOOK
CLICK HERE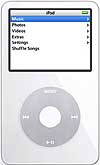 IPOD FROZEN?
CLICK HERE
to reset iPod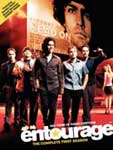 ENTOURAGE DVD
SERIES 1, 2 & 3
CLICK HERE


YOU MUST READ
THIS BOOK
CLICK HERE


CLICK HERE FOR FREE VODACOM
UPGRADE CHECK

IMPORTANT
MESSAGE
SETH TALKS TO
THE PEOPLE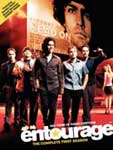 ENTOURAGE DVD
SERIES 1, 2 & 3
CLICK HERE


BELOW YOU WILL
FIND A LIST OF
SETH APPROVED
CAPE TOWN
THINGS & SERVICES