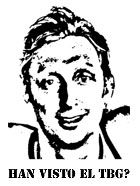 Have YOU seen the TBG?
CLICK HERE
To order your TBG
TBG-shirt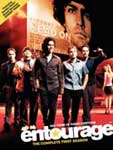 ENTOURAGE DVD
SERIES 1, 2 & 3
CLICK HERE
CLICK HERE
TO DOWNLOAD
THE CAPE TOWN
SUMMER RAP
"NO MATTER"
BY WILL & G
The TBG is a Cape Town enigma. We don't know who he is but he is instantly recognisable. TBG stands for Tall Blonde Guy. 2oceansvibe readers spot him if they're lucky and send in pics of their moment with greatness..
HAVE YOU MET THE TBG? Send your pics to editor@2oceansvibe.com
22 July , 2008
INCREDIBLY RARE TBG TIGER SIGHTING
As the great demigod descends upon the Southern Suburbs
[permalink]

Can you believe it!? It's been OVER A YEAR since a TBG (Tall Blonde Guy) sighting was made at Claremont's Tiger Tiger - the nightclub that will never say die.

Check out this incredible account by Genevieve B, of the moment many people spend a lifetime searching for, but never get to experience.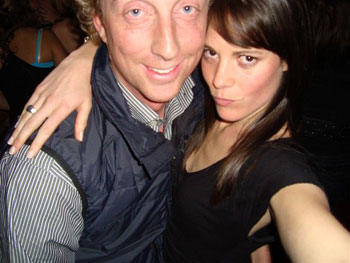 Genevieve B - savouring every moment with the king of kings
Hi Seth,

So there we were, a usual Friday night.or so I thought. and after some farewell drinks, we decided that we were over oblivion (where it's hard to spot someone who is even remotely decent looking) We were going to call it a night but something was telling me that I should not be returning home but to head to the infamous stripey kitten (aka Tiger) I don't normally venture there on a Friday night but something was telling me.JUST GO! As we stepped inside there was a strange (but nice) presence in the place, and I knew that it wasn't just the copious amounts of Jack & Lime inside me, it was something bigger than that!
I was drawn straight to the bar (where God himself was standing) and I knew that I just had to get a picture with him. It was then that I realised why I was drawn there.to Tiger, on a Friday night! It still seems so surreal, if I didn't have photographic evidence I wouldn't believe that it actually happened.
TBG you have changed my life, I will never forget this!

Genevieve Baretta
I can't say I'm surprised. The TBG has spent YEARS changing lives and influencing global events.

Congratulations, Genevieve!

You naughty little thing you..


Seth Rotherham
Editor
2oceansvibe.com
[permalink]
23 May, 2008
AMAZING PSYCHEDELIC TBG SIGHTING
TBG fan experiences rare sighting of TBG in neon!
[permalink]

Well, could one EVER imagine such a sensory overload?! Dealing with a TBG Tall Blonde Guy) sighting is a brain explosion in itself, let alone having to contemplate the well-documented magnificent aura encapsulating the great man's entire body. But now, you're getting all of that.... IN NEON!

I simply couldn't imagine staying conscious with such a vision before me. I mean, that's probably what heaven looks like. But we wouldn't be able to deal with it as humans. We have to become angels first; at which point we will be equipped with coping with such powerful celestial bodies. That's IF we pass God's much anticipated "judgment day." Which, to be honest, should go well. I mean I haven't pumped too many fat chicks. I think he'll be pleased with my stats.

Back to this monumental TBG sighting. Let's see what Zachary had to report on his moment with the icon of peace and joy.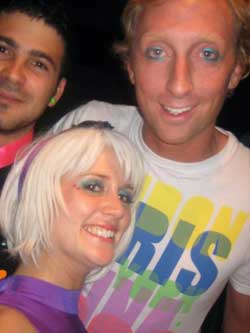 A tower of a man
Hi Seth,

I live in Jo'Burg and head to 2oceansvibe every time I need a reprieve from Gauteng's hustle & bustle (i.e. a bit too often).

This past weekend I flew into CT for a party of my dear friend Lauren in Camps Bay (West Camps Bay - to be specific). Its theme was neon and, well, a jol of undue proportions manifested itself on the seaside cliffs in one of the sickest pads this side of Beverly Hills. The highlight of the night came from my privileged and first (though hopefully not last) sighting of the TBG. It was amazing to have such an impromptu visit by a celebrity. It reminded me of my days growing up in LA. The TBG dawned these little decorative neon orange stickers in some artistic pattern all over his arm. He wore a white shirt that seemed to magically reflect all the neon colours of the evening. Needless to say, the most creative costume there. I attach a picture, though I fear I was too star struck myself to be in it myself, though the birthday girl Lauren is.

I mean, we know he is omni-present and blessed with gifts - but little did I know the artistry and flair he could bring to any old evening in Camps Bay. Needless to say, I hope he does the Vortex circuit this Spring.

Maximum respect,

Zach

Three words, Zach - Wow, wow and WOW! I know a LOT of people who would mark that down as the party of a lifetime! And look at that blue eye shadow around his eyes! It enhances the fact that he is clearly some sort of mythical creature.

AGAIN, the TBG blesses us. AGAIN, his magnificence refuses to dissipate. AGAIN, he heals and blesses everyone in his path.

Thank you, TBG.. for everything. I trust everyone reading this will be thanking God tonight in their prayers for The TBG. Mind you, God probably prays TO The TBG, so that doesn't really make sense.

Pray to the TBG.

Thank him for himself.


Seth Rotherham
Editor
2oceansvibe.com
[permalink]
4 February, 2008
TBG SIGHTING CURES MIGRAINE
Obviously
[permalink]

I'm not going to say I'm altogether surprised, but it turns out we have actual proof of some of The TBG's powers - namely, that he can cure migraines. I'd say that's pretty much a given - I mean, for someone who is rumoured to have given sight back to the blind and once even turned a white person black.

Let's see what Liz had to say, as she also gives us a very important tip about meeting the incredible mystery that is The TBG (Tall Blonde Guy).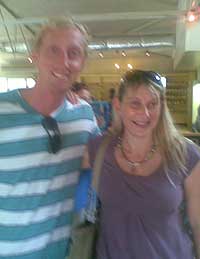 Hi Seth,
I just knew that this year was the start of something big. I don't really know how I knew it but I just did. And then in an amazing confirmation of this fact from higher celestial beings I looked up this morning and thought "OMFG, that's the TBG!" I was standing in La Cucina in Hout Bay at exactly 10:13 am today, when I saw him. His aura, his spirit, his overwhelming presence were just as I expected. I must add that I was not looking my best, something I will regret for the rest of my life. Anyway I rushed up to him and he generously agreed to be photo'ed with me. And then he spoke:"What's your name?". I couldn't believe that he was displaying interest in a mere mortal such as myself. Anyway after I got over the stunning excitement of seeing him I took time to watch him quietly from a distance. He sat alone in La Cucina. Maybe someone joined him after I left, as I wasn't there for long, but I like to believe he was sitting there alone, regrouping his resources after having spent the night rescuing orphans from a fire.
There are a few points I'd like to make after having encountered him. I suffer from migraines quite often and was getting through one today. Even having only been near him for a mere moment or two, I can witness that my migraine has totally disappeared. Secondly, a lesson to all you folks out there: Never, ever, ever leave home not quite looking your best. You NEVER know when you'll bump into the TBG!!!!!!
-Liz

Liz, firstly congratulations on being so blessed! You are truly one of the lucky ones. To have left home at the right time (albeit a tad disheveled) that day and to also have a migraine on board of which you were cured, makes for a dramatic TBG sighting. I very much doubt you've had a migraine since and would love to have some feedback on that topic.

And thank you for the tip. Indeed, why risk leaving home unkempt? Don't risk a poor TBG sighting photo. Look good - all the time - you never know.

I would certainly suggest such an encounter to my aunt who has apparently suffered from migraines for years. But I doubt the stars will align in such a rare manner so as to allow her a TBG sighting. Like Santa, the TBG only grants sightings to children who are good.

Like Liz.

God bless you, TBG.


Seth Rotherham
Editor
2oceansvibe.com
[permalink]

8 January, 2008
THE FIRST TBG SIGHTING OF 2008!
Kfm's Richard Hardiman finally gets his time in the sun!
[permalink]

I can't cope! Just listen to this CAREFULLY! It's like God and The TBG are up to something.

Just a couple weeks ago on TBG Day (December 27), one of the 2oceansvibe characters, The UK Showbiz Guy (London's #1 hit music station, Capital FM's Johnny Vaughan) was with us in the 2oceansvibe online radio studio and surprised us by organising a LIVE visit from The TBG! (I will publish a download of the show soon, I promise).

And then, TODAY, I get a TBG sighting from ANOTHER one of The 2oceansvibe Characters, "Harders," who happens to be Richard Hardiman from Cape Town's #1 hit music station, Kfm! It's fucking mental! It's like everyone fell into a bath full of The Secret!

This is what Harders had to say:

The TBG and Richard Hardiman
Dearest Seth,

Although I am still shaking and the adrenaline is still coursing through my veins, I need to get it out to the world that…sheesh...its harder to talk than I thought…that today my life changed as I now it.
I met the TBG.
I know.
I was in my old stomping ground Hout Bay, visiting my mum. We were minding our own business; mum telling me that I was the favourite and the will was all made out to me etc. when I looked up and saw a golden halo above this guy in the corner of the deli.
I looked twice as it is just after Christmas and baby Jesus did say he would come back…however it was perhaps even better. The TBG!
I murmured to mum to take a peak…not being educated and a Hout Bay dweller, naturally I had to explain we were in the presence of greatness…almost to the point where I would sign over the will to him in an instant…she was impressed and got the will out…I made her put it away…money is not the TBG motivation I told her.
It got better though – he recognized me! He bought mum and I a slice of chocolate cake with cream and had the waiter send it over! Obviously like Santa he knows when you have been good…mum was again suitably impressed and brought out the will again. I told her to put it away- not necessary mum.
As we left I casually introduced mum and asked him if he would like a picture (my clever ruse to get one of him)…he declined (he is the famous one after all) so eventually my cool exterior disappeared and I had to admit what HUGE fan of his I was…mum told him how much I adored him and eventually (I think just to get rid of me) he gave in and this is the result!!!!
Santa can screw himself now; I have my picture and he shook my hand!!
Lots of love
Richard.

Three words - UN BE LIEVABLE! Well done Harders! It has finally happened to you and the excitement is tangible (something you can see, smell,touch). It is SUCH a CRAZY turn of events!

I mean, how does this all work?

The one day The TBG is in the 2oceansvibe radio studio which was very easily the greatest day of my life, then the next day he is sending slices of cake over to a Kfm radio DJ, who ALSO happens to be one of The 2oceansvibe Characters! Huh? What the fuck! I just don't understand. It's like radio and The TBG and energy and all sorts of shit.

I need a rest. I just need to get my head around this.

Something is going on.

One thing is for sure, The TBG is orchestrating ALL of this. I met him the other day and it is QUITE obvious that he is creating something. Something big. Something important. Probably something like a better world for all mankind.

He's probably very close to stopping all war...

I wonder if he will go and help Britney.

He's probably waiting for her to contact him.


Seth Rotherham
2oceansvibe.com
[permalink]

26 October, 2007
THE TBG ROCKS

ANOTHER

DAISY!
Lucky lady gets a double whammy in one day!
[permalink]

A bird in the hand was clearly better than killing two in the bush with one stone for this young lady! My inbox has been involved in a bit of self-mutilation of late and, as a result, this TBG (Tall Blonde Guy) sighting was nearly gone forever! It is quite staggering that a sighting of this magnitude could hide away for so long after its inception - at this year's Rocking The Daisies festival. Have a read over this and see how lightning truly CAN strike twice...
Hey Seth
So there I was at Rocking the Daisies in mid fight with the barman who had totally ripped me off by pouring me a quarter cup (yes cup) of wine. As I moved over to the next barman, who very kindly filled it up for me (check pic) I also noticed he had the most amazing mullet. Did anyone else notice the apparent mullet craze there? WTF?
Anyway, I turned around and all of a sudden this flash of white hair caught the corner of my eye. I had to do a double take and it was like everything around me went black and this heavenly light fell down on him. I knew at once that I had found him….. THE TBG.
It was like everything went in slow motion after that as I started running, pushing, leopard crawling, ANYTHING to get to him! Just imagine that Olympic music in the background as I made my way to him. I couldn't contain my excitement and me being drunk did not help my loudness as I screamed "Oh my god, it's him…. its the TBG!"
I think I must have embarrassed him a bit as he looked a tad bit uncomfortable as I was frog-hopping people and screaming at him to try and get to him. But he kept his composure and was probably gritting his teeth while he smiled and posed with me but nonetheless, he was every bit the gentleman.
And as if it was a sign, my friend just happened to be walking past us at the time with his camera and took a picture for me. What timing!
But there's more! As if my day couldn't get any better, I even saw him again in the evening, that's twice in one day, people! Its like some kind of a miracle…. and once again, yes, you guessed it, I pointed and screamed "TBG!!!"
Man, he must have a lot of patience to put up with the loud, drunken Nikki.
What a legend.
Nikki T xxx
Staggering! Absolutely STAGGERING! And what a way to start this new week - with more reassurance that the great emblem still walks among us. Just checking on things - maintaining happiness, as well as the obligatory healing of children and mending of hearts...

Don't ever leave us, TBG, life is naught without you..


Seth Rotherham
Editor
2oceansvibe.com
[permalink]
10 October, 2007
THE TBG WOWS CROWD AT 21ST
Just as comfortable at a Camps Bay 21st as he is amongst stellar bodies
[permalink]

No, is the answer.

There is NO limit to The TBG's (Tall Blonde Guy) magic.

I am once again without words.....

In this most recent mind-boggling TBG sighting, we come a millimeter closer to understanding this romantic symbol of all that is good and stunning in the world. One day he is with God, discussing important matters such as a possible change to the phases of the moon, and the next day he is AMONGST us, the little people, AT A 21ST NO LESS!

Aaah, the glory that is...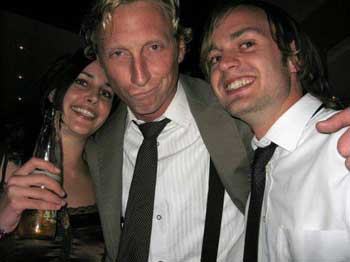 The TBG effortlessly switches into 21st mode

Hi Seth,

Being an avid reader of 2oceansvibe I have always wanted the TBG to grace me with his presence. I thought I had a slim chance BUT praise the Lord (or is it praise be to the TBG?) I spotted him at a friend's 21st.
This is how it went down...
I was attending a 21st in Camps Bay. It was very casual and the party was just getting revved up. Many people had headed downstairs to check out the rugby, and I thought I might as well too.
When half time came I started to maneuver my way back to the partay. As I turned, I noticed a stunningly tall, striking blonde man. Then it hit me like a Mathlete at a frat party. IT WAS THE MAN WHO GOD HAS ON SPEED DIAL!
I was flabbergasted! I started shaking with excitement!
As we all moseyed back upstairs I made my friend take a picture of me, DD Boy and the TBG. He was very sweet, and man can he party!
Later on in the aand he was grooving on the dance floor like Disco Dancing Rick. Seriously pulling out some moves that I never thought possible, maybe only like Johnnie T in Saturday Night Fever.
Moments later he had vanished, and I saw a light crossing the Camps Bay strip. The ocean parted in a display of Godly like power, and the TBG was gone, probably to somewhere like Nazareth. I bet as I type he is dragging a bag of rice from a rice paddy, up a hill, to feed the little starving Cambodian children that Seth imports to use under his floorboards for the summer flip flop season.
Man he is cool. So suave. So elegant. So serene. I actually feel like a better person after being in his presence. Thanks be to the TBG!
Brittany O
xxx

Brittany, you are one VERY luck little girl! Do you know that? I think you DO! And thank you for your account of the occasion. Just what we needed - a thorough description. Every little detail is important - we don't want to miss a thing when these rare moments are granted.

And just as I thought! He just went right ahead and danced with everyone else at the party - with moves that defy gravity.

Not that gravity is an issue for the great man.

He could chill out on the ceiling if he felt like it.

His drink wouldn't spill either - Kryptonite can be drunk upside down.



Seth Rotherham
Editor
2oceansvibe.com
[permalink]
4 October, 2007
TBG SIGHTING TURNS INTO PANIC
As the great man appears injured
[permalink]

I did nothing but scream at the top of my voice when I first saw this picture. "Noooo! Please, dear God, Nooo!!" as I saw images of The TBG (Tall Blonde Guy) with blood all over his body.

But then I stopped and came to my senses. Like, hello!!!! It's The TBG! Everyone knows that he doesn't BLEED! That would make him HUMAN! I'm glad I was on my own because I was SO embarrassed - I went the brightest rouge! It seems the international megastar must have been out after a theme party and was just mucking about with some fake blood!

Let's see what Nick S had to say:

The TBG with Harry Viljoen lookalike, Nick S
Once a night has started going downhill, it generally snowballs and more often than not things completely spiral out of control. Last night was starting to look like one of those. I had already lost my phone and broken my hand, (beware running up a flight of stairs with a beer in each hand, totally arseholed.) They say things happen in threes, I was worried. Deciding to cut my losses, I headed for the exit.
I am a bit unclear on what happened next. I remember feeling a cool breath of air on my face, beautiful music started running through my mind. (It could have been a David Hasslehof tune.) I could have sworn I saw a white dove. There he was looking right at me. I have never been in the presence of such glory. I was hesitant to approach him noticing the blood stains on his shirt. And then it dawned on me. The saint must have been fresh off a flight from some war torn country, spending his Saturday rescuing little orphans. And still he found the time to come have a dop with us normal okes! Unreal! I went over, introduced myself and asked for a photo. He happily obliged. These were the happiest two minutes of my life. The icing on the cake was still to come, he shook MY hand! He actually touched me! I still haven't washed my hand. Its starting to smell a bit but I'm not bothered. We must all make sacrifices.
TBG, you are my hero. You touched my life and rescued me from an evening of hell. Thank you
Nick S

Thank you, Nick S. Aaah, another incredible story. Another life suspended, just for a moment, in ecstasy. This man will just not stop delivering joy and peace. Injury scare aside, it has been QUITE some time since I saw images of The TBG in such good spirits. And those SUNGLASSES! Good heavens! He just makes supercool seem so easy.

Just please don't ever go, TBG, please - we need you.

Seth Rotherham
Editor
2oceansvibe.com
[permalink]
19 September, 2007
WE BREATHE AGAIN AS THE TBG RETURNS
Following a reported visit to the East where his magic continues
[permalink]

Can anyone be so incredibly amazing?

Sensing that Cape Town was on a TBG high, The TBG (Tall Blonde Guy) decided to bless other parts of the globe and was reported to be healing the sick and the weak and spreading general beauty and good-vibes in the East! How does this great idol find the time? And what drives him? I think he is nuclear powered, personally. How else can you create raptures of joy around you wherever you go? That's a silly question because to ask it would be to suggest he is human - which we know he is not. But WHAT is he? A transformer?

Liezel W felt some of that magic, giving us the very first TBG sighting since the return of the demigod. Not only that, THE TBG TOOK THE PICTURE FOR HER! I know, it's just too much. Listen to what she had to say:

The TBG and Liezel
A day she will never forget

Hi Seth
I'd like to tell you about my Friday night. Tis a date that will forever be etched in my memory.

07.09.07

I cruised into Asoka on Friday night for a friend's birthday celebrations. Said all my hello's to my fans and decided to take a nice seat in the corner, not too much attention, yet able to view all the goings on around me. As I put my bag down, I felt this warm gush of wind blow my hair….I turned around. There He was.
The TBG.

A flush came over my body, I immediately grabbed my camera. My fiancé kept asking me, what now? What's going on? I couldn't answer. I couldn't speak. I HAD to get to him. As he gracefully glided through the crowd, I felt myself floating towards him (his energy is very contagious you see)…. I stopped him and barely able to speak, muffled out the words: "Would you mind if I took a picture with you?" He flashed me that all-knowing smile. "No problem" he said, and then added: "Here, let me take it". He took the camera out of my hands and with a perfectly angled arm….took the snap. Did you get that….HE TOUCHED MY CAMERA.

After that, I couldn't stop beaming. The feeling of meeting a legacy is just inexplicable. People kept asking me, who? What? Where? How? You can't explain it can you? Until it's your turn baby, until it's your turn.

*sigh*

ciao
Liezel W

Liezel, I think more than anything a BIG THANK YOU for giving us the material and reassuring us and the rest of the continent that our great saviour has returned. And he didn't even look tired after giving so much of his soul overseas.

Amazing.

Welcome home, TBG.


Seth Rotherham
Editor
2oceansvibe.com
[permalink]
17 August, 2007
SPRINGBOKS HUMBLED BY THE TBG
During a rare night of observation
[permalink]

Andrew James sent in the last TBG sighting and mentioned that a few of his colleagues had a group photo with The TBG (Tall Blonde Guy). He said they would be sending it in to 2oceansvibe. I forgot about it completely until I received the following email and photograph from The Celebrity MC.

It sounds like the boys had a very special night out with none other than The TBG!

John Smit, Johann Muller, The TBG, Butch James and el Monty
Hi Seth,
It's not often celebrity behaviour takes me by surprise, but occasionally even my eyes are opened; cue a night of quiet indulgence at FTV a couple of weeks ago. A number of Springboks were taking a well-deserved break from their World Cup training program, enjoying a relaxed night out, and receiving the encouragement and adoration that (as we both know) comes with star status.

And then something quite magical happened… I've had the honour of meeting the TBG on one or two occasions; quite simply, the only other person I've spent time with who comes anywhere close to exuding the same aura is Samuel L Jackson, and even Sam doesn't boast the same mystique and intrigue. That the TBG affects people so is common knowledge; still, to see the reaction of the rugby stars was startling. As the TBG glided down the stairs to model-packed basement, Percy Montgomery grabbed hold of Bob Skinstad and pointed excitedly; both men looked like kids on Christmas morning. John Smit actually dropped his drink; Jaque Fourie looked like he'd been hit with a stun gun; and Butch James and Wynand Olivier, with nervous apprehension and a little giggling, approached the TBG to get an autograph. The TBG was his magnanimous self, greeting each player in turn, shaking hands, having a quiet word. Skinstad had a tear in his eye when the TBG told him that South Africa thanked him for returning home – that such mundane detail does not escape his eye is further evidence of the TBG's grandeur.

Then, suddenly, he was gone, leaving an excited chatter of Springbok stars; if South Africa does go on to win the World Cup, then the simple touch of the TBG, and a few words of support to our rugby heroes, might well have made the difference.

Yours in reverence,

The Celebrity MC

OH

MY

GOD

There is only one word to describe what you experienced and I mean in the true real meaning of the word - AWESOME!

And that photograph! Look at the EXCITEMENT on John Smit's face! Christ! That's like a World Cup win. Amazing! And Monty! Well, Monty is just looking exceptional as usual.

But back to that story! That is nothing but AWESOME!!! I mean, there you were, WITNESSING a live gauge showing The TBG's level of superstardom. Well, it's just awesome! To see our rugby stars swooning of The TBG must surely put it all into perspective. Only now can we even begin to get our heads around the enormity of the great man's influence and grande aura.

I just thank God every day for The TBG.

God probably thanks The TBG himself every day.

The TBG probably pulls his hand away and wipes it through his hair as God tries to give him high fives.

God will have The TBG's number on his speed dial.

TBG probably lost God's number.

Is the TBG God?


Seth Rotherham
Editor
2oceansvibe.com
[permalink]
3 August , 2007
BUSINESS TRIP TURNS INTO TBG SIGHTING
As Durban businessman times it just right
[permalink]

Now these are the kind of TBG sightings that make me melt! A Durban man who does business all over the country and sometimes the world, has finally timed a trip just right - bumping straight into the nation and world's greatest saviour - The TBG (Tall Blonde Guy)!

Take a listen to what happened when Andrew J finally had his moment in the sun with the great man.

Clearly excited - Andrew J and The TBG
Hi Seth!

It's true what they say, you never think it will happen to you! Well let me tell you now that is what I used to think, but I just want to tell everyone out there that they must never give up hope! One day you too could be granted that moment with The TBG - maybe you could even HANG with him like I did!

Let me give you some background. I'm in sales for a national company with offices in all the major cities of South Africa - I work for the Durban branch. Our industry is global, so as with most big industries, there are international award fairs and competitions every few years. This year it will be in France. My company chose the best of the best, out of all the national sales teams we're busy training for this year's competition in different cities all over South Africa. Last week we were in Cape Town. We always have a good time when the national sales team are together! The company has a great drinking culture so we went for a pint of Guinness at an awesome little Irish pub called Catu. It is where the old Fez used to be. Anyway we had a couple of pints and headed off to dinner at Haiku down the road.

I am only in Cape Town now and then and always thought that the randomness of my visits would count against me when it comes to fluking being at the the right place at the right time. It's like trying to catch a cab at a bad time in London - it gets worse if you move around.

As I walked out the door of the pub I notice a bright white-hot light flash passed me. I kept walking and then just thought to myself.... "hang on.... what the fuck just happened back there?"

"Buggers," I said to my pals. "Just hang on a second." They stopped and turned their heads in the direction I was staring. Everybody's jaws just fell to the floor! We all looked at each other and said, in unison, "OH........MY........FUCK!" Haiku could wait! We all bounded back into the pub and had a drink with The TBG! Not that I did much talking. It's not easy to act 100% normal when you're secretly analysing every move someone makes. I tried to remember little things that he did and said, but all I can remember is just his awesome "vibe." I guess that is what people mean when they talk about his "aura." It was just so amazing meeting him. His hands are so big and he just has this amazing calming atmosphere all around him. It's incredible!

We were all very aware that we had landed with our asses in the butter and the boys organised an urgent group photo with The TBG. Has anyone sent that pic to you yet? Well anyway I was the only guy that managed to get a personal pic of just me and the genius.

Look closely at him in this pic with me. He is just so relaxed and cool.

Thanks for an awesome night TBG! Hope to run into you again on my next trip to Cape Town.

Cheers.

Andrew J


Absolutely AWESOME, Andrew J! I can't believe your luck! I know what you mean about that London cab thing. I also think it is better to wait in one spot. Although I would say that a moment to yourself in The TBG's company is more like hen's teeth than London cabs!


Seth Rotherham
Editor
2oceansvibe.com
[permalink]
19 July, 2007
TBG SPOTTED AT VIDA E IN GREEN POINT
Very chilled
[permalink]

Well it's not our usual kind of TBG sighting, but it's a sighting nonetheless! It's from long distance, but there is no mistaking those gorgeous golden locks! His aura is also quite obvious - even from that distance. This, sent in by John R.

(Click pic to zoom in)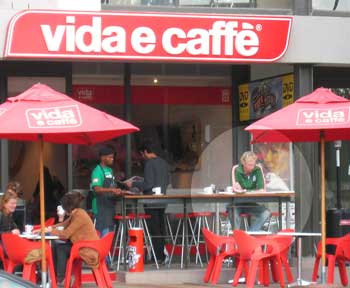 Click for a more zoomed in shot of the great man
Dear Seth,

I'm sorry this is not a photo of me with the TBG and I'm sorry it was taken so far away, but I had no option.

I was in Vida e in Green Point last week, before heading off to a meeting and basically froze when I realised the TBG was in front of me in the queue. This was my moment! But I didn't have much time.

Suddenly I realised that my camera was in the car and I didn't have a camera on my phone (how bad is that!). The only thing I could do was race over the road and take a picture from my car.

I definitely felt his aura in the queue but sadly never got to talk to him - I just didn't have the guts.

Does it still count as a TBG sighting?

John R


Wow, John! That is some story! Although there is no real interaction with the glorious man, there is no doubting its authenticity. So, yes, I'd say you got yourself a TBG sighting there!!!

Good work! Next time don't be shy to analyse him a bit more - any new information as to what makes him tick is ALWAYS well received.

Thanks be to The TBG.

Seth Rotherham
Editor
2oceansvibe.com
[permalink]
16 July, 2007
SECRET VIDEO OF TBG SURPRISE BIRTHDAY
As tag-along friend lands with his arse in the butter!
[permalink]

Lucas R was dragged along to a stranger's SURPRISE birthday a couple months back by a local friend of his. He had just landed in the country from the UK and thought it would be a good way to make new friends. Little did he know he had landed slap-bang in the middle of an organised surprised birthday party for the TBG (Tall Blonde Guy) held at a mansion in a secret location in Llandudno - Cape Town's escape for some of the world's rich and famous!

What could be more intimate and personal, then being a part of a surprise birthday party held for the great man?! That is what happened to Lucas R as he found himself singing Happy Birthday with all of the TBG's closest friends.

Not only did he manage a pic of The TBG, BUT ALSO A VIDEO OF HIM WALKING INTO THE SURPRISE!!!

This is what our boy had to say: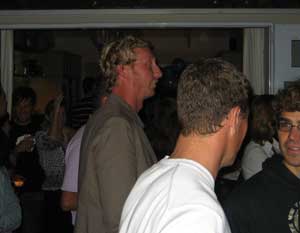 The TBG - relaxed, with his closest friends
Hi Seth,

I have just got back home to Bristol after a two month tour of South Africa, The East and Australia. I was going through some of my photographs trying to decide which part of my trip was the best. I looked through my Cape Town photographs first and there was no need to go any further. I relived the night I found myself at a private surprise party thrown for the TBG by about 30 of his closest friends!

I had been in town for about two nights and hadn't made many friends. An old high school buddy of mine who now lives in Cape Town, Eddie, invited me to a friend's birthday party. Although it might feel a bit awkward I thought it would be a good way to make some local friends.

The guy who's birthday it was arrived shortly after we arrived. We were all hiding in this one section of the house (a mansion in Llandudno owned by some billionaire) and the curtains were pulled apart as the guy arrived. I was fllming it and could only stare with my mouth open at my camera's screen - even on that little screen there was no confusing what was going on. It slowly sank in that I was at THE TBG'S BIRTHDAY PARTY! Eddie just looked at me and laughed. He knew what a big fan I was of The TBG (even far away from the UK) and was dying to see my face when I realised where we were. He promised to introduce me to The TBG and he didn't let me down.

It was a night to remember. I was too shy for a photograph with the global icon and preferred to rather try and act relaxed around him. We even chatted a little bit. I didn't get over excited - I wanted him to think I was cool. So maybe I don't have a photo with him, but at least I can say I see him as a friend of mine now!

So enjoy this video (maybe put it on Youtube?) of the suprise and happy birthday singing for my friend, The TBG!

Cheers, Lucas

TBG SURPRISE!
I am speechless! God, imagine being there! And look how super cool the TBG is when everyone shouts SURPRISE! With that sports jacket of his! What an amazing man - if he is human at all!

From that happy birthday singing, it sounds like his real name is Ralph or Rod. Call him what you want, it won't stop him performing miracles and healing the weak.


Remember to get your limited-edition TBG T-shirt
before they run out of stock.
CLICK HERE FOR TBG T-SHIRTS


Seth Rotherham
Editor
2oceansvibe.com
[permalink]
1 July, 2007
ANOTHER MONTH, ANOTHER TBG MIRACLE
As living legend shows grace and style, even inside the lavatories
[permalink]

Once again we can only stand back in awe, as we bear witness to yet another staggering story involving the genius and awe of Cape Town's most important event - The TBG (Tall Blonde Guy).

Just when you think the great man has done enough. Just when you think he has healed enough and pleased enough with his great aura and magical ways...... he goes and does it again. This time, at The Waiting Room in Long Street. Let's see what Lauren W had to say..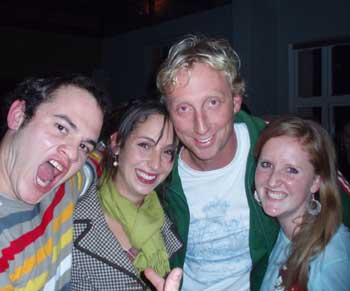 The TBG melts hearts alongside "Mask" impersonator
Hi Seth!

So this is what happened... I was just chilling having some drinks at the Waiting Room in Long Street, oblivious to the fact that in the same room of waiting sat the TBG!

I took myself off to the toilet and as I turned the corner and had the dreaded, "Aaah, a queue" feeling - my mind switched from the piercing pain in my bladder to the being that stood before me. It was one of those "HALLELUJAH!" moments as I laid eyes on the TBG.

After referring to me as "The Pretty Girl" (weak at the knees) the TBG allowed me to go ahead of him in the queue. What a gentleman. Pure grace and style...

See the pic - thats Chris, some random chick whose birthday it was, the TBG, and me.

God bless the TBG.

Pretty Girl Lauren W

Well I won't say I am surprised. It is quite obvious that the TBG is able to juggle the roles of being a notional icon and spiritual emblem with that of the ultimate gentleman and shining beacon of chivalry.

These are special times, people. Embrace them..

Seth Rotherham
Editor
2oceansvibe.com
[permalink]
21 June, 2007
TBG TBG-SHIRTS
Have you seen the TBG?
[permalink]

I've been keeping this in for six months. You see, quite some time ago a few of us proclaimed December 27 as "TBG Day". We felt a day was needed to celebrate and think about everything that is the TBG (Tall Blonde Guy). And what better date to choose than that which is only two days apart from Christ?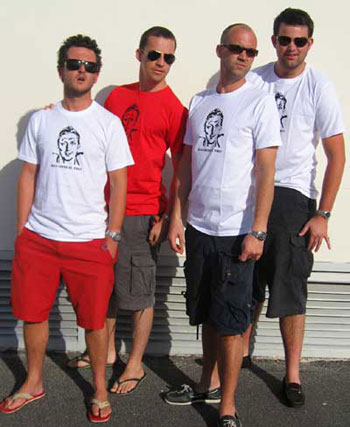 Seth, G-Man, The UK Showbiz Guy & The Big H
Proudly wearing their new TBG T-shirts
And so we spent a day celebrating the great man and debating various topics to do with what makes him tick, his healing power, his magnificence and, naturally, his well-documented aura.

We had some TBG T-shirts (TBG-shirts) made for the day, so I was never able to report on what a fun time we had, as I knew that you would also want a TBG-shirt. And so, finally, these TBG-shirts are available to you!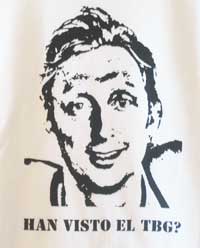 "Have you seen the TBG"
"Han visto el TBG?" is obviously Spanish and translates to "Have you seen the TBG?"

The TBG always creates intrigue, even in print
So now, you may order your very own TBG-shirt. In white or red.

Own your own piece of the TBG's aura!

Wear it on you, feel it inside you!
Click here to order your TBG-shirt

Seth Rotherham
Editor
2oceansvibe.com
[permalink]
6 June, 2007
TBG LIGHTS UP THE SKY AT TIGER TIGER
Two pals witness the mystery that is..
[permalink]

It is quite a treat for me to be in L.A., surrounded by movie stars, only to receive a brand new sighting from Cape Town of someone who's fame dwarfs these pretenders around me - The TBG (Tall Blonde Guy).

As his mystery and seemingly nuclear aura continue to grow every day, another duo manage to get a piece of the action and have stamped their sighting into cyber history. The TBG looks pretty magical in this shot. He seems to be growing his hair a bit and I must say it looks incredibly amazing! I don't know if the TBG has ever looked better. In a glorious shot with the TBG, Farrell S and his buddy, James, recall their special moment.....

The TBG, flaunting his golden locks
Dear Seth,

I feel I need to share my experience with the rest of the country.

On friday night my mate, James and I were enjoying a few drinks at Tiger Tiger. All of a sudden this mysterious figure appeared at the bar. I just knew that it was the TBG. The aura that the great man exudes is just incredible. We were both overcome with emotion. We knew we had to capture this moment. Understandably we were hesitant as the great man was surrounded by several gorgeous women.

WOW, he truly is a legend! He was friendly and was all too happy to pose for a pic. He is an example to 1 and all.

Thank you TBG for changing our lives.

Farrell S

Seth Rotherham
Editor
2oceansvibe.com
[permalink]
31 May, 2007
NEW CAPETONIAN MEETS TBG AT BANG BANG
After only living in Cape Town for 8 months!
[permalink]

Pretty moving stuff here. In the latest TBG sighting it seems the great man was present at the last Dirty Skirts gig at Bang Bang. Ever-alert Carl D maximised the moment that was presented before him. The TBG (Tall Blonde Guy) looks PARTICULARLY relaxed in this pic. God! Just LOOK at him!

Amazing! And to think that Carl D got his first TBG sighting after moving to Cape Town only eight months ago! How unfair!

Some people have lived here their whole lives and never laid eyes on the walking miracle. Let's see what Carl D had to say:
Hey Seth!

I gotta say, I have been keeping my eyes peeled for my first TBG sighting, since moving to Cape Town 8 months ago!

I was quite taken back, by how friendly he was! And how readily he was willing to take a photo, so I could prove to all my friends back home (and on facebook;-) (we call it "Facefuck", Carl) that I really got to meet him!

I first noticed him bopping his freakishly long body up and down, along to the Dirty Skirts tunes! I was afraid to approach him at first, but after enough Jagermeister shots, I confronted him! (knowing it was my one chance to get a pic...).

We chatted about some stuff, I honestly wish I could remember... I gotta say the TBG rocks! I think he should start a band or something... Maybe even star in movies..

Anyway, thanks for the memories, TBG. You're the best!

Cheers
Carl

Seth Rotherham
Editor
2oceansvibe.com
[permalink]
15 May, 2007
TBG FEVER HITS JO'BURG
Joburg issues the 918th TBG plate
[permalink]

As TBG (Tall Blonde Guy) fever grows exponentially, we see how big the Cape Town icon has become in Jo'burg.

Here we see one lucky Audi driver who has managed to secure himself the 918th TBG plate.

Enjoy it, my boet. You deserve it.

TBG 918 GP
Seth Rotherham
Editor
2oceansvibe.com
[permalink]
9 May, 2007
TBG SIGHTING - "BETTER THAN AXL ROSE"
What began as a let down, turned into the greatest day ever - Lucky girl!
[permalink]

Now these are the stories that really warm my heart. The TBG (Tall Blonde Guy), once again, turning sad people into happy people. The sea of smiles that he leaves in his wake can only be compared to Moses and the little number he pulled when he parted the Red Sea.

The setting for this incredible sighting is the My Cokefest concert held in Kenilworth last week. Not surprising the TBG was there, he is often spotted supporting The Dirty Skirts.

Listen to this story and feel the goose bumps!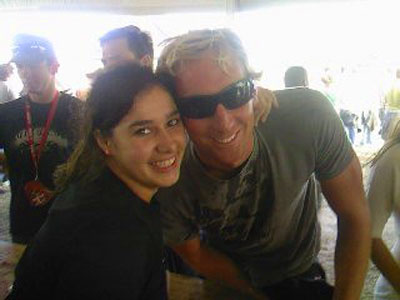 Axl Who?
Hey Seth,

1 May was the best day of my life. I worked in the bar at the mycokefest and was minding my customers when suddenly a god stepped into the bar area. My heart started beating faster and everything fell silent as I saw my tall blonde hero gliding towards the bar, his feet barely touching the ground because of his awesomeness. One of the other bargirls attempted to serve him but I couldn't allow it, so I pushed her out of the way and took my place at the bar in front of this magnificent creature - this was not a chance I was about to give up. I was in his service. He could ask me for anything. I served him his drink (which I poured extra full, he deserves only the best) and then he gave me R5 tip. R5 from the tbg. R5 which I did not put into the tip jar as we are supposed to - there is no way that anyone is laying their hands on my TBG tip.

It was truly an amazing experience. It was like things just fell into place - I actually had a ticket for the coke fest but cancelled it because guns&roses decided not to come, so I got the job instead and you know what Seth, it was meant to be. Fuck Axl Rose, who would want to see him if they could see the TBG instead?

Know what I mean?

Danielle M
Hah! You bet I do, Danielle!

And who would have thought that the let down of one of your heroes not playing at mycokefest would be replaced by AN EVEN BIGGER HERO!! It's one of those stories that should be made into a movie.

Well done, my angel, you must be struggling to wipe that smile off your face!

Seth Rotherham
Editor
2oceansvibe.com
[permalink]
7 May, 2007
THE TBG SPOILS THE GIRLS
Cape Town's luckiest book club?
[permalink]

It is not common for the TBG (Tall Blonde Guy) to bless a group of people at one time, but it certainly has happened at least once! In these remarkable photographs we see the TBG very calmly dealing with the mass hysteria and weeping that one would expect from a book club sharing such an occasion together. These girls bonded that day....like sisters. Like the Ya-Ya Sisterhood. They witnessed the TBG together and they will never be closer than at that moment.

This, from Natalie S: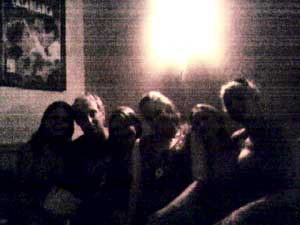 The only face that one can see clearly.
Like a vision
Hi Seth
Our story is somewhat unique ... about a month ago a group of 5 ladies in their 20s met for the first time for "book club" - although excited we all were pretty apprehensive as we met over the internet and we all are aware of the horror stories of stalkers etc ...
the evening started well, wine flowed as did the conversation topics and somehow I landed on the topic ... did they know about the TBG and had they ever sighted them? To my surprise none of them had ever heard of such a thing let alone seen him.
The night passed on and oh my word something caught my attention at the bar - there he was in all his glory - i could hardly mouth the words ... oh my word there he is - the TBG can you believe it! The courageous one in the group Sue sauntered over to him and asked him could her friend ask him a question? As he approached the table it was undeniable - here is was - right in front of me ... as i asked my question he flashed an all-knowing smile ... "Are you the TBG"
A mere slant of the head confirmed our suspicions - we erupted into happiness disrupting the rest of the restaurant and attempted to take photos on my el-lameo cell phone - although the pictures are poor quality we humbly request you accept our story as it truly was a experience for us!
In honour of our sighting we named our "book club" TBG (the book girls)
Regards
Natalie S
On behalf of Tracy Lee,Sue, Jenna, Courtney & Tinkie (still a TBG virgin)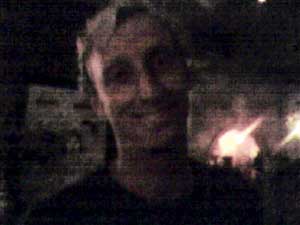 The symbol of hope
That is one of the sweetest and most beautiful stories I have ever read. Well done, Natalie! And congratulations on the naming of your club. There is one word for what happened to you that night.

A W E S O M E !!!

And once again, another heart is touched. Another soul lifted. Another life saved.

[Sigh]

The TBG.... Who? Why? When? How?

Seth Rotherham
Editor
2oceansvibe.com
[permalink]
17 April, 2007
THE TBG AND JAMES STEWART
A live gig turns into a surreal moment
[permalink]

One of SA's top recording artists and 2oceansvibe friend, James Stewart, has finally had his moment in the sun with the great man. Increasingly elusive, it seems that stolen moments with the TBG (Tall Blonde Guy) are nothing short of sacred. Some call it the second coming. Some say he is an illusion, a myth. Call it what you want, the man is a gift to us all and we should embrace him - as we see him embracing young James here, below.

Let's see what James had to say: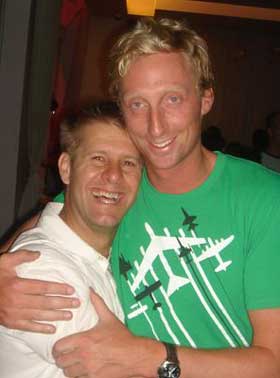 James Stewart and The TBG
Hey Seth,

Ok. Let me take a deep breath and start at the beginning...

I invited all my friends to Ignite some time ago to record a live album. We flew the fantastic Tom Fox (guitar player for The Usual & Bright Blue) out from New Zealand where he is hiding now. We also enjoyed the company of Yoyo (bass player The Usual) and Preston Heymann (drummer & percussionist for Eric Clapton, Peter Gabriel,Kate Bush and a host of pasty English bands).

I was in great company - sophisticated, yet rowdy. The weather was perfect. We played two great sets and our sound engineer Richard Black from Street Level Records said it couldn't have gone any better.....well, bless him - he couldn't have been further off the mark.

Admittedly by 11.30pm i was swimming like a miggie in a near-exhausted bottle of Famous Grouse. We were having a laugh. The room grew quiet. I looked up. I've seen so many pictures and heard so many wondrous accounts of chance (is it really chance?) encounters with the Tall Blonde Guy (TBG) but I immediately 'understood'........... there he was - at MY gig!!

"Nice show" he said.

Just those two words. I've had compliments from diplomats, CEO's and captains of the music industry that simply fall away in their emptiness compared to this zen utterance.

Witty, warm, interested.....

The picture, seth, speaks for itself.

I'm a bastard. I said I'd keep the picture to myself as he's wearied by the public obsession with him. But my ego got the better of me and i just hope The TBG understands that I simply couldn't resist. I had to let you and your readers know of my blessing.

Thanks, for everything.

James Stewart

Well done, James. You deserve it. One cannot comprehend the magic you must have felt being held so tightly by the Atlantic Icon. Your joy in the photograph is tangible.

Seth Rotherham
Editor
2oceansvibe.com
[permalink]
12 April, 2007
THE TBG MULTI-TASKS
Thanks be to the TBG
[permalink]
For the first time this month, we are thankfully graced with a new TBG (Tall Blonde Guy) sighting. This, just sent in by Tracy Mc. Look at the pure joy on her face!

The TBG grants a wish
and heals a sick child across the room with his eyes

Hi Seth,

I was out at Caprice the other evening and immediately saw a group of people gathering around a man whose mere size was enough to make any woman weak at the knees. I was then informed by a girl, (who had just received an autogragh), that this God-like creature was non other than the infamous TBG!! After much pushing and shoving, I managed to get the attention of The TBG and asked him if I could please have my picture taken with him..........he kindly obliged! I have had pic's taken with many other people, and I must admit, I have never felt an aura as I did with the TBG. You are right Seth when you say that the TBG seems to be paranormal, as my brief experience with him was "out of this world!"

Lots of Love Seth, to you and 2oceansvibe.

XXX

Tracy Mc

Well congratulations, Tracy Mc - what a fabulous TBG sighting! What gets me is the pose the TBG has struck in the photo. He is clearly focusing on something else across the room at the same time. He's probably healing an injured child at the same time as granting Tracy the moment of a lifetime.

I wouldn't even TRY to figure out the TBG's motives, or what he thinks or does. That would be silly. That's like trying to work out if the internet actually exists.

Seth Rotherham
Editor
2oceansvibe.com
[permalink]
23 March, 2007
THE TBG MEETS A LUCKY BIRTHDAY GIRL
As a new disciple learns of his powers
[permalink]

This is an interesting one. I must say it does bring a smile to my face when I receive not only a TBG (Tall Blonde Guy) sighting, but a sighting from someone who had not previously heard of the TBG. I mean IMAGINE trying to deal with his intense presence and aura - whilst not knowing who he is! You poor baby! That would be a little bit too much excitement than I could handle. Enjoy this, from Susan M.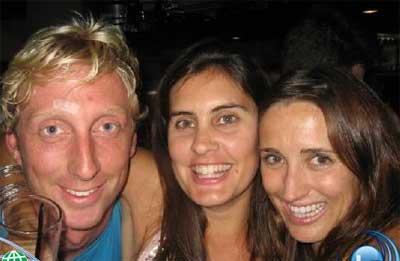 Lucky little girl!
And look at that! The TBG has a small plaster on his head.
I think the TBG has been in the wars!
Hi Seth!

To be honest, and I'm a little embarrassed to say this, but I didn't really know much out the TBG before my birthday on the 15th of Feb.

Well that all changed pretty quickly, we were all at Baraza having a few cocktails and enjoying the vibe.

All of a sudden something changed, there was this kind of electricity in the air, the atmosphere evolved and took on this whole new buzz. It was incredible.

Having not known a whole lot about The TBG and his aura before, it was clear to see that he was special. There was something that set him apart from the rest.

People around me were talking about him and i was curious to find out more. I had another sip of my cocktail and when i looked up, he was beside me, almost as if he'd sensed something, some need I had inside, and he'd appeared.

He was so fun, so cool, so embracing. We chatted, had a photo and then he was gone. So mysterious! I almost wondered if it was all real, until my friend emailed me the picture.

It was the best birthday ever in the history of birthdays.

Thank you TBG for making it special.

Suza!
Aah, good times and magical moments with the TBG!

Seth Rotherham
Editor
2oceansvibe.com
[permalink]
26 February, 2007
ANOTHER LIFE TOUCHED BY THE TBG
This time we receive another piece to the puzzle
[permalink]

As much as our every breath depends on the next TBG (Tall Blonde Guy) sighting, it is only now and then that we receive reports which enable us to get a deeper understanding of the myth. A man so deep, so treasured, can never truly be understood. All we get are glimpses....tiny morsels of information that we must try to put together to hopefully decipher the code to which he lives. What does he think? How does he know? And, more importantly, what makes him tick? Today, we receive brief, although deeply satisfying, information about the TBG - before we knew he was the TBG. Some people were aware... even then - Graham M was watching.... and has collected a further nugget of information.

The TBG and Graham M - one of his oldest fans
I was at the same party as your previous TBG sighting, and could not let the opportunity pass me by. You heard about the aura he had at the party, but let me tell you more.

Ever since I was in my late teens, I have wondered who that tall blonde guy is. It was only when I read 2oceansvibe.com that I realised I was not alone. I remember, in about 1996, driving passed a block of flats called Dulwich Green in Newlands, and almost being blinded by a shock of white hair on the side of the road. After regaining control of my car, I saw that it was the TBG laughing and joking with a friend, as he removed his body board from the boot of his Toyota Corolla.

Later I would spot him in Lloyds on a Thursday night (stripper night). There were rows of guys in front of him, craning their necks for a look at that wonderful lady, yet his view was completely unobstructed, as he stood head and shoulders above the rest, a contented grin on his face. Only in my wildest dreams have I come face to face with the man himself. I was a little nervous at first, but his incredible aura put me at ease. He even permitted a photo.

Thank you, TBG, for the memories.

Graham M

Well it doesn't get better than that. Imagine a TBG sighting, 11 years in the making! God has blessed you, Graham.

Nay, the TBG has blessed you.

Seth Rotherham
Editor
2oceansvibe.com
[permalink]
15 February, 2007
THE TBG CONTINUES HIS WORK ON EARTH
Yet another finds herself encapsulated
[permalink]

The might and reach of this Cape Town phenomenon seems to have no bounds. The TBG (Tall Blonde Guy) has, once again, delivered a moment of magic to someone very lucky. Tarryn S tries her best to describe the aura that we keep hearing about.

Does life get any better?

Dear Seth





Wow, I still can't believe it. I honestly never thought I'd be lucky enough to see the TBG, let alone have him put his arm around me and agree to have a picture taken! I cannot explain to you how being in his presence has changed my life. I always knew that if I was lucky enough to see him it would be a truly unbelievable experience, but words cannot describe the feelings that rushed over me when this picture was taken… even now I still get shivers down my spine just thinking about it!





I was at a friend's house party last week (I had no idea she even knew the TBG!) and out of the blue the TBG walked in and took a seat right next to me! I actually had to pinch myself to make sure I wasn't dreaming! I mean can you imagine? First off, the TBG at the same party as me and then he sits down next to me? I had to refill my wine glass just to calm my nerves.





We've all read how the TBG "glows", but I could literally FEEL the warmth radiating from his body, his aura enveloped me and I couldn't help but grin in awe of this great phenomenon. He was so relaxed and laid back, you could literally SEE how his presence brought an incredible peace and tranquility to the party…





I have to say that meeting the TBG was the single most defining moment of my life!

Thank you TBG for making a difference!





Tarryn S.

Well it simply doesn't get better than that! Shame, look at her face - transfixed on the great man. She is clearly elated. And the TBG! Just look at him! You just don't get any better than the TBG. He is IT! He is everything! You can almost feel the warmth coming out of the picture. I cannot believe that we are alive to experience this.

We forget how lucky we are.

Seth Rotherham
Editor
2oceansvibe.com
[permalink]
15 January , 2007
THE TBG IS BACK IN TOWN
Spotted at Asoka - Dharma's boy
[permalink]

I have great pleasure in bringing you the first TBG sighting of 2007! After receiving reports via email that the TBG (Tall Blonde Guy) was spotted over the festive season as far afield as Canada, it seems the symbol of all that is good and true has returned to the temple. Welcome back, TBG, the void has been filled.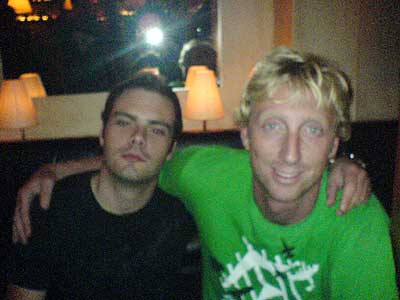 Never before has the TBG looked more like Jesus
Tom T sent this in after running into the great man at Asoka (Son of Dharma). Tom mentioned that the electricity in the air at Asoka suggested that there was an evident source of energy somewhere in the room. He investigated the bar at the end of Asoka and realised the energy was none other than the result of the all-encompassing aura that permeates from Cape Town's most rarest icon- The TBG.

This is the day that the TBG hath made.

Seth Rotherham
Editor
2oceansvibe.com
[permalink]
8 December, 2006
AJ VENTER FEELS CONNECTED TO THE TBG
Lucky number 7
[permalink]

I received contact today from the people's Springbok, AJ Venter. It seems that, whilst AJ is yet to have his moment with the TBG, he does somehow feel connected to the great man. I won't say anymore. The beauty of AJ is you DON'T have to say anymore. He does it all himself. He gift wraps it for you. If I may:

Hi there, I was scanning over the 2oceansvibe website the other day like I do every day and I was gobsmacked to see that the TBG was wearing a shirt same as one of mine in my wardrobe. At that moment I felt that somehow I am linked to the TBG, I bought that shirt in a small shop in London, and what are the chances that a celebrity like him would wear the same brand as me.
So I included this photo to show you that I now feel that there is hope in this world and that I want to thank the TBG for making my day, Thank you Seth.

AJ Venter

AJ Venter
Ecstatic
What an incredible moment. I don't quite know what to say. I think you are definitely right, AJ. It seems you DO, in fact, have the same T-shirt as the TBG and I can fully understand and imagine how blown away you must have been when you found this out. Well, I don't have to imagine - your photograph pretty much says it all. I agree with you, there IS hope in this world.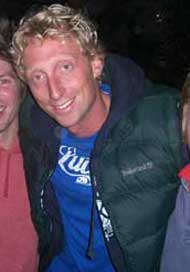 The TBG, wearing the same T-shirt as AJ Venter
It really is the same T-shirt! I can't believe it! That is so weird, AJ. I think has happened for a reason. You could be like a TBG double. Like if the TBG wants to sneak into a nightclub, you could run and side-step in the other direction so people follow you, thinking that you are the TBG. Obviously you'll both be wearing the Lucky 7 T-shirts.

Or if they one day decide to make a movie about the TBG's life (that's if they ever find out what makes him tick), they could use AJ to play his part.

The options are endless.

Well done, AJ. Enjoy this moment. Take it all in.

Seth Rotherham
Editor
2oceansvibe.com
[permalink]
6 December, 2006
TBG AT GOLDFISH KIRSTENBOSCH CONCERT
There is no mistaking the icon - even from the back
[permalink]

Once again we see how obvious it is when one is in the presence of the great icon. Here we see the TBG (Tall Blonde Guy) at Kirstenbosch Gardens, during the Goldfish concert. We can't see his face, but there is no mistaking that sheer height and those gorgeous, glowing golden locks.

This, just in from Mikaela B:

Hi Seth!

It's definitely him! I spotted him watching the Goldfish concert at Kirstenbosch. You don't even need to see his face, not even his side profile, to know it's the TBG. Now that's special!

Mikaela B

Oh yes, there is no mistaking the great symbol of hope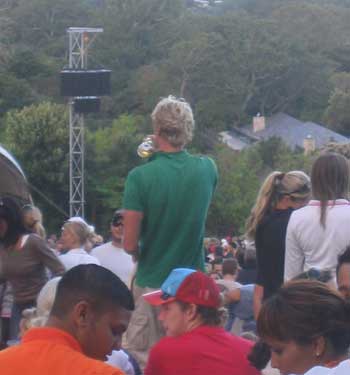 The TBG, imbibing a beer.
So that we may live.
You're absolutely right, Mikaela! You DON'T need to see his face, nor his profile. It is not necessary. The aura permeating from his god-like body would have been more than sufficient confirmation that you were in his presence. You would have also, no doubt, felt a little horny all of a sudden. This is normal too. It is no secret that women lose control over their bodies when near to the riddle that is the TBG.

Thanks be to the TBG.

Seth Rotherham
Editor
2oceansvibe.com
[permalink]
5 December, 2006
TBG ROCKS ONE MORE DAISY
Sightings continue from Rocking The Daisies festival over a month ago
[permalink]

I cannot believe that there were even MORE hearts that were touched by the emblem of all things good, God's servant, The TBG (Tall Blonde Guy), during his time at the Rocking The Daisies concert.

Here we see not one, not two, but three souls warmed by his presence. Andrew D had this to say:

Dear Mr Editor,
After weeks of missioning to find this picture i eventually have it!! The TBG!!! spotted at Rocking The Daisies. It would be a honor if you could post this picture on your website as i have been searching for the Tall Blonde Guy for quite a while now and finally i got him on the dance floor pissed at Rocking The Daisies.
Order of appearance from left to right "Lari, Ross, TBG!!!!!, Rawbs
Regards
Andrew

Verbally excited, visually excited, The TBG, and dumbstruck
Seth Rotherham
Editor
2oceansvibe.com
[permalink]
14 November, 2006
THE TBG AT THE BUNKER BOY CLASSIC (BBC)
Shows his generosity
[permalink]

Following the recent success of The 2006 Bunker Boy Classic, there was bound to be a summary of the intensity found within the company of the TBG. The TBG (Tall Blonde Guy) took part in the BBC and put his power and aura to good use.

This, from Dan N: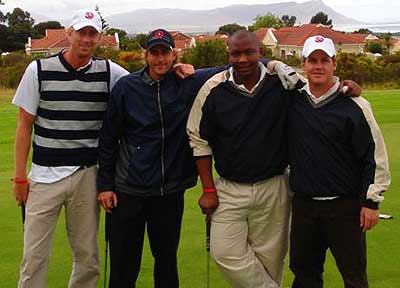 The TBG, with three very lucky young men

Seth,





The Bunker Boy Classic – as advertised on 2Oceansvibe last week – turned out to be an exceptional event, with a remarkable addition to the field.

There were plenty of stars on show, from rugby legends Robbie Fleck and Robbie Kempson, to renowned political rights activist Phil Venter, who'd just come off a hunger strike in support of Shoprite workers. But even former Mr 2Oceansvibe Richard Neville – the poor man's Pieter Dixon – faded into the background when, striding through the morning rain, the Tall Blonde Guy suddenly appeared at Kleinmond Golf Club...

To be honest, while there'd always appeared something striking about the TBG in pictures, I was a little skeptical about the supposed aura of the man; no doubt whatsoever anymore. The TBG appeared to walk across a water hazard towards the clubhouse, where he proved beyond doubt his mystique.

The kitchen at the golf club had caught fire, leaving barely any food; armed with nothing but half a dozen fish fingers, and a couple of bread rolls, the TBG fed the entire field of golfers. Then he smiled, turned, and strode out towards the horizon, a giant of a man.

I still get a shiver down my spine just recalling it – and can picture quite clearly the single, awe-struck tear running down Robbie Fleck's cheek. I've walked the course with Ernie, played with Gary Player, hung out with Samuel L Jackson at the Nelson Mandela Invitational – none of them compare with experiencing the spiritual delight inspired by the TBG.





May we all, one day, be touched by his presence,





Dan N


What beautiful words. Thank you, Dan N. I canot believe I missed the Bunker Boy Classic this year. I wish I was there, near the TBG - but I am sure everyone agrees that the Leeuloop Investigation in Parys was something that had to be done for the sake of all the 2oceansvibe readers.

Seth Rotherham
Editor
2oceansvibe.com
[permalink]
1 November, 2006
THE TBG FREQUENTS ROOSEVELT
From time to time
[permalink]

Another TBG (Tall Blonde Guy) sighting, another small piece of insight into the world of a man who has graced Cape Town with his great presence and his great aura, that seems to encapsulate our every waking moment. To be closer to finding out what makes the Great Spirit tick, can only bring us closer to a more fulfilling existence.

This, the latest TBG sighting, from one Camilla H: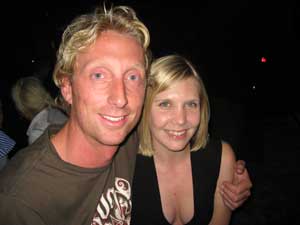 The birthday girl gets her birthday wish
I spotted TBG on Friday night at Roosevelts. I was not 100% sober and my senses were definitely not fully alert. He was chatting up two gorgeous ladies when I approached him (respect). After initial reluctance and eyeball rolling he agreed to have a picture with me as it was my birthday. I know at least a third of the people at the club were 2oceansvibe readers and I believe I was the only person to be granted this privilege. He held himself with the dignity and aplomb you would expect from any local celebrity. I had a fantastic birthday but meeting the TBG was the highlight and a truly unforgettable experience. Let this be a lesson to all those losers who chose to frequent lesser nightclubs/sweatpits after dinner in favour of a mingling with beautiful people, listening to great music and sipping rohypnol-free cocktails in town. YOU LOST OUT!

Camilla H

Absolutely AWESOME, Camilla! JUST LOOK AT HIM! So relaxed, so REAL....and yet...so far away. And what safer place to be from the grips of royponol than in the grips of the enigma that is the TBG.

God bless you, TBG.
Seth Rotherham
Editor
2oceansvibe.com
[permalink]
27 October, 2006
THE GENIUS OF THE TBG
We have received MIND ALTERING footage of the great man
[permalink]

I am trembling as I write this. A buddy of mine at a local ad agency managed to get hold of this mind blowing footage of the TBG (Tall Blonde Guy). Apparently the City of Cape Town are doing another big 'Keep the Cape in Shape' campaign and they have done a deal with none other than 2oceansvibe's favourite son, THE TBG!!!! They will be using him in a series of commercials doing incredibly amazing God-like things. My contact tells me the TBG is not charging a CENT for his services - such is his incredible giving nature.

God, he is truly incredible.

My contact reports, "The vibe during the taping the commercial was unbelievable. His well-known aura seemed to engulf all of us - like we were about to witness a miracle - and we certainly did. He was so cool and spoke to everyone on the set. We could all feel that we were involved in something truly special. Every time the TBG did something amazing (pretty much all the time), we would all just look at each other nodding and smiling - knowing that this was a defining moment in all of our lives. At one stage a crowd of about 300 people gathered to watch Cape Town's gift. He stopped the taping and went over to the crowd and spoke to most of them, shaking hands and signing autographs. I have never seen anything like this man in my life. I will never forget that day. Thank you TBG."

Unreal! The gift of the great man just keeps on giving. Is there no bounds to his grace and glory?

Just enjoy this footage - this has never been seen before. Watch it and remember it.
Apparently they filmed about 50 takes and the TBG got it in EVERY TIME!

Obviously!

can't speak. I can't walk. I can't type anymore.

Thank you TBG. For everything.

Seth Rotherham
Editor
2oceansvibe.com
[permalink]
17 October , 2006
TBG KEEPS ON ROCKING THE DAISIES
In one of our most up close and personal sightings yet
[permalink]

They just keep on coming in! It seems the TBG certainly (obviously) did make an impact at the Rocking the Daisies festival a couple of weeks ago. And the quality of the footage we are receiving is something QUITE astounding. So VERY up close and personal.

The following from Mike N:

Well I'm sure you will get a kick out of this! These girls in my office were going thru their photos of themselves at RTD concert (I didn't go so I was especially interested) then all of a sudden...

WHAM!!!!

TBG all over the place!

I shriek'' OMG! You partied with TBG!!'' and they were oblivious as to who he was. So I told them the legacy of TBG – and offered to send them in for them….

Here we are! PURE MAGIC!.. Enjoy – I know I did!!

Cheers,

Mike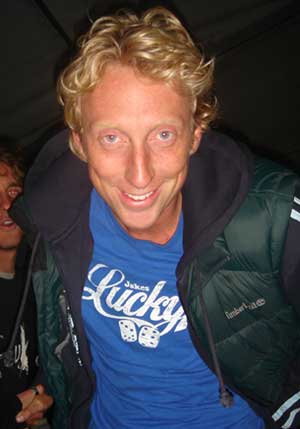 The TBG up close - mind blowing and glowing
Oh my God! Look how INCREDIBLY AMAZING the TBG looks! What can we work out from the look he is giving us? It is so hard to tell. One thing is certain though, he just KNOWS. He knows all the answers! He is so very aware.

And that confident smile! Who wouldn't be confident in the knowledge that they have the power to heal?

And look at his T-shirt - It says "LUCKY" on it!

No, TBG, you are not lucky. WE are lucky. YOU have blessed us and we thank you!

Seth Rotherham
Editor
2oceansvibe.com
[permalink]
12 October , 2006
THE INCREDIBLE GLORY OF THE TBG
Spotted at the Rocking The Daisies festival
[permalink]

Another sighting, another photograph, another dream brought to life.

TBG (Tall Blonde Guy) sightings are still producing the magic we have learnt to expect. The mystery of the man still yet to be discovered. The essence still yet to be captured. Not that it ever would. Imagine if the essence was captured? Then every man and his dog would be making TBG perfume. It would never get that far anyway. TBG followers would have the person murdered before any perfume was produced - everyone knows that.

Here, another lucky punter finds his prayers answered. This time in the glorious metropolis of Darling. You've just gotta love the TBG's incredibly amazing shades he wore at the Rocking the Daisies festival a couple of weeks ago. This, from JFL
Seth,

A couple of friends and I went to the rocking the daisies rock festival last weekend and I was blessed enough to have a photo taken with the great man himself. I was hesitant to approach him at first, not knowing whether his magnificent ambiance had been scathed by the drunken crowd. I was, however delighted to find that the great one has a friendliness/politeness about him that far overshadows his lanky stature.

Enjoy all!

JLF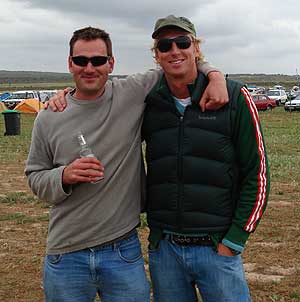 The lucky fellow next to the great man
Notice how perfectly the TBG is dressed
Everything is so perfect
Look how relaxed he is with a complete stranger
I must just say what a completely serene and beautiful TBG sighting this is. How sweet that our man obviously swigged his entire beer as he nervously asked the TBG for a photograph. And how brave of him to bring the empty bottle so near the TBG when there was a good chance that the glass may have shattered being in such close proximity to the TBG and his immense aura.

Seth Rotherham
Editor
2oceansvibe.com
[permalink]
7 September , 2006
TBG SPOTTED IN CYPRUS!
Tourists in Cyprus are convinced they saw the Tall Blonde Guy
[permalink]
I must say, I do get quite a few fake TBG (Tall Blonde Guy) sightings and they're pretty easy to tell apart from the real thing. You see, you can't beat the real thing. The TBG is the Coca-Cola of tall blonde people and when you are presented with his image, you can just tell. It is the heat that people have felt radiate from his body. The "aura" that has been mentioned so many times and yes, yes, that trove of golden locks and ocean blue eyes. It becomes very obvious. Like these new pics we received from someone who recently holidayed in Cyprus.

Hey Seth,

I must apologise for failing you and only being able to get this long range shot of the TBG. But I assure you it is him. I have just come back from a holiday with my wife in Cyprus and there is a local restaurant on the water where we had lunch on most days. On the second last day I decided to leave the camera at the house because we had done most of our tourist pictures. My wife nearly drove her steak knife through my heart when the TBG walked into the restaurant and took a table two away from us. I couldn't believe what was going on. It was like the worst luck mankind has ever known. He was sitting with an also tall blonde girl (very pretty). My wife approached the great force and told him how blessed we were to be in the same room as him. He laughed and GOT UP AND GAVE HER A HUG! Needless to say I have not allowed her to bath since then. Only kidding. But he WAS just the most incredible sight - with a smile that could power Eskom for 100 years. A true ray of light. Only now do I believe that he can heal children and speak in tongues.

We told him we wished that we had our camera and he said he would be in the area the next day. We hung around the restaurant in the morning and had to leave from the jetty at lunch time for a boat trip. Lunch time came and we got on the boat - WOULD YOU BLOODY BELIEVE IT - HE ARRIVED AT THE RESTAURANT!!! WE JUST MISSED HIM. I put my camera on high res mode and took these shots. If you zoom in on the shots there is no mistaking him. PLEASE believe it is him and PLEASE don't say it's fake because it's not. Rather just embrace these pictures. The TBG was in Cyprus last week and that is a fact!

I love you TBG and so does my wife.

Simon R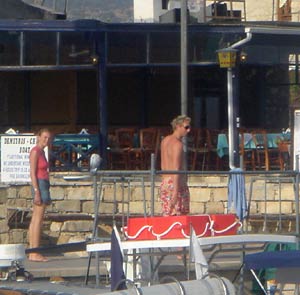 The TBG's companion seems annoyed at the camera

The TBG is alerted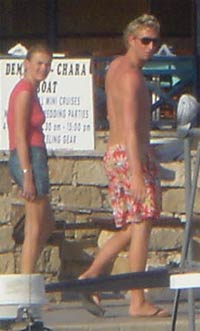 You can't mistake the real thing
God, you are incredible, TBG!
There is no doubt in my mind that this is the TBG. Well done, Simon R! You and your wife have just experienced a once in a lifetime holiday. How wonderful for you to go home and tell your friends that you basically 'hung' with the TBG in Cyprus. The holiday of a lifetime!

Cyprus - where dreams come true.

Seth Rotherham
Editor
2oceansvibe.com
[permalink]
24 August, 2006
TBG MASS HYSTERIA
As local Cape Town restaurant deals with crazed fans
[permalink]

I heard about this about a week or so ago and I've been waiting patiently for someone to send in a TBG sighting from the night. Apparently, the TBG (Tall Blonde Guy) went for dinner to Posticino restaurant in Sea Point and, slowly but surely during the course of the night, the word got around that the great man was there. Besides from photographs, autographs and queues to meet the enigma, there was also a point where half the restaurant began chanting, "TBG.......TBG........TBG!". I was quite appalled when I first heard the news as I couldn't imagine the TBG enjoyed it. We know from past reports that he can prove quite testy at times. Judging from this report and photo, it seems he was caught in a good mood! Thank God! These were sent in by Ashli G. I must say, the TBG looks VERY relaxed!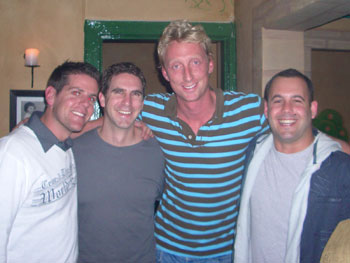 A special moment for the boys

A part of the TBG's soul- captured forever
Apparently the autographed menu is on display in the restaurant next to a menu signed by Tom Cruise - whoever the fuck he is.

Thank you for your patience, TBG. And thank you for your glory and your gift.

Seth Rotherham
Editor
2oceansvibe.com
[permalink]
14 August, 2006
MORE TBG MAYHEM !
Lucky lady chooses the right night to look her best!
[permalink]

Two TBG sightings in a row! TBG mayhem is taking over Cape Town - 2oceansvibe is literally inundated with emails BEGGING for tips on where to hang-out with the hope of spotting The TBG (Tall Blonde Guy). God only knows where you should hang out! Have you taken a LOOK at the past sightings? The TBG is anywhere and everywhere - but the question is, are YOU there. Probably not. This kind of stuff doesn't just fall into your lap. The TBG will decide where and when he'll be. That is WHY is is so amazing. That is WHY people are healed in his presence. It can't be easy carrying around such a powerful aura and we can only sit back and hope to God that it comes our way.

We have just received this absolutely brilliant TBG sighting from this young starlet. In this sighting, we are reminded of the sexual draw that the TBG possess. We have seen it before, women who just seem to lose all their inhibitions around the great man. Reyjeane H had this to say: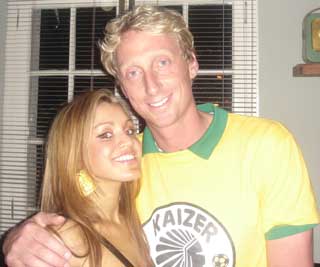 His great hand holds her close as she sparkles with excitement

Dear Seth





Please help! I can't stop thinking about the TBG, his presence and his golden hair!





He agreed to have this picture taken with me at a party on Friday night. You can imagine that I nearly lost all sense of what was going on around me. Thank G*d, I was dolled up and had gloss on! I guess it just shows that you never know when your time will come. My advice is to always look your best, just in case! I would've kicked myself if I went out looking anything less than glamorous, only to run into the TBG!!!





In the photo, you will see that I tried to stand as close to him as possible.

I

tried to look natural and at ease. It was one of the hardest things I've ever had to do.





I truly feel like maybe the TBG and I have a connection, Seth. I was tempted to slip him my phone number but then reality hit me: "This is THE TBG, you can't just expect things, Pace Yourself… be Sexy"





And Seth, I know that ALL the girls probably say this about the TBG but I DEFINITELY feel like there was a certain kind of chemistry, you know? Seriously, you could've cut the tension with a knife!

Anyway, do you think I'm too young for a man like the TBG?





He glows.





I can't sleep and food has lost all its flavour.





Rey





Thanks for that incredible sighting, Rey. To answer your question as to whether I think you're too young for the TBG, I think we need to take something into account. A man like the TBG has probably been around for centuries. A man like the TBG could VERY easily have known Jesus. He probably gave Jesus lifts on his Harley all over Nazareth....... and Jericho. So no, you are not too young for the TBG. No one is too young for the TBG. That is why he is so amazing. That is why you can't sleep at the moment - because you have been touched by him and his genius.

Just remember, Rey, just because you can't see him now, doesn't mean he is not there.

Seth Rotherham
Editor
2oceansvibe.com
[permalink]
14 August, 2006
TBG SIGHTING AT HERITAGE SQUARE!!
Once in a lifetime moment as James Small is sidelined
[permalink]

I think I know two VERY lucky little girls!! These two ladies were enjoying a bit of Tapas at Heritage Square when their lives were changed, forever! They finally had their moment with Cape Town enigma, The TBG (Tall Blonde Guy). The chances must be a million to one for them to choose THAT restaurant on THAT day at THAT time - it's just phenomenal! I would also like to point out that this is SURELY one of the best pictures we have ever received of the TBG. God, he is amazing! Have you looked carefully at him? Look at his hair! Look at his eyes (he seems to look inside your soul) ! And that SMILE! Aaaah, you certainly are mystifying, TBG. Enough now! This TBG sighting has to be read to be believed. Leanne R had this to say: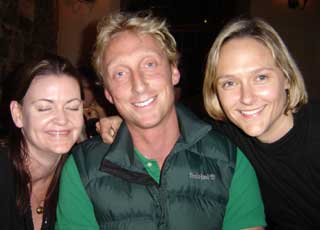 His aura can be blinding

Hello Seth,





Saturday last (or the one before that) a crowd of us were having tapas at that place on Heritage Square with the barrels outside – who knows what it's called? – anyway lovely spot. When suddenly we noticed the TBG… excited murmurs were heard (with a fair amount of pointing) around the table, whispers of …the TBG, the TBG! FINALLY my friend and I (both usually quite shy) decided not to waste this once in a lifetime opportunity … Incidentally my friend Jean had no idea who the TBG was (unbelievable I know), so it was quite hilarious trying to explain to her – but (as one would expect) as soon as she got closer to him she totally understood – immediately grasping the myth and legend around this enigma.

Anyway the funniest was that as we were getting out our camera and going over there we also noticed James Small and as we walked towards him (on our way past him to the infinitely more famous and appealing TBG), he thought we were going to take a photo with him, and (ha ha) he kind of looked up at us expectantly … and then, as we sailed on by, he quickly looked down resuming his nonchalant pose (extremely funny – but you probably had to be there).

Anyway the TBG was lovely, doesn't he TBG look sweet here? – the picture of innocence! We could feel his amazing aura – my eyes closed – clearly - in state of total bliss. In the excitement of the moment we totally forgot to ask him what he was eating – which could have provided important insight into the habits of this mystery – anyway who can think of food at a time like that?!



Thanks TBG

Leanne



Seth Rotherham
Editor
2oceansvibe.com
[permalink]
1 August, 2006
AWESOME TBG SIGHTING AT THE CINEMA
We always knew the TBG was an avid movie goer
[permalink]

What a great start to the month of August! The TBG (Tall Blonde Guy) was spotted at the cinema and accepted the opportunity to touch the lives of two young men. This particular TBG sighting allows us further insight into the life of this great man.

The TBG touches the lives of Brad and his pal.
We have discovered that the TBG enjoys his popcorn and prefers it lightly salted. Absolute genius! I won't say anymore - here is the sighting we received from Brad S:

Hi Seth,

We went to the movies the other day and witnessed a spectacular event! Let me tell you that it is a truly incredible experience to stand side by side to the TBG - He is a huge man, coupled with a huge aura and presence. He even has a soft side. Not many people have probably witnessed this first hand..

He even eats popcorn like a normal human.... lightly salted...

When I asked him if we could take his picture, he replied "its normally chicks who ask for photos" I laughed in fear that he would crush me with his eyes...

I feel more of a complete man to have shared this experience with my mate Matt.

That was the best "spitbraai" ever. Thank you TBG - for everything...

Brad S

Amazing story, Brad. You and your friend have had your lives touched by the living legend that is the TBG. It's the stuff dreams are made of.

Seth Rotherham
Editor
2oceansvibe.com
[permalink]
12 July, 2006
A PHENOMENAL TBG SIGHTING
The TBG makes one lucky guy's birthday
[permalink]

It is always a life changing experience when people strike it lucky and get to meet the TBG (Tall Blonde Guy) - let alone when they manage to get a photograph with the great man. But it is a particularly rare occasion when someone's moment with the TBG coincides with their birthday. Such a gift on one's birthday would surely be close to a miracle.

Robbie S from Cape Town sent this in.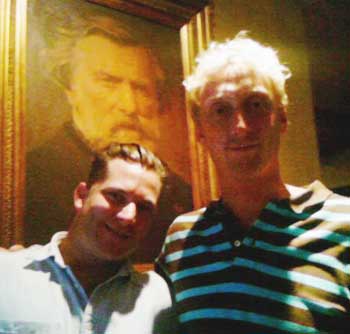 This is what he had to say:

The day did not begin well.

I was struggling to come to terms with my 35th birthday and how the hell I had come to already be halfway to 70!!

During the day everyone was sweetly calling and wishing me their best for the day and the year ahead. My family was planning a tea party mostly in aid of the kids scoffing cake and sweets in my honour and friends were planning my drunken downfall in the pub later that evening. I had been really spoilt by my mates at work with some incredible gifts and things were really starting to look like being 35 might not be so bad after all!

So with work finished, we all arrived at our local watering hole, Cafe Verdi - our home away from home in Chelsea, Wynberg. I walked in anticipating all the regulars would start shouting obscenities about old age and thrusting drinks in my face, but then it happened....

There was a clear perceptible drop in the temperature, and the breeze blowing over Chelsea village suddenly felt a lot cooler. The room went silent. Even the birds that had been chirping outside minutes earlier, had all flown to their nests.

In front of me in the flesh....

A thin halo of light surrounding him......

On MY birthday....

THE TBG!!!.........

Yes, I kid you not..... I can almost hear you gasp as you read this...

THE FRIKKIN TBG....... on MY birthday!!

But wait it gets even better. The TBG got up from his bar stool (which is now engraved at cafe Verdi and no-one may sit on it ..... ever again) and glided over to me, with his palm outstretched.

"Happy Birthday Rob" he said, with a smile that lit up the whole room.

What wise words! What an insightful understanding soothing tone. I no longer felt old, it was as if the touch and the voice of the TBG had washed away all my fears and replaced it with a warm appreciation of life.

As if he could read my mind (he probably could) he took me to stand in front of the framed picture of Verdi to commemorate this auspicious occasion with a photo together.

As you will see from the photo, I am trying to lean in just to feed off the radiating glow of the TBG, behind us is a portrait of Giuseppe Fortunino Francesco Verdi. Do you see how Verdi pales in comparison to the might TBG?!

Who cares if Verdi was the most influential member of the 19th century's Italian School of Opera - did he ever have a picture taken with the TBG!? I think not! I can almost feel Verdi's eyes boring into the back of my head with jealousy!

After a drink, the TBG vanished ( the beer glass is now engraved at Verdi and can not be drunk out of......ever again). He probably went off to go and make someone else's day incredible.

It was a truly remarkable sight and one that will never be forgotten by those who witnessed it.

Thank you mates for making this happen!

Thank you Lord!

Thank you TBG!!

Robbie S

UN BE LIEVABLE!

Robbie S, that is one of the most touching, amazing TBG sighting I have every read. You are incredibly lucky and God has blessed you. I am close to tears now and need to sign off.

God bless the TBG.

Seth Rotherham
Editor
2oceansvibe.com
[permalink]

14 June, 2006
FALSE TBG SIGHTING
Amateur forgets about the TBG's aura
[permalink]

In one of the most upsetting false TBG sightings since Peter Crouch was spotted masquerading as the TBG, Daren F sent in this "TBG sighting" (Daren is one of the special Darrens who only get one 'r' in their name).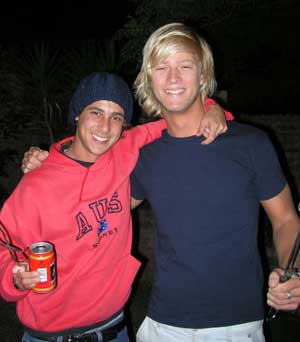 The TBC - Tall Blonde Child
Hi 2oceansvibe,

I'm pretty sure I had a picture with the TBG. Was I blessed with his presence?

Daren

Well done on the effort, Daza, but the answer is no. No, you did not have a picture with the TBG. And, no, you were not blessed with his presence. You have completely and utterly fucked up. The real TBG is a beautiful man. The blonde fellow in the photograph is but a child. Too young to fully cope with the burdens of being the TBG. Carrying the World's love inside you is not the job of a child. It is a man's job. A man whose image can virtually burn a hole through a camera's retina. A man with such an aura that nuns have even been caught, dry humping his leg. Furthermore, the blonde boy in the photograph is holding a pair of braai tongs. Don't be bloody ridiculous! Do you think the TBG BRAAIS? People braai FOR the TBG - the TBG braais for NO-ONE.

Now, I mentioned earlier that this TBG sighting is particularly upsetting. I say it is upsetting because Daren's excitement in the photo is so real that it can only be soul destroying to find out that his excitement should come to naught. A fake TBG. A false TBG. An evil TBG - not THE TBG.

Stop smiling, Daza, and start crying. Curl up in a little ball and beat your head with your fists.

Take off your beanie and beat your head now.

That's it.

You have not met the TBG. Maybe you will....... maybe you won't. But for now you haven't and your life is still empty.

I'm sorry to be the one to tell you this.

Seth Rotherham
Editor
2oceansvibe.com
[permalink]

5 May , 2006
TBG IS "VISIBLY GLOWING"
After extended absense
[permalink]

Well we're as pleased as punch! After a full month since the last TBG (Tall Blonde Guy) sighting, the great man has reappeared - looking better than ever I might add! Andre V sent this in :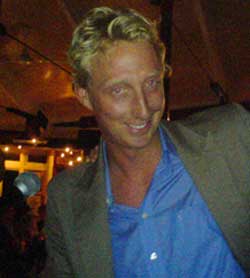 The TBG - clearly enjoying returning to the public eye after his break.
Last Friday night I was at a wedding in Hout Bay. Lucky for me, the TBG was one of the guests!

After careful planning, I managed to grab a photo with my phone of the TBG, on his way to the bathroom. He was visibly glowing.

Once the dance floor opened, I was able to get previously un-documented insight into the TBG's musical taste... it seems to be 80's.

This may be give an indication of his age...

I tried to video some of his dance moves, but I didn't want him to notice, I have no idea how he might react when angry, it wasn't worth it.

Cheers, Andre

Well, God has blessed you, Andre. You have now joined the ranks of the enlightened. And well done on managing to refrain from filming him on the dance floor. We don't know how he might react when angry and it's not worth it. Why would you want to spoil such a wonderful evening in his presence anyway?

I stand to be corrected, but I cannot recall ever seeing the TBG so elated. This is arguably one of the best sightings of the TBG we have ever seen!

As we gather more information about the enigma (including his age - we're putting him at around 29), we reckon he is able to cope with his adoring public, as long as he is allowed to rest. Well, the legend has rested and he has returned!

We missed you, TBG. Please don't ever leave us. Our lives will be nought without you.

Seth Rotherham
Editor
2oceansvibe.com
[permalink]
20 February, 2006
TBG SPOTTED AT THE CRICKET
Newlands hosted the Australians AND the TBG
[permalink]

Great pic sent in by Malcolm T after spotting the the TBG (Tall Blonde Guy) at Newlands on Saturday. And so we gather more information about the man behind the Acronym. The TBG likes cricket..... interesting. God bless you, TBG.

TBG at the cricket.
Wearing one of the Ape Town T-shirts.

Malcolm T had this to say:

Hi guys,

I spotted TBG at the cricket on Saturday, holding up the Castle Lager Marquee. I'm not sure if it was just me having too much of their product, but he sure looked like he had a halo around his head. He seems to have managed to get his hands on one of those new Ape Town T-shirts.





At least I had something to cheer about after having watched those Aussies first hit Mark Boucher in the box, on the helmet and pretty much anywhere else they felt like and then make our fielders chase red leather in the field as they mowed down our runs.

Cheers and thanks for a great blog.

Malcolm T

Seth Rotherham
Editor
2oceansvibe.com
[permalink]
7 March, 2006
THE TBG APPEARS AGAIN
After keeping out of the limelight for the entire month of February
[permalink]

The beautiful man that is the TBG (Tall Blonde Guy) has been sighted again after our readers missed him for the entire month of February. Did the TBG go on holiday? Who knows what a man of some brilliance gets up to in his spare time. Chris H can tell you what he gets up to at one in the morning.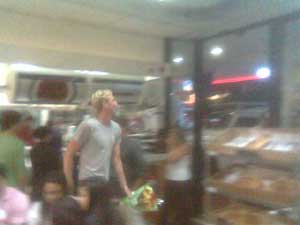 The TBG - flowers in hand - can't be missed



The TBG - I want to get inside his mind.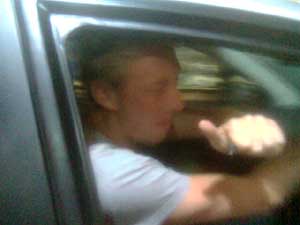 The TBG - gives Chris H a well-deserved thumbs-up
Chris H had this to say:

Its been far too long without a TBG sighting, but now, I am confident I have the real TBG in the "images" folder of my cell phone.

Anyway, so here's the deal. I'm out having an absolute jol at a mates party in Camps Bay, until, the fucking electricity decides to do it's thing on us. So here we are, 140 people, standing with no music, no lights, no nothing, except the bar which, thank God, stayed open. It gets to about 12:30 am and my friends and I decide to call it a day - not being very impressed with the outcomes of this gig.

In search of electricity, we set off on a mission to find a good time in order to end the night on a good note.

Little did I know what was in store for me.

We had decided to stop off at the Gardens Engen, (which if I may add, was a replica of a shebeen on payday being the only joint selling hot food for a couple of kilometers) to grab some food. So there i am, cool, calm and collected standing peacefully in the take away line.

But it was this un-real energy which pulled my head around to look at none other but the TBG himself. I quickly took action in planning my approach to this unique celebrity.

After plucking up enough courage, I approached the powerful man by greeting him by the famous three letters. "Are you the TBG", I asked. He admitted glory so I asked of I could please document this once-in-a-lifetime experience. But with his professional tactics he responded, "no can do"! I applied a bit of my own magic to which he replied " How do you even know it's me?" I mean, come now. How many TBG's are there in this world?

Anyway, he eventually gave in and gave that million dollar smile which tends to send shivers down one's spine. He even allowed for me to stop him again as he left in his car for a second shot.

I also noted that this living legend was buying some flowers at about 12:45 am, could he be working on something/somebody special? I don't know, but I can guarantee you, the TBG is back and he's back for good.

Keep a look out everyone, someday, your sighting may come!

Hope you have enjoyed this sighting as much as I did.

Laters

Chris H

Chris, you are a very lucky young man. Now you will not be embarrassed when your kids ask if you ever saw the TBG when you lived in Cape Town.

God bless you, TBG.

Seth Rotherham
Editor
2oceansvibe.com
[permalink]
17 January, 2006
TBG SPOTTED AT MELISSA'S IN CLAREMONT
As TBG spends more time in the suburbs
[permalink]

I am honestly blown away with the TBG sightings! 2006 is obviously the year of the TBG (Tall Blonde Guy). Two sightings in one week of the TBG. One in Wynberg, and one in Claremont! This is obviously sparking speculation that the TBG is "looking to buy in the Southern Suburbs". But I wouldn't get my hopes up. Please note the actual story of the sighting below: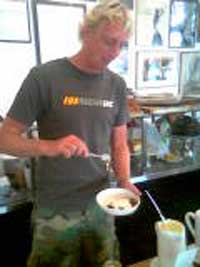 Again, the TBG chooses health
Sjoh! What a way to start the week!
As a simple farm boy from Paarl, a trip to Cape Town is always exciting. Little did I know what was in store for me when I dropped off some of our fine Ziggurat Wild Card Chardonnay at Wine Concepts in Newlands...
After making my delivery I decided to head over to Melissa's for coffee before my next appointment at Rafiki's, where my wine is also available. I may be from the other side of the boerewors curtain, but I gather Capetonians are quite sophisticated and a coffee with an English newspaper at a cafe is quite a cultured thing to do. (And when I say cafe in this context, I mean a place that actually sells coffee, not chips and coke, also a different experience for me).
While strolling across the parking lot, I remembered hearing that TBG had been sighted in nearby Wynberg and this got my heart racing. With hindsight it was obviously his aura permeating out around him, filling the area with good vibes. I also noticed the birds were singing unually loudly, and a butterfly settled gently on my shoudler. But coming from the country, it seemed normal at the time.
I stepped into Melissa's and was filled with all the pleasant aromas that a deli offers, and then my life changed forever...
Standing there at the buffet was TBG! I couldn't believe it, I had to do a double-take. Yes, it was really him. I heard there were pretenders, but that feeling - like the rush from your first cigarette behind the cricket scoreboard - just washes over you. Instantly, you know that all your problems can be overcome, you see everything with higher definition, and, just for a moment, you glimpse heaven. And you know this is the real deal.
I'm sure you can all imagine what it's like walking up to him and saying hello. Pick your favourite celebrity, multiply that by a hundred and you're still nowhere near it. But yet, you feel compelled to do it. So I strided over and with my bravest voice, stuck out my hand and introduced myself.
And what a legend! Calmy, with cereal bowl in hand, he met me serene eyes and just put me at ease. Clearly the dizzy price of fame hasn't got to him. Really chilled and down to earth, serving up some muesli and yoghurt. I know Ringo Starr got in trouble for making comparisons to Jesus, but seriously, this is humbleness to be held up high! You would expect a man of that stature to have steak for breakfast!
(Again, being a great role model by not eating junk food - Seth)
Feeling guilty about intruding on his everyday life, I asked him for a photo, to which, naturally, he obliged. I only had my phone with me, so the quality isn't very good. I now know the feeling of everyone who has ever seen Bigfoot, the Loch Ness Monster or Elvis. Your camera always jams, runs out of film or if you do get a shot, it's of such poor quality that nerds will be debating it for years. Either way, your mates wont believe you and tell you to fuck off and buy your own drinks.
But, in the end all that matters, is that I know I saw him. And it was a moment that will remain with me for ever.
Tomorrow, I'm making another delivery of Ziggurat Wine to Wine Concepts. Could I be so lucky twice? I don't think so. A man as elusive and enigmatic as TBG is not a creature of habits.
Seth Rotherham
Editor
2oceansvibe.com
[permalink]
17 January, 2006
TBG CHOOSES HEALTH OVER JUNK FOOD
Spotted at Kauai - Cavendish Square
[permalink]

This year is getting off to an AWESOME start with regards to TBG (Tall Blonde Guy) sightings. Gordon G writes:

"Apologies for the quality of the photo. I had to use my camera phone while walking past him, to ensure I didn't disturb him in his natural environment. He was looking a little sunburned. Clearly a symptom of spending some quality time on the beach over the last few days"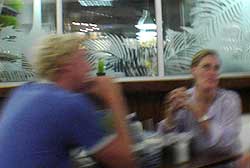 Good work, Gordon. Although blurred, there is no mistaking the TBG! For me the big thing is that the TBG is choosing the healthier alternative to the various other fast foods out there. He almost has a sixth sense guiding him to be a good role model for kids and adults alike.

Keep it up people, we're getting nearer and nearer to our goal - a full understanding of who the TBG is and what makes him tick.

Other TBG sightings
Seth Rotherham
Editor
2oceansvibe.com
[permalink]
13 January, 2006
TBG VENTURES AS FAR AS WYNBERG
Spotted outside boutique couture store in Chelsea village
[permalink]

It is not often that we get sent TBG sightings from as far afield as Wynberg Chelsea. Spotted in a clothing store by Nick W, he noted the TBG's new sunglasses and chrome style helmet. He was said to have been "warm and friendly". Of course he was! God bless you TBG.

Rare TBG sighting in Whyberg Chelsea
Seth Rotherham
Editor
2oceansvibe.com
[permalink]
3 January, 2006
LONDONER SPOTS TBG ON HOLIDAY
"A dream come true" for British tourist in Cape Town
[permalink]

We were sent in a series of photographs from an Englishman on holiday in Cape Town. Johnny V from London had this to say, "When I came over to Cape Town on holiday, the last thing I expected to see was the TBG! Everyone I know in London knows about the TBG and would love to meet the enigma. Seeing sights such as Table Mountain and Robben Island is an absolute treat. But to meet the TBG is surely a once in a lifetime experience! Thanks for being so patient, TBG!"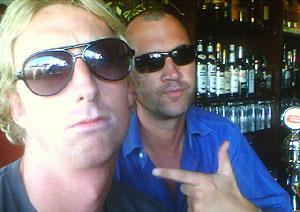 Johnny V from London just 'mucking about' with the TBG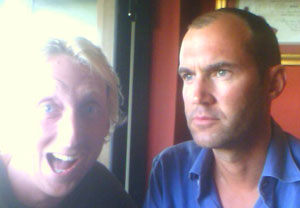 The TBG seems to enjoy the visitor
Seth Rotherham
Editor
2oceansvibe.com
[permalink]
1 January, 2006
TBG SIGHTING BY MR 2OV CONTENDER
In a bizarre twist of fate
[permalink]

What are the odds? Jared has been fortunate enough to spot the TBG (Tall Blonde Guy) whilst he jockeys for positions in this year's Mr 2oceansvibe competition. It's like a lottery win! As we know, meeting the TBG has been some people's dying wish; securing a place in the runnings for Mr 2oceansvibe is just as difficult. Yet here we have Jared who has done the double! You can count your lucky stars, Jared.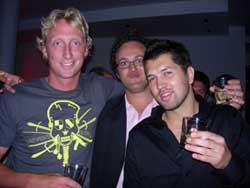 A very relaxed TBG
Seth Rotherham
Editor
2oceansvibe.com
[permalink]
8 December , 2005
TBG SPOTTED AT CONCERT
At the 'Cell C Sound of the city concert' in Cape Town on Saturday
[permalink]

Mark L sent this in saying that "The TBG was clearly in his natural environment at the Cell C Sound of the city concert. I froze when I saw him and struggled to get the camera out of my pocket. I didn't want him to notice me in case it stressed him out. It really felt terrific! He seems to be a HUGE fan of the Dirty Skirts by the way"

The TBG - chatting to an admirer
Great shot! Well good for you, Mark. You've achieved what others only dream of doing. You've probably slept a lot better since the great moment. Keep it up you lot, and keep sending them in!

This article ties in beautifully with some information we have just received from the TBG's favourite band.

By COMPLETE coincidence, Dave from the Dirty Skirts sent in this information about a gig they're having on the 20th:

Hey Seth, Dave from Dirty Skirts here. Just wanted to give you a heads up for an evening with the Dirty Skirts and special guests The Wild Eyes and Black India, at Mercury Live, Cape Town on Tursday 15th of December. First band is at 10pm. Cover charge is thirty dirty bucks. Flyer attached.

By the way....TBG was at the Cell C Sound of the City - I could see him from the stage and damn nearly threw my guitar down and pushed through the fucken crowd...just to meet him.

It's all getting a bit much.

Seth Rotherham
Editor
2oceansvibe.com
[permalink]
1 November , 2005
THE PRIVATE TBG - A RARE SIGHTING
At a secret location high in the Constantia hills
[permalink]

Well, we are gobsmacked! We have just received this TBG (Tall Blonde Guy) sighting from someone who managed to find themselves at a private gathering of the TBG and his closest friends at a mansion in the Constantia hills. You can tell by the way the TBG is goofin' around, that he is totally relaxed in this environment. This is not the public TBG that some of us have been lucky enough to have witnessed. No no. This is the private TBG. The man behind the man - totally relaxed. Happy to be silly for the camera, the last thing he expects is for the photographer to send it in as a TBG sighting.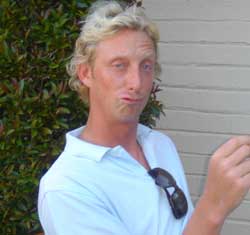 The Private TBG
Nick W had this to say:

"A friend invited me to an upmarket gathering at a macking pad in Constantia. I didn't know many people and was nervous to go. I wouldn't have been so nervous if my friend had told me the f*cking TBG would be there! I had no idea my friend was friends with the TBG. Apparently he hangs with him ALL THE TIME! Anyway, I had a cold beer with the TBG and then went to the other side of the party because I was too nervous to say something stupid to him. We chatted for virtually 10 minutes! I pretended to take individual shots of everyone so that when I snapped him, he thought it was normal. He truly is a living legend. I'd love to meet him again when I'm less nervous!"

Brilliant work, Nick! It's TBG sightings like that that keep us all going. Keeping us alert, waiting for our very own TBG sighting. God bless the TBG.

Seth Rotherham
Editor
2oceansvibe.com
[permalink]
5 October, 2005
THIS IS THE TBG
The readers get better at TBG sightings
[permalink]

Apart from this potential TBG sighting in the States (Not the Orange Free State, the United States of America):

I think I might have seen the TBG streaking past me in a Cadillac CTS (the ones they trashed in Matrix Revolutions...? The second one), heading south on the higway leaving the millionaire's cottage country playground of the Muskokas (north of Toronto) at the end of the Labour Day weekend. It where stars like Goldie Hawn & Kurt Russell have their holiday "cottages" which probably go for about $1 million each.

A possible sighting, just thought I'd let you know

We have received another new sighting from Paul T, with photographic evidence.

TBG sighting rendered these two speechless
Judging by the person in the background's stance, it could very easily be the TBG. The excitement on the faces of the two drunkards also points very much towards the sensation one feels when in the presence of the great man. We gave the photograph to our professionals in the lab.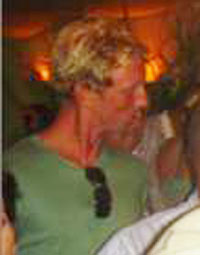 Such poise. Such grace.
Well, suck me sideways! It IS the TBG! Congrats to the professionals in the lab - good work. The angle of the man's head, the perfection of his neck, the blondeness of his hair, the shades on the T-shirt..... they all point to one thing - a superb individual - The TBG. TBG forever.

Seth Rotherham
Editor
2oceansvibe.com
[permalink]
4 October, 2005
THIS IS NOT THE TBG
A rookie error
[permalink]

It really irks me (PLEASE enjoy the word 'irk') when people send in incorrect sightings of the TBG - asking if it is him. Let me help you with the decision making process. Did you feel a sense of euphoria when you saw him? Did you get a tingle down your spine? Did it seem like all the World's problems had come to an end? Because if it didn't feel like that, then it probably wasn't the TBG.

I quote Jules, who sent in a TBG sighting a few months back:

"....the man is indeed a legend. I now understand the kind of peace that washes over one who sees the TBG - I feel my work here is done. My life is complete and all my goals have been achieved. Long live the TBG!"

Now can you HONESTLY tell me that you received a similair sensation when you saw this fellow?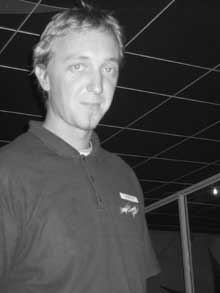 Definitely not the TBG

This, from Richard B :

"Was at Gordons bay the other weekend and I think our waiter was TBG. Luckily we had a camera on hand and managed to snap him, is the TBG trying to hide away from fame he has surmounted through 2oceansvibe, and living as a recluse in the small fishing village of Gordons bay? Please confirm it is him. Also is he sporting a funky goatee like strip on his face?"



No, Richard B, it is NOT the great man. Nor does the TBG sport a goatee (the one in the pic is CERTAINLY NOT funky). He also does NOT live as a recluse in Gordon's Bay. The TBG is a man of the moment. He drives a Harley Davidson, hangs on the Atlantic Seaboard and pumps hot chicks. Get it right.



Seth Rotherham
Editor
2oceansvibe.com
[permalink]
29 August, 2005
TBG MAYHEM - REACHING ITS PEAK
Never seen before sightings of Cape Town's Tall Blonde Guy
[permalink]

While we're still reeling from the news that there is a man running around posing as the TBG (who HAPPENS to be an England striker), we are relieved that true sightings of the man of mystery continue. God bless the TBG. Behold, a flurry of TBG sightings.

Although out of focus and hazy, there is no mistaking the relaxed, powerful demeanor of the TBG. This sighting, taken at the Twelve Apostles Hotel (a way-point stop for the Harley Davidson riders), shows the TBG particularly welcoming with a quiet toot in his hand. Recent reports of TBG sightings have shown the icon to be periodically 'testy' when it comes to photographs, often needing time to himself. Whilst one can't help but to take pleasure in the sense of care that surmounts a room when the TBG is present, we must be aware of his wants and needs. The TBG is clearly in the right frame of mind for the attentions of this young aficionado.

The TBG
Poised, yet relaxed, at The 12 Apostles Hotel
And so we move on, with more TBG hysteria. Although some reports suggest the TBG wasn't available for some photos, a few people at the Rock Star party managed to capture the TBG. Judging by the great man's demeanor in these pics, we can clearly see he has a fun-loving nature. If the TBG had a mantra, it would probably be something to do with 'fun-loving'.

And so, even more TBG sightings.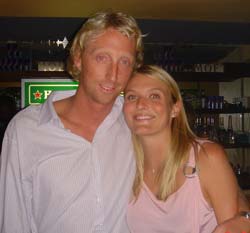 This sent in by Vanessa K, one of the TBG's many female admirers.
She says she managed to get into his pants. I doubt it.



Sent in by Peter R.
The TBG...relaxed.. showing an 'island style' sign.



Again we see the TBG showing an 'island style' sign. This time with Adrian L.
Good pic, Adrian. The TBG looks happy - just how we like him.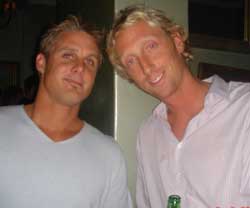 The doting fan on the left, Steve R, clearly pleased as punch.
Wars will begin and end. Countries will unite and fall. Children will be happy one day, and starve the next. But the TBG will always be there. If only we could ALL have the opportunity to see him. The opportunity to speak to him. The opportunity to touch him. But most importantly.... the opportunity to be one with him - in mind and spirit.

Good luck out there.
Seth Rotherham
Editor
2oceansvibe.com
[permalink]
23 August, 2005
TBG IMPOSTER
Opportunists passing themselves off as the Tall Blonde Guy
[permalink]

No-one said the life of Cape Town's man of mystery, the TBG, was all roses and glory - it can also have it's pitfalls. Like when someone cruises around intimidating the great man. While we still yearn for more knowledge of who the TBG is and how he operates (let alone what actually makes him tick), we can only frown upon imposters who think its clever to try and confuse us.

I was sent a fake TBG sighting by the man in the right of the picture. The gentleman informed me that, although he was over the moon that he had finally met the Cape Town icon, he didn't feel entirely satisfied. It's times like these that make my job very difficult. Like doctors delivering bad news, it is me that has to inform this young man that the person he met was, in fact, an imposter. It's not easy. Particularly when the photo reveals genuine joy in his eyes.

Keep an eye out for the man on the left. Do not be fooled. He is not the TBG. Thank God we have received some genuine TBG sightings of late - to lift us up from this terrible state of affairs.

The fake TBG. Do not trust this man.
Seth Rotherham
Editor
2oceansvibe.com
[permalink]
11 August, 2005
TBG'S POTENTIALLY JADED PAST
His time in London
[permalink]
I'm not going to say anything. I'll let these pictures and words I received to tell the story.

"On the subject of TBG out of his natural habitat, these photos were taken in the UK in the latter part of 2002 when he was part of a touring male stripper group called "The 3 Quarter Puffy's". We toured dingy pubs in classy towns such as Aldershot, Bracknell and Bognor Regis to name a few. We were in high demand until half the group contracted various STD's (not the TBG I hasten to add) and were forced to quit. The other photo is of the TBG threatening one his fellow strippers after a disagreement about almond body oil. So there we have it, the TBG outside the borders of SA." -(Anonymous)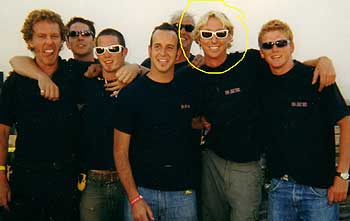 The TBG in his early days. Just one of the guys.



Another side to the TBG. Dangerous. Threatening.
Seth Rotherham
Editor
2oceansvibe.com
[permalink]
18 July, 2005
GENUINE TBG SIGHTING IN LONDON
As we near orgasm
[permalink]
I already heard reports that the TBG (Tall Blonde Guy) had gone to London. Why, or who with? We don't know. Probably some undercover work for the CIA. Nonetheless, we received this:
Hey Seth,
Went to go and see Graham John Murray play live at 115 @ Hodgsons on Friday night.
I knew that we were going to be in for some good music, but little did I know that I would end up sitting next to the TBG too.
I think this may have been the 1st international sighting of the TBG. Imagine that, the TBG out of his natural habitat.
His calls for "no photos please" were heeded, so alas no photographic evidence.
And once again, Graham was really, really good.
Cheers
Pete.
To my knowledge this certainly is the first international sighting of the TBG. We hope someone in London (or wherever else he goes) will be able to snap a shot of him. 2oceansvibe wants to see how he carries himself when away from our shores. I think Pete should have been a little more sneaky about it, personally - don't fluster the TBG. Let him be himself.... then pounce on him.
The TBG is certainly grabbing headlines this month. It's about time - he has been something of a recluse in recent months.
So smooth. So silky. The TBG....... the story continues.
Seth Rotherham
Editor
2oceansvibe.com