And Seth's subsequent quest for quality
[permalink]

My Mother's extravagant taste and lifelong quest for quality has no doubt contributed towards my insistence of top service and superior brands. As a child I remember there were particular brands in our home that had no possible substitutes - Carmel's gherkins and Judy's Pickled onions are two simple examples that come to mind. There were no compromises on brands at home and the only reason we would be out of stock of gherkins would not be because there were no gherkins at the shop, but rather because they were out of stock of Carmel gherkins that day. Brands were never changed at home and there was a reason for that. As I grew up and moved out of home I didn't dare purchase anything other than what I was used to. Sometimes I would make a mistake and buy another brand eg. 'Koo' gherkins. The revolting inferior taste would be a reminder to stick to what I knew and not to be a hero. Other kids and families bought different brands and obviously weren't aware - they were lucky, they didn't know what the "best" tasted like.

Some of the other 'necessities' in my Mother's life could be deemed outrageous - her skin would come out in hives if she used any perfume other than Jean Patou's 'Joy' (often unashamedly advertised as "The most costliest perfume in the world") and she refused to drink out of plastic cups as they gave her ulcers in her mouth. Crystal glass had no effect, luckily. It wasn't her fault, her body rejected anything other than the best. Funny, the same thing happened to Seth.....

This kind of exposure to the finer things in life has certainly enhanced my metrosexual side. One of the key qualities of being part metrosexual is the ability to treat oneself to a good pampering. In fact the very term 'metrosexual' allows the straight only-child to get away with things that our macho counterparts would deem gay (as I said in a previous article, I have nothing against gays, some of my best friends take it up the arse). Now we all know that with being a metrosexual comes the appreciation of a good bath. I have been a regular bather since birth. As a child, some of my less metrosexual friends would often come over to my house for a secret bath session - enjoying the exclusive high quality products that surrounded the tub, as well as the big mirror at the foot of the bath. The Photographer, The Roofer and The Centre all enjoyed this secret pastime. At least they acknowledged the sheer bliss of it all. Others cannot fathom the notion - The Beer Rep in Australia fell over backwards when I said I would call him back after I had a 'bath'.

"A bath??!!" (pronounced 'Baaaaaaath' with the Australian twang).
"What the fuck are you talking about mate!!??" came the bemused response.

He still uses it in conversation and finds it terribly amusing. "Hey Seth I'm going to the bar to get a beer. You want one? Or are you going home for a baaaaaath?". This is followed by him collapsing with laughter.

That aside, I remember my mother using a particular brand of bubble bath that I have found increasingly difficult to get hold of. The man on the street is no doubt happy with the extensive range of Radox foam baths, but I'm afraid it just won't do. After months of searching I stumbled upon a chemist in Green Point which stocked Badedas. Aaaaaaah, the holy grail! It is more costly than the regular brands and I would recommend you DON'T buy it. Like I said, if you don't know any better........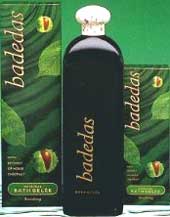 Badedas - Mother had her reasons
I found the following writeup on the internot about Bededas.

Hmmm, as I thought...

Badedas Original Bath Gelée (Their word, not mine)
As yet undiscovered outside Europe, (of COURSE NOT, God help us) Badedas is the premier bath additive, famous for it's rich, luxurious properties. The sensual and mysterious image of Badedas has captured the romance and imagination of the refined and cultivated European customer for years. (Brilliant!)

Badedas contains a unique combination of horse-chestnut extract (obviously) and a luxurious revitalizing fragrance which embodies the sophisticated and sensual image for which Badedas is renowned. (They're going for it now)

Badedas offers a complete range of bathing additives encouraging the consumer to treat and reward themselves. Its premium packaging reflects its ideal suitability as a gift line (even the packaging is orgasmic!).We guarantee that you'll find Badedas a truly pampering and luxurious bathing experience. Luxuriate and experience the rich evocative magic of Badedas. ('evocative MAGIC'!) Rich and creamy with vitamin E, natural plant oil, horse chestnut, sweet almond oil, leave the skin feeling velvety smooth and delicately fragranced.

Ok, no surprises there! Spot on!

So that's it, folks. If you want to treat yourself or your angel, start a little search for Badedas foam bath. Sit back, relax and enjoy it. But most importantly, relax your mind - safe in the knowledge that you're using one of Seth's obsessively preferred brands. Brands used by "refined and cultivated European customers" since 1977!

Seth Rotherham
Editor
2oceansvibe.com
[permalink]