Take it all in
[permalink]

I jumped in my car on Friday and went for my first Cape Town Super Circuit since my return from the netherworld. It's good to be back. People seem to finally be at one with Winter.

So let me run you through it. You DO know the route for the Cape Town Super Circuit, DON'T YOU?

Let's begin....

Coming down Camps Bay Drive from Kloof Nek provides a moment of reflection as we negotiate the twists and turns, always taking in a moment to swallow the almighty setting to one's right; the stretch where the Atlantic Ocean plays backdrop to a well-thought-out squadron of palm trees saluting Camps Bay beach which, in turn, provides the protective border of Camps Bay's ego - The Strip. But we're not there yet...

Camps Bay Drive and view of The Strip
form the beginning and end of the Cape Town Super Circuit
So we continue down Camps Bay drive, through the 3-way stop at The Vet and on to the traffic lights (we're COMPLETELY phasing out the use of the word "robots" - it's just emboerrissing, guys. We just sound silly. I'm very proud of our local sayings and quirks but there's not enough time to deal with the self-inflicted confusion created from using the word when speaking to a foreigner. There is just NOT enough time, guys. We've got lives to save for chrissake!). Careful observation at the lead up to the traffic lights can often provide good viewing to the right, out in front of Dizzy's cafe. Foreign model angels don't mind hanging around this area and help to water down the spasm of Engel and Volkers' decrepit estate agents scurrying in the nearby vicinity (whom you are legally allowed to bump out the way, you might be interested to know).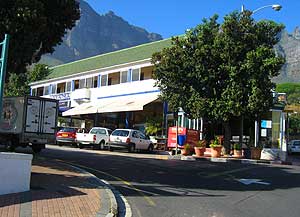 Dizzy's - good action. Particularly Tuesday nights.
A right turn at the traffic lights gives way to a throng of activity outside Pick n Pay and that wretched little strip of restaurants where the waiters fuck your leg as they try to get you into their establishments (A very tacky concept I seem to recall from a 25 quid one-week package holiday I did to the Canary Islands with The Silent Assassin).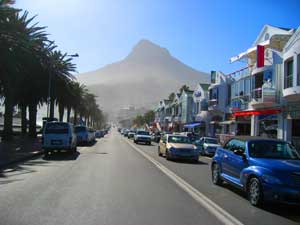 The Strip, phase 1
And so we continue down Victoria Road like a blood corpuscle creeping through the vein that is The Camps Bay Strip - featuring sea, sand, sun, babes, surfers, families and Lamborghini's. Also featuring such non-entities as Blues Restaurant and finally giving way to the Camps Bay heartbeat, Caprice. The hatches were down, suggesting mushroom-shaped heaters, backgammon and red wine with very down-to-earth models wearing thick hand-knitted jerseys.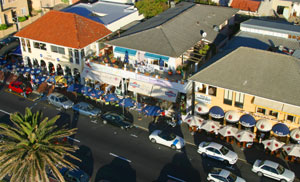 The Camps Bay Strip - Caprice end
The first chapter of The Cape Town Super Circuit
Continue along Victoria Road: featuring naughty little Camps Bay High school girls waiting for taxi's, Clifton beaches parking activity, and the slow cruise passed Carlucci's (driver's window down to eye-level, MAX). You could be in for anything here, including hot bored housewives, Brazilian supermodels and lovable crooks. Maybe stop by next door and grab some Badedas or some specially made foot cream from Garth at the Camps Bay Pharmacy. If that's your vibe. I mean, if you're a chick. You know. Otherwise you could buy something more manly and cool, like Berocca or Essentialle. Or buy yourself a Kiwi and strawberry Snapple from Carlucci's. I really don't give a fuck - do what you want.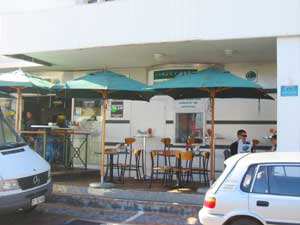 Carlucci's - bored housewives and lovable crooks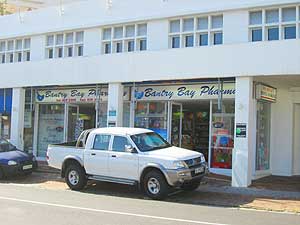 "Hi Garth, make it two asthma pumps, Essentialle, Calmettes,
Corenza, Berocca, Grandpa powders and a pack of gum."
And so we continue along the seaboard and towards the ocean as we join Beach Road, announced by the Sea Point swimming pool. Enjoy Beach Road and be sure to take in the beautiful promenade with its impossibly glorious combination of locals, tourists, children, rent-boys, drug addicts, health freaks, Yorkshire Terriers and 75 year-old senile Jewish women with blue hair wearing boob tubes. Sensible informed individuals can be spotted on the porch at the "bump-into-anyone" proof Winchester Mansions to your right. My last four outings at this establishment with The DJ, The Surfer, The celebrity MC and The Loose Forward respectively, proved this fact ("bump-into-anyone" proof). A noteworthy Cape Town indulgence.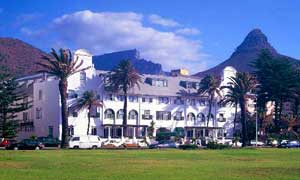 Winchester Mansions - not as "very small" as Cape Town
Moving swiftly on.

[ Due to construction at the stadium, the Mouille Point leg of the Super Circuit has been put on pause due to the closing down of Fritz Sonnenberg Road. This will be ammended upon completion, at which point Neo, Bravo and Wakami will form part of the Cape Town Super Circuit]

A right turn into Glen Garriff and a left at the following lights (next to the library) onto Somerset Road will give you a good length of road to stretch your legs as you open the sunroof, lower the window to eye-level and play some unmockable AC/DC - just in time for the Giovanni's run. New local business seems to have blended into the Giovanni's lifestyle fairly well. But I am confident that a post 11am drive-by would produce the very expensive-to-run Prada-wielding Italian and Jewish housewife fraternity who would prefer a sexually charged coffee with their personal trainer, than an ACTUAL gym session. (The gym was too full to train in, anyway). Also great to watch the supermodels with oversized sunglasses chain-smoke cigarettes as they look down their noses at the Mavericks girls in tracksuits who attempt to conceal their worst come-down ever.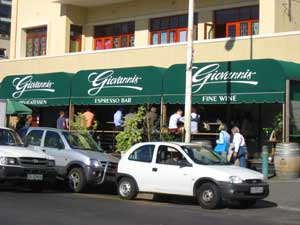 "
Giovanni's - Prada and Louis meet here
And on we go!

So we continue cruising, this time alongside past-and-present P.A.s' favourite, Blue Bay Clothing (upstairs - you'll find that "one-off" dress here, girls), as well as Melissa's and Vida e on your right. Much to look at and a good opportunity to pop into Vida and grab a coffee to sip on for the duration of "the circuit". Or, if you have R750 on you, you might want to pick up something to nibble on at Melissa's.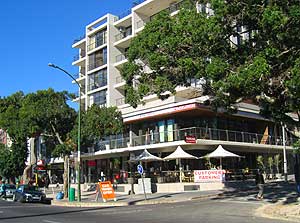 Blue Bay clothing upstairs (ladies), Melissa's and Vida
Further down, once you've taken in the who's who at Mano's restaurant and new trendy double-thumbs-up Jade (above Mano's), you are urged to close your eyes and ignore the traffic department and chaos that is the final stretch towards your right turn at the end of Somerset Road, into Buitengracht Street.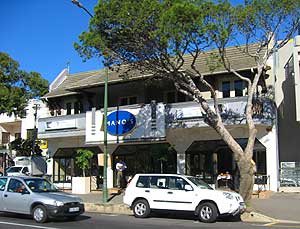 Mano's and Jade - Who's who
Play nicely along Buitengracht street as you go through the various sets of traffic lights, until you take a left turn just after Relish, into Park Road. Park Road will offer you much eye candy provided by Greens Restaurant patrons and the discerning erotic connoisseurs vanishing in and out of Kink Boutique. Mmmmm.... touch me.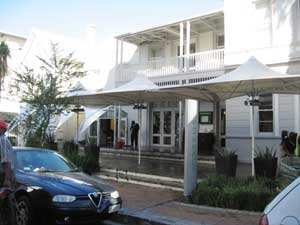 Greens - at the wrong time of the day

Kink - sexual
Hang a right turn up Kloof Road and take it all in. Say hi to Paddy as he crosses the road and then blast up, through the next lights and into the penultimate stretch that presents some activity at Cafe Vespa and Cafe Paradiso (Tip to Paradiso: knock down the wall guys, raise the outside seating and give the patrons and the pedestrian some mutual eye-contact. It works at The Ivy in L.A. I promise you it will work here).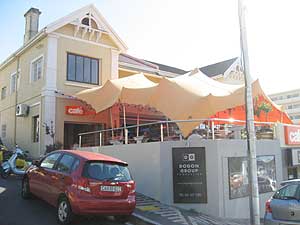 Vespa - younger, hotter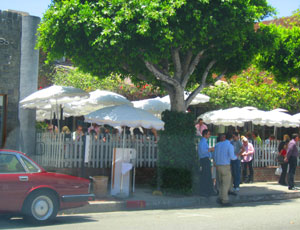 Patron/pedestrian eye-contact works at The Ivy, L.A.
Be sure to cast an eye over the entrance of Loft Living, further up, where good taste seems to provide some fine pieces of ass (male and female) getting in or out of their Land Rovers.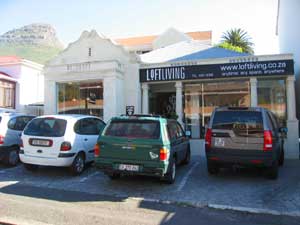 Loft Living - interiors and derrieres
Cruise further up and check out the action at Bacini's Italiano Restaurant which is sure to be pumping in the summer. Hang a quiet right turn into Bellevue Road and continue straight up towards Kloof Nek Road. Now would be a wonderful moment to catch a view of Lions Head, dominating in front of you.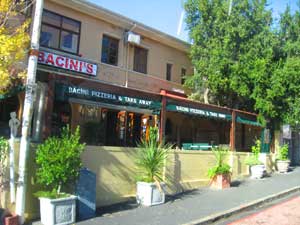 Bacini's! Babes in the summer

Lions Head - quietly dominating
Hang a right further up the road and make your way up to Kloof Nek Road. If all passengers look to their left , they will notice Cape Town's glory and Johannesburg's pain, Table Mountain.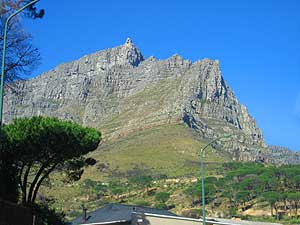 Aaaah..
And on you go to the top, Klook Nek. Drive straight over the top, where the road's name changes to Camps Bay Drive again, at which point you can give yourself a well-deserved pat on the pack!

Kloof Nek - go straight
Well done! That was the Cape Town Super Circuit!

The Cape Town Super Circuit
You're back!

You've seen.

You've been seen.

Repeat if necessary.


Seth Rotherham
Editor
2oceansvibe.com
[permalink]