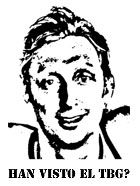 Have YOU seen the TBG?
CLICK HERE
To order your TBG
TBG-shirt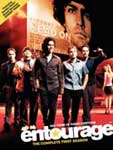 ENTOURAGE DVD
SERIES 1, 2 & 3
CLICK HERE
CLICK HERE
TO DOWNLOAD
THE CAPE TOWN
SUMMER RAP
"NO MATTER"
BY WILL & G
16 July , 2008
THE RETURN OF MAVIS
Unprecendented behaviour. Never imagined, let alone contemplated.
[permalink]

I've had like half a joint and two whiskey's, trying to get into character to write about Mavis. A number of 2oceansvibe readers have come up to me in public (no problem) and commented on how much they luuurve Mavis, so I was trying to remember the angle that I would normally take when writing about her (it's been a while). But then I realised that there wasn't anything CLEVER about the Mavis stories - I was simply reporting on what she did. Which is EXACTLY what I'm going to do this time!

Check this out.

So the other day, a Friday to be exact, I get back to the Safe House (probably after saving the day somewhere else) and cracked open my laptop to become one with the internet (the whole of which is stored inside my laptop). The phone rings (probably a world leader) and I start giving solutions to whatever the problem was at the time. With superb peripheral vision, I noticed a hubbub East-South-East to my current heading. I looked to my right and realised that Mavis was approaching, with what seemed like a mini-presentation that she was about to give. Whilst her approach to announcements have, in the past, been absurd at best; I had never imagined this level of pomp and ceremony.

She set up the following items in front of me on the table, as I continued talking on the phone, completely bewildered at what was materialising in front of me.

Standing upright, was a box of sorts.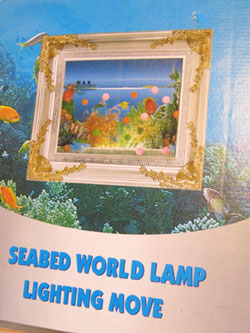 A box. A very foreign box. Set before me.
I wasn't quite sure what to make of it. Had Mavis salvaged a box from the garage which contained raw uncut diamonds? Was I to be impressed? Or was it something of mine (that was still left) that she had found in the cupboard and wanted to give to her son? This... SEABED WORLD LAMP LIGHTING MOVE. Was it mine?

I held the phone away from my face as I questioned this bizarre event that was unfolding on the phone.

"I'm on the phone, Mavis. Are you asking me if you want this thing? What is inside the box? Is it mine? Where did you find it? What is going on, Mavis?"

"Sorry Kim.." I continued the call.

"No, I bought it for you," Mavis replied, grinning like a Cheshire Cat; as she placed the second prop on the table. A card. Clearly not for me.

Oh God..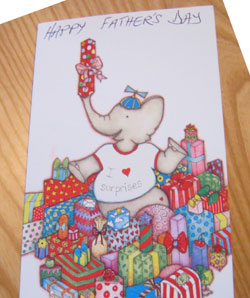 Happy Father's Day
I kind of recognised the card, but then noticed the hand-written words HAPPY FATHER'S DAY at the top. Well, you can only imagine - I didn't know what the fuck was going on. This is what Mavis does. She specialises in confusing me.

"What the fuck is going on, Mavis?" I whispered angrily, trying my best to muffle the phone.

"It is for you," she tells me.

"Ah. Ok. Stop right there. Error. Cancel everything." I urged. "I'm not a father. So can we remove this hostile takeover of my phone call and pretend whatever is happening here, didn't happen?"

"But you will be. One day!" she argued.

Hmm, cunning.

This was by far the most fucked up thing Mavis had ever hit me with, and I knew that without urgently ending my phone call, she would surely kill me. Somehow. She would. The bombardment would, ultimately, kill me. I don't need to go out of my way to explain to you what I mean. It is common knowledge that Mavis wants to kill me.

I ended the call.

"Okaaaay, Mavis, what's going on here?" I snapped, opening the card, beginning the inevitable process.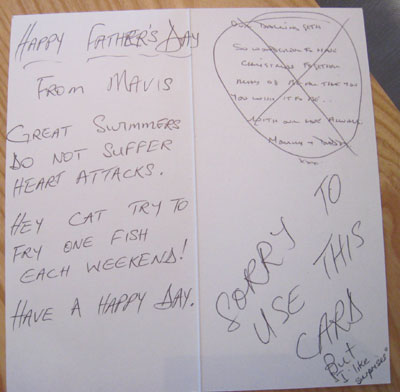 The card - cryptic..
"HAPPY FATHER'S DAY - FROM MAVIS," it read.

"GREAT SWIMMERS DO NOT SUFFER HEART ATTACKS."
Whilst I didn't ever expect the card to make sense, the mention of a heart attack did bother me.

"HEY CAT TRY TO FRY ONE FISH EACH WEEKEND!"
Ok, ja. There is obviously some tie-up here with the first sentence, as she mentioned "swimmers" before, and now there is something about a fish. Interesting. But then there is also this new cat/fish connection that I'm trying to get to grips with.

"HAVE A HAPPY DAY" it ended, as it should, after such a bold statement.

Mine eyes cast over the right of the card, where things became ever so slightly clearer. It seems Mavis had found an old birthday card from my folks and had crossed out their written message to me - a clearly common card reuse process that I was unaware of..

To clarify, she ended it with "SORRY TO USE THIS CARD - But I like surprises." Yes, of course, she was referring to the inscription on the elephant's tummy (on the front of the card - above) which described the elephant's love for surprises.

"Ok. Good. Nice, Mavis. I see what you've done there. I'm not going to get into what it means, for now. What's in the box?"

That's when she hauled out another box from inside the original box, encased in in a plastic frame, which could only be described as kitsch. (Decidedly Rococo in her eyes at "only R58,50!" she exclaimed).

It came with a plug, which she stuck in the wall and turned it on.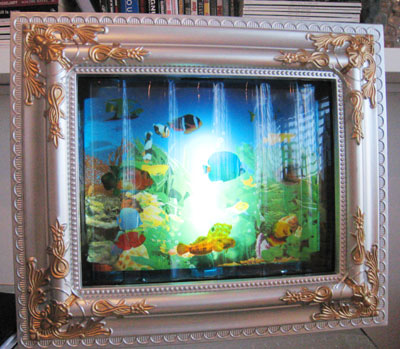 Seeing is believing
You will notice some artificial fish in that box. Now they are set behind a clear plastic corrugated screen. There is no water whatsoever, by the way. A 9-month old would scoff at any suggestion of realism. When turned on, there is a light that shines from behind and the fish all move in unison, at the same speed, across the "screen." They're obviously stuck or printed on some clear wraparound film, behind the screen, which is revolving around and around... with fish printed on it. You get the picture?

It should be mentioned at this point that I had recently authorised an imminent cash injection for Mavis for her son's "initiation." Which is fair enough. Following my schooling with the likes of The Chief, I was well aware of this coming-of-age process for black (original) African men, to do with being circumcised at the age of 18. What bothered me was the fact that Mavis had already asked for this particular grant before.

"But Mavis, isn't that what I gave you money for last time?" I questioned.

"Yes," she confirmed. (I was absolutely right, it seemed). "That initiation for my son was postponed until now!"

"And you need the money AGAIN?" I probed.

"Yes!" she gave, again, slightly annoyed at my line of questioning.

"And what happened to that money?" I asked, triumphant in my closing of the point.

Semi-laughing, she explained, quite obviously, that "There are a lot of other things the money could have and WAS used for. My house needed fixing etc." she concluded.

Fair enough.. I mused.

I shook my head, trying best to grasp what was going on and, looking out to sea from The Safe House, accepted that there were/are quite definitely things that probably need taking care of at Mavis's Safe House.

"And you're going to pay this off?" I asked, knowing full well that it would never happen.

"Yes!" she lied.

"Excellent! That's a done deal then!" I exclaimed.

You'll be pleased to learn that Mavis got the extra cash the Monday after the Father's Day gift, and has subsequently, coincidentally, gone on holiday!

For three weeks!

God knows where.

Probably Ibiza!

You'll find Mavis took SEVERAL 18 year old men for initiation in Ibiza!

They're probably with Goldfish at Pacha, in Ibiza. Right now!

Just kicking it.

While I sit here, with you - at the arse end of two joints and several glasses of whiskey.

Amazing!

Mavis is the clear winner..



Seth Rotherham
Editor
2oceansvibe.com
[permalink]

30 November , 2007
FRIDAY RAMBLE - FEATURING MAVIS
Happy weekend, people
[permalink]

And so we carry on..

The show went well yesterday with The Outside Centre. He arrived late but quickly made up for it with his sharp wit and incredible hairstyle.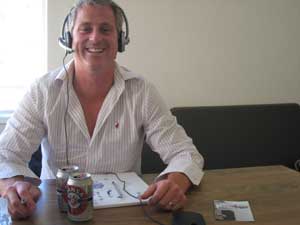 The Outside Centre - having the best time of his life
Those of you who have been tuning into The 2oceansvibe Show will be pleased to know that I have acquired a "mixer" and from next week's show (Thursdays 15h30 SA Time), you will no longer struggle to hear the sweet music we have been playing for you on the show. It used to be very faint, but no longer will you suffer. The likes of Laura Branigan and Murray Head will now be coming to you at full volume!

[light clap]

Mavis has been particularly testy of late and her interest in me is now bordering on obsessive. She has started making up very poor reasons to talk and interact with me. I don't know WHAT has brought this on but it needs to stop. She was put on invisible mode the other day for being late. This means that I can't see her. She has to be on red alert as to where and what I am doing - this allows her time to get out of the way if I start walking directly towards her. Now off "invisible mode," she is pretending that everything between us is awesome - often (as I said earlier) making up bullshit reasons to interact with me.

Last MONTH Mavis won about seven grand in the fucking lottery which peeved me no end. She gave me the winning ticket as she didn't know what the process was to claim her winnings. I didn't fucking know, so I gave it to The P.A. to see what could be done. The P.A. naturally sorted it all out and gave Mavis the money. Now that was AGES ago...

Then, SUDDENLY, TODAY, Mavis taps on my car window as I am reversing out of the garage.

Christ Almighty.... (I wound down the window)

"YES, Mavis?"

"I just wanted to say thank you for the ticket"

"What?"

"The ticket"

"The TICKET? What the fuck are you talking about, Mavis? Do you mean 'TIK'?, because that is what is coming to mind at the moment"

"No, the TICKET. With the money."

"The ticket WITH THE MONEY??!?!? Ohhh! The lottery ticket?"

"Yes. Thank you!"

"Ok. Cool. Whatever."

"Can I buy you a box of chocolates to say thank you?" she asks.

I can imagine some of you are going "aaah sweet" now, but if you hung around you would KNOW she is making this WHOLE thing up.

"No, thank you, Mavis. That is a kind gesture but not necessary. You should rather keep that to buy some more Rothmans"

She coughed and spluttered for a second as I raised the tinted window a little higher so that she could just see my sunglasses.

"I must stop smoking," she decided to add."

"Big time!" I told her, as I wound the window up and put on Senza Una Donna, by Zucchero and Paul Young.

QUITE bizarre, the whole thing.

Anyway, this story was going to be about something completely different but it just seemed to go this way.

I need to get into character before I go to Caprice and then Asoka.

I'll leave you with the aforementioned song. The Personal Jukebox, Sox, has promised to start playing it. It's quite nice to chill to.

Or to make love to.

Or even, just on your own - making love to yourself.

Seduce yourself.

Touch yourself.
Seth Rotherham
Editor
2oceansvibe.com
[permalink]
6 November, 2007
ARE YOU PAYING ATTENTION, MAVIS?
Probably not
[permalink]

It was nice of Mavis to tear herself away from the sofa and TV today, to be on hand for my move back to the Safe House (following The Interior Decorator's successful transformation of my haven of peace and tranquility).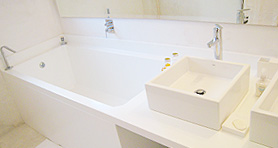 The new bath - stunning.
Just stunning!
During this time of transformation, The Interior Decorator briefly went abroad on holiday with her love interest, The Bond Guy. Upon their return she noted that her Domestic Executive (D.E.), Portia (like the car, but spelt different), had prepared a welcome home "honeymoon suite" type arrangement in the master bedroom. Portia's motivation for this act is not the point here, and we certainly don't need to discuss what possible outlandish presumptions on her part may have led to this presentation, following their romantic getaway. That is not what this article about.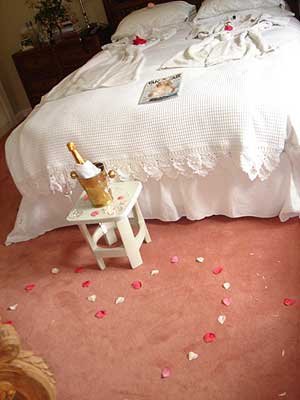 There were also white slippers, placed on small towels
(with petals on them)
next to each side of the bed
No, no - this article is for Mavis, and Mavis only. Whilst Her Royal Highness feels that colour-coding the golf shirts and arranging the Vanity Fairs in chronological order (shame), should suffice for a day's work and allow for some all-important WWE Smackdown wrestling on e-TV; perhaps NOW she will get a grasp of what's actually going on out there - in the REAL world.

Look what Portia did, Mavis! Does that compare to my car being washed? No! Does it compare to you remembering to fan out the Hello! magazines with a one inch space between each one? No, Mavis, it doesn't! Why don't I get Honeymoon suite treatment? Just because I don't have a bird, doesn't mean I can't be pampered. Have you ever even thought to run a bath for me before my return after a long day feeding orphans? Two words - NE VER.

It's BASIC STUFF, Mavis! Christ!

Bloody good work though, Portia, you are a shining beacon to D.E.'s everywhere! Granted, it did help that the carpet was ALREADY pink, but the rose petals, nighting gowns (I've always said "nighting" instead of "night" - don't ask me why), latest Vanity Fair mag and champiz in the cooler (oh so 2oceansvibe!) shows some very clear and present out-the-box thinking. Very impressive! I'd say you must be coming dangerously close to handling incoming phone calls. If that's not upliftment, I don't know what is! My fingers are crossed.

Hold on to her, guys.

Mavis, I'll get Portia's email and you guys can have a little CHAT...

I'm going to have to end this article now, it seems I have to go and run a bath because someone else had to go home because they "have a family to feed".

Ja, ja.....



Seth Rotherham
Editor
2oceansvibe.com
[permalink]
23 August, 2007
MAVIS PREDICTS THE FUTURE
As Her Royal Highness decides to take a day off
[permalink]

I returned to The Safe House today at about lunch time after a standard morning of saving the lives of small children and spreading goodwill. Although only 1pm, it seems that Mavis decided that her job was done for the day and she had even taken the liberty of leaving me another little note. (you may have seen the other notes before in the Mavis section of this site).

Hmm....what's this now, I thought to myself?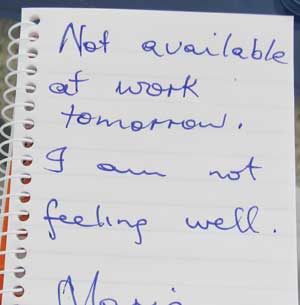 Mavis the Psychic notes down her latest vision
Interesting...

Mavis has worked out that she is not feeling well at LUNCH TIME and seems to have some form of insight into how she will feel in 18 HOURS TIME! AFTER SLEEPING!

Amazing!

She is CLEARLY trying to kill me and I am QUITE confident that she is taking drugs.

You see, unlike most Domestic Executives, Mavis doesn't find it necessary to REQUEST things - she merely ANNOUNCES what is going down. Like when she ANNOUNCES to The P.A. that the Safe House is low on Flora margarine (requesting the biggest tub available on the shelves - enough to bath in) or when she feels that soft two-ply toilet paper is not good enough. Luxury toilet paper usually only reserved for ballerinas and cherubs is the only way forward for Mavis.

That reminds me of when I told Mavis that, although very impressed with her skills, I had found a chink in her armour. She pulled a face that indicated that she VERY MUCH DOUBTS that I have anything to teach her.

"Follow me," I said, leading her to the bathroom.

I explained that when replacing a used toilet roll, the new toilet roll had to be put on so as to peel off the TOP of the roll DOWN, rather than from the bottom of the roll UP.

That was when she threw in a little chuckle and explained that she found the topic QUITE INTERESTING because, you see, SHE IS LEFT-HANDED and that is the reason why she prefers it to come from the BOTTOM UP.

[You might have to read over that again, slowly, so as to fully grasp what I have just said]

Oh is THAT why you put it on the toilet roll like that?! For when YOU poo! Well I MUST apologise - I had NO IDEA that everything around us has been tailor made for you. How very rude of me. God, how silly of me - I COMPLETELY forgot you were left handed! (Duh!).

You'll notice the webcam on this site is going through a bit of a wobble at the moment. You see there is building going on at The Safe House and everything is in the wrong place. I did, however, get this pic of Mavis for you the other day. I was just toying with the idea of installing some sort of a Mavis Cam to keep an eye on Mavis in the day.

I got this shot whilst I was out saving lives the other day. You'll notice that Mavis decided to take a moment out of watching e-TV WWE wrestling and did a spot of ironing! Shame, Mavis, are you ok?

I thought it only right to put the webcam BEHIND her, in order to protect her identity.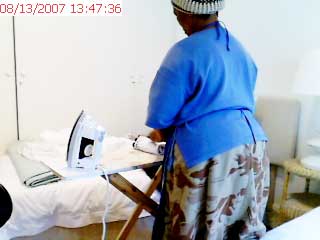 Mavis takes a break from WWE wrestling on e-tv

So that's where we are at the moment.


Seth Rotherham
Editor
2oceansvibe.com
[permalink]
13 April, 2007
MAVIS'S APPRENTICE FAILS
Come back, Mavis - all is forgiven
[permalink]
Mavis has apparently been working so hard that she felt it was necessary to go on holiday. She requested two weeks holiday. I thought it should be fine, given that I was doing my glider flying training for the first half of the proposed fortnight. The P.A. assured me everything would be taken care of and that Mavis had an understudy, Ethel. Apparently Ethel would be briefed in-depth as to the ways of Seth, before her Royal Highness finally gets a chance to put her feet up. (Obviously the chilling-out on the sofa at the Safe House watching e-TV WWE wrestling, was not enough.)

Needless to say, Ethel is a fucking disaster. But I don't know if it is because she is slow, or if Mavis did this on purpose to put the final nail in the coffin and kill me. Either way, I am close to death.

I put all of my laundry into the magic laundry basket on the weekend and looked forward to getting some of my favourite T-shirts back by, latest, Tuesday. This is what I found in the bathroom on Tuesday. (Bearing in mind that I don't see laundry - clothes are either in the cupboard (ironed, folded and colour-coded) or in the laundry basket. There is no in-between. Until now, it seems.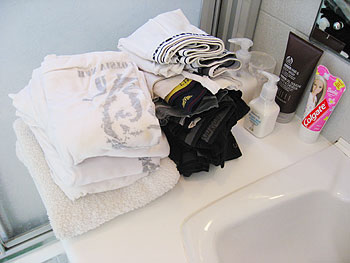 Next to the basin. Where Seth operates.
That photo might seem quite tame to you, but let me fill you in on some minor details. The clothes you see folded and piled on the counter ARE ALL SOAKING WET! And let me tell you something else, THEY ARE STILL FUCKING THERE AND IT'S FRIDAY NOW!

Are you fucking kidding me?

Can you even comprehend the smell permeating from a four-day-old stack of soaking wet, FOLDED clothes? It cannot be described! But I'll try to describe it. It's.....it's....it is FUCKING HORRENDOUS!

And that's not all! I called in time and received a BONUS prize!!!! That's right, I found my "Carmel Strong Dill gherkins" completely RAPED of all the fat juicy gherkins. Ethel had quite carefully taken out NO LESS than 10 FAT gherkins and left me with about four small ones. The carnage in the Safe House is QUITE staggering!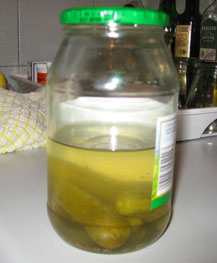 Carmel Strong Dill gherkins
Sodomised
That's where I am at the moment - not in a good place. It is Ethel's last day today and I thank God for it. I will have to have words with Mavis on Monday as I know for a FACT that she is laughing her fucking head off, wherever she is.

Probably the Caribbean.

Seth Rotherham
Editor
2oceansvibe.com
[permalink]
23 January, 2007
MAVIS STRIKES AGAIN
In an early morning sock drawer attack
[permalink]

In the terrifying event of being approached by members of the public (never from behind, please), I am often asked a variety of questions pertaining to 2oceansvibe and my vibe in general. That, and crying mothers, begging me to touch their sick children, in the belief that I can heal.

One of the most popular topics of conversation is Mavis, my domestic executive. I have only written about Mavis a couple of times and she seems to have become a much loved character. Personally, I think she is on drugs.

You might remember last time when she wrote that note on my car (you might also remember one of our more challenged readers voicing his opinion on the incident). Other moments include her sick note and the time she thought she was Martha Stewart.

Nothing has been written about Mavis since then.

Until this morning.

I opened up my sock drawer and noticed a message.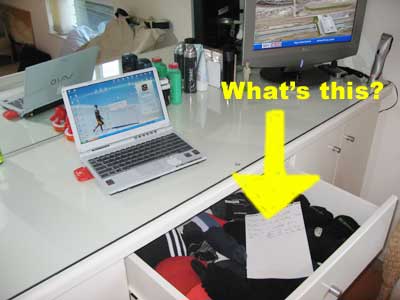 The sock drawer had been sabotaged
The Safe House had been locked after she came to work yesterday, so it definitely wasn't a suicide note. I focused and took a closer look at the note.

QUITE bizarre!
For those of you who can't read notes, it reads, "Will you please ask Monday where is Friday 'cause I have a message from Sunday?"

I didn't know what the fuck she was talking about. Was she attacking me? Was she putting a curse on me? I knew one thing, and that was that she is without a doubt on drugs. But then I realised that she gave a little clue at the end of the note. It had to do with my socks.

I bought seven pairs of socks in London during last year's Strengthening Ties Tour. Each pair has a day of the week written on the side of the socks. Here is a great example: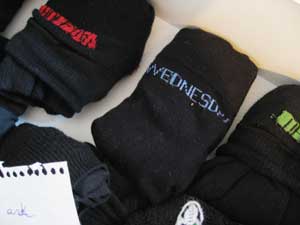 Here we see "Wednesday"
Mavis has clearly lost some of the socks and has realised that, unlike most pairs of black socks which one can mix and match, these have a SPECIFIC partner in each pair. Mavis knows full well that I don't have a secret box where I hide items of my own clothing from her, so there is no way that she honestly believes that I would miraculously know the whereabouts of whatever day of the week sock she is referring to. I can therefore only surmise that Mavis is making a joke.

A surprise morning joke in my sock drawer, in the form of a note.

Is that what this is, Mavis? A joke of sorts?

Is this what we do in our day whilst Master Seth is out there, working, healing children and saving lives? You know very well that I have NO CLUE where the fuck Monday, Sunday or Friday are. I don't even know where my favourite Tsubi jeans are with the tear above the knee. They've been gone for a week.

I've got a good idea though, as to the possible whereabouts of those particular days of the week. Maybe the days of the week you're looking for are with the sugar, toilet paper and wine gums that I seem to constantly run out of at a rate of knots?

Find those, and the socks will be there.

Seth Rotherham
Editor
2oceansvibe.com
[permalink]
15 August, 2006
MAVIS GETS CREATIVE
And reinvents herself as Martha Stewart
[permalink]

When one buys and moves into a furnished house or apartment, there will always be various items lying around that you would never normally own. Sometimes you never even realise they are there. In the case of the safe house, I had no idea that there was a drawer or vase that was holding a number of porcupine quills. I have never owned a porcupine quill, nor have I felt any need to. Mavis, however, found some porcupine quills and decided that something had to be done with them.

I arrived home today to the safe house and waltzed into my bedroom, only to find that Mavis had chosen today to get creative. This is what I was presented with:
As you can see, there is a candle on a brown wooden stand, set against the mirror. That is all I normally have in the centre of the counter. Not today, today is different. Mavis has done a number of interesting things here. She seems to have taken items from around the safe house and added them to this feature. We'll start with those effing porcupine quills. What she has done is she has pierced the candle with seven porcupine quills - three on either side and one at the back of the candle rim - creating a sort of porcupine quill fuckfest. On the counter in front of the candle stand she has lined up the two Alessi figures (floss and nail clippers) on either side of the Dolce & Gabanna eau de toilette. It's as though the Alessi characters are bodyguards for the bottle of Dolce & Gabbana (why she chose this particular brand over the others available in the bathroom is obviously because Mavis prefers Dolce to Ralph Lauren, Burberry and the rest of the gang).

In front of the actual candle she has placed Mr Mysterioso (if you don't know who Mr Mysterioso is, I would advise you to do some research on Google). You can't see him properly because he is white like the candle. He glows at night time and is normally stored in a drawer. I haven't seen him in about three months. Mavis doesn't like him stored in a drawer and would prefer him here - in front of the candle.

The daughter of a friend gave me the plastic teddy bear you see ABOVE the candle - stuck onto the actual mirror. (I didn't want you to wonder why I had a small plastic teddy bear in my possession). The teddy bear is normally lying flat on the counter, in the corner where I keep medication and other small items - eye drops, Rennies, Rohypnol etc. Not any more! We've made some changes around here! Mavis decided the teddy bear needed more exposure and it seems he will be residing on the mirror for now and eternity.

I'm not sure if you're playing some sort of mind game with me, Mavis, but I don't like it. Am I meant to read something into this? Do you want the porcupine quills? Must I offer them to you? Is it for medicine? Have you put a curse on me? Have you put a curse on Mr. Mysterioso?

Are you going to kill me?

Is this new feature staying here forever? Will you change it?

What is going on?

Seth Rotherham
Editor
2oceansvibe.com
[permalink]
2 August, 2006
A STRAY READER
Uses more brain than necessary
[permalink]

I receive all sorts of email every day from various readers - some happy, some sad. Some readers challenge things I have said which can often turn into healthy, insightful debate.

But then I get emails from special people who challenge something I have said and, in the process, reiterate everything I said in the first place. It can only be compared to popping a wheelie and falling over backwards. It's probably got to do with being taken off the tit early.

Please enjoy this wonderful piece of literature from Andre V where he refers to the note I received from Mavis.

Name = Andre V
Message = Hi Seth

Dont you think that note from you maid Mavis is a bit over the top??? No, really !!! ...it is a bit over the top!!

Do you really think that all your readers is so stupid to see that that handwriting is not from you maid. Maids are usually not of high education status, and most people with low education status, usually does not have nice handwriting.

Point is...........your just gonna deny this anyway....... I just wanted to make a point that not all the readers of your website is as stupid as you think.

Seeya !

Andre

______________

Hi Andre,

Do you really think I is so stupid to see that your email is not from you, but from your maid? My readers are usually not of low education status, and most people with high education status, usually does not have appalling spelling and grammar - similar to that of a neanderthal.

Point is........your just gonna deny this anyway..... I just wanted to make a point that not all the readers of my website is as clever as I thought.

Seeya!

Seth



PS. Furthermore, my dear Andre, I think you will find that your email reiterates my article entirely. I DO think the note is over the top. I AM impressed by Mavis's handwriting. That is PRECISELY the reason why I wrote the article and that is PRECISELY the reason why I am so blown away.

You don't have to believe it, my love, but it sort of takes away the point of this website. Imagine if I just made everything up? What would be fun about that?

Shame, I think I know a little boy who needs a lie down.....

Or must mommy go and fetch the wooden spoon?

Seth Rotherham
Editor
2oceansvibe.com
[permalink]
2 August, 2006
MAVIS IS CLEARLY ON DRUGS
As Seth receives another bizarre note
[permalink]

People often come up to me and (besides trying to dry-hump me against the wall) ask me if the notes I receive from my domestic executive, Mavis, are real. The most recent mention I made of Mavis was this one where it was evident that she thought we had become buddies and thus ended her note off with the word 'cheers'. There seems to be some confusion, and this was further augmented with a new note that was stuffed in the door handle of my car when I got back from overseas last week. I noticed that Mavis had cleaned my car whilst I was away (bizarre) and she had left this note to let me know.

I thought I would show you the actual note as you probably wouldn't believe me.

The latest installment from Mavis
For those of you who, for some strange act of God, cannot see the picture of the note, it reads:
WELCOME!

I AM BODY-PAMPERED

&

BODY-LICIOUS

She looked after me

GOOD RIDDANCE
Now there are a number of things that bother me about this note. She seems to have written it as though it was written by the car. She is taking on other personalities. I don't think that is viable. The note starts with the word 'Welcome' which should have obviously included the word 'home' or 'back'. Moving on, I am TOTALLY and UTTERLY confused at her utterance of the words 'BODY-LICIOUS' (let alone the words 'body-pampered'). What in God's name is going on? I have never in my life heard of, nor ever expected my domestic executive to use 'licious' after any word other than 'de'.

The end of the note was the straw that broke my brain's back. The second last part is obviously part of the personality she has now given the car. "She looked after me" it reads. So SHE is saying that the CAR is saying that SHE (Mavis) looked after her (the car). Ok, good one, Mavis. I like this game.

AND THEN.......... as if things couldn't get more absurd, she throws in the words 'GOOD RIDDANCE' at the end!!!!!!

What the FUCK are you talking about, Mavis? What do you mean? Good riddance to the dirt, perhaps? Or good riddance to me? Must I just fuck off now?

Is it drugs? 'Cos we can fix it if it is. Just tell me.

What is going on?

Seth Rotherham
Editor
2oceansvibe.com
[permalink]
23 June, 2006
I THOUGHT YOU WOULD ENJOY THIS
God knows I did
[permalink]

I feel bad telling the migrant workers out there still at work that I am currently chilling at the safe house, overlooking the mighty Atlantic, with a cold Cobra in my hand. I don't know why I have so many cold Cobra beers in the fridge, but they're there and they're fine.

So it's a beautiful Friday afternoon in the bay and because I love you all so much I want to tell you about something that has me...., well........tickled. Oh yes, Mavis decided to leave me a little note. This is what it read:
Not coming to work Monday
Going to see doctor.

Cheers
Mavis
Now, besides form the fact that she is not asking me, but merely informing me of whats going to happen, I am quite taken by her confidence at the end of the note. "Cheers", she says.
CHEERS !!!!!
Like we're fucking buddies!!!!

"Hey, fuck, no problem, Mavis - as long as you give me a high-five next time we walk past each other in the living room!"

No wonder her Royal Highness feels so compelled to help herself to the sugar and the triple ply baby soft toilet paper!

I won't be at work........cheers.......

UNBELIEVABLE.

She must be on drugs.

I'm watching you, Mavis.


Seth Rotherham
Editor
2oceansvibe.com
[permalink]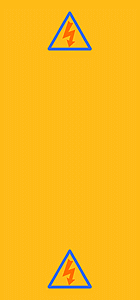 PLAY THE WORLD'S
RICHEST LOTTERY!
CLICK HERE


CLICK HERE FOR
NEW GOLDFISH CD
"Perceptions of Pacha"


BUTLERS PIZZA
(Cape Town's #1)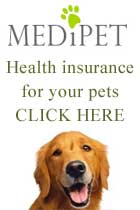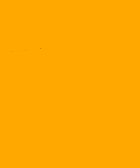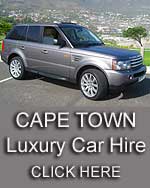 Sea Point



Gorgeous 3 bedroom
furnished ground floor apartment with
private courtyard.
R12,000 a month
CLICK HERE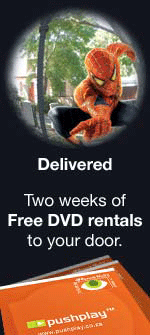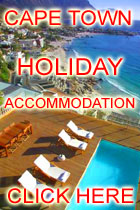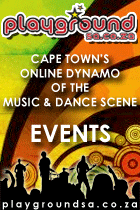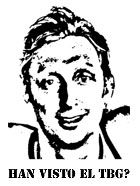 Have YOU seen the TBG?
CLICK HERE
To order your TBG
TBG-shirt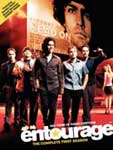 ENTOURAGE DVD
SERIES 1, 2 & 3
CLICK HERE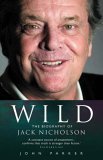 JACK NICHOLSON
BIOGRAPHY- "WILD"
READ REVIEW &
BUY THE BOOK
CLICK HERE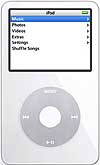 IPOD FROZEN?
CLICK HERE
to reset iPod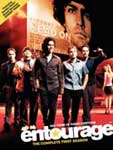 ENTOURAGE DVD
SERIES 1, 2 & 3
CLICK HERE


YOU MUST READ
THIS BOOK
CLICK HERE


CLICK HERE FOR FREE VODACOM
UPGRADE CHECK

IMPORTANT
MESSAGE
SETH TALKS TO
THE PEOPLE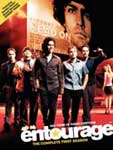 ENTOURAGE DVD
SERIES 1, 2 & 3
CLICK HERE


BELOW YOU WILL
FIND A LIST OF
SETH APPROVED
CAPE TOWN
THINGS & SERVICES