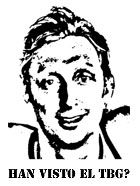 Have YOU seen the TBG?
CLICK HERE
To order your TBG
TBG-shirt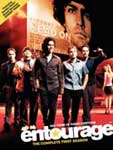 ENTOURAGE DVD
SERIES 1, 2 & 3
CLICK HERE
CLICK HERE
TO DOWNLOAD
THE CAPE TOWN
SUMMER RAP
"NO MATTER"
BY WILL & G
CAPE TOWN CRAZY
Cape Town stuff. You know, general stuff.
Things that occur in Cape Town that stand out more than others

23 April , 2008
THE SUNSET IS NOT THE POINT
What's really going on here?
[permalink]
Everybody knows that it is not often that one truly captures the sunset in a photograph. People who show holiday photos of sunset after sunset, do not realise that they mean pretty much fuckall to the person they're showing them to. It means the world to the guys who went on holiday.

Like this photo I took last night from The Safe House over Camps Bay.

ANOTHER sunset!
But the photo is not the point, you see. The point is that Capetonians constantly take photos where they live. They keep countless pictures of sunsets and everything else.

And they're not even on holiday!

How many cities' inhabitants do that?

Not a lot.

FACT.

Says a lot.


Seth Rotherham
Editor
2oceansvibe.com
[permalink]
7 April , 2008
THE

"KEEPING IT REAL"

TOUR, 2008
Our three week excursion provides time for reflection
[permalink]
I decided to embark on a journey - a holiday of sorts, to the "other-other side." Whilst the Southern Suburbs crew refer to Cape Town city and the Atlantic Seaboard as "the other side" and vice versa, it becomes confusing telling your friends in either of those locations that you're on "the other side," when you're actually on the Noordhoek and Kommetjie side of life. That's why I designed the name "the other other side." I also like the name "The Valley" which is used by the locals. That's kind of cool, 'cos it lends itself to the famed tag given to the San Fernando Valley in L.A., California (The Valley) often referred to in films.

And so I found myself comparing the routes to and from The Valley, depending on the various functions, engagements and bar mitzvahs I had to attend - it's either Chapman's Peak or Ou Kaapse Weg (or helicopter). I'm more of a Chapman's Peak man myself, and thoroughly enjoyed the staggering vistas and powerful sexual suggestiveness of it all; as you will see in these stunning pics I took a couple weeks back when the ocean was a flat as a pancake (another new saying I made up recently - 'cos pancakes are flat - get it?).

Click images to enlarge.
Sexual Healing - Chapman's Peak Drive

(looking out over Hout Bay and Long Beach)

The elusive number to dial to check if Chapman's Peak is open
is

021 791-8222

or

021 791-8220,

by the way.
Put it in your phone NOW so you can save the day, someday.
Living in The Valley presents a very real return to family values. A genuine "village" without electrified fencing, Noordhoek is one of those places where your neighbour will greet you at the local store (where you buy "provisions," not "groceries") and your children are safe to ride the streets on their trikes as the sun sets (look, it won't hurt to have nanny supervision). Not to be confused with Fish Hoek and Simonstown, Noordhoek is completely free of pedophiles.
Pets and wildlife are pretty big on this side of life, and "LOST HORSE" signs are commonplace (did they find that horse?). Local restaurant, heartbeat and hub, Cafe Roux, even has a PET'S MENU where nibbles are available for dogs and horses. Seriously, I'm not bullshitting you. Check it out.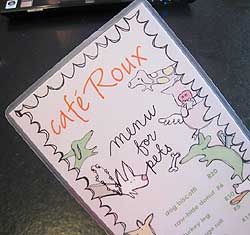 The Cafe Roux's pet menu.
Right up there with Thursday braai nights (a must)
featuring the sublime Dan on guitar.
Spending my final weekend in Kommetjie sealed it off and I left The Valley with a sense of purity. Now, back at The Safe House in Camps Bay, I feel cleansed inside. A feeling which was complimented with a very thorough symbolic wash upon my return (EVERYTHING - hair conditioned, body cleansed, face exfoliated, feet scrubbed and pubes trimmed). After the wash, I stood, naked, in front of the full-length mirror and had a good look. I must say, I liked what I saw. I remember thinking to myself, "my God, Seth, you're in bloody good nick!"

My body and mind are pure, for now.

To The Insurance Broker, The Surfer, The Chief, The Character Formerly Known as The Loose Forward, Lindi, Debs, Carls, Paul & Bern (did you find those keys BTW?) and my other peeps in The Valley and beyond, thanks for the stunning hospitality, love and care. As an only child it really means a lot to me etc. etc.

Lots of love x

Seth Rotherham
Editor
2oceansvibe.com
[permalink]
18 November, 2007 -

BEACH RAGE
A MAD-MAN ATTACKED ME ON BETA BEACH
Possibly THE most bizarre thing to happen to me in my life
[permalink]

After a wonderful night at Caprice, following their ever successful Caprice Volleyball Day, we were treated to another pearler from our Lord Jesus Christ in the form of today's perfect day (late 20's, no cloud, no wind. Very sexual).

I packed the perfect beach bag and took Libby (my scooter) down to The Strip to grab a princess wrap from Kauai (it was obviously the princess wrap. It's not like they sell anything else). Camps Bay frightened me a bit so I decided to stick to last Sunday's plan and pump a bit of Beta Beach. God it was glorious.

Touch yourself
Everything was just too gorgeous for words. The iPod was throwing out some crackers, as I tossed my Sunday Times into the air along with the Vanity Fair - allowing them both to open in mid-air and fall on top of me untidily. I breathed in the air. The smell of the newspaper, combined with the Vanity Fair and the Piz Buin was incredibly sexual. I had a little tweaker and got into the Beta Beach zone - the zone where hardly a word is spoken and everyone on that beach is thanking God that we have places like this. Where we chill the fuck out without having to worry about a SINGLE THING. It's the one place in Cape Town where you don't HAVE TO do the big fake hello and standard 2 minutes bullshit catch-up. If you recognise someone on Beta, a little nod is MORE than enough. We all came here together to escape. Everything.

It was interesting to note that God and Satan chose Beta Beach as the battleground for today's classic good vs evil clash - as God's beautiful setting was infiltrated by one of Satan's FINEST. Possibly his worst yet.

A peculiarly plain looking man in his late 40's / early 50's entered the scene, stage right.

I began The Lord's Prayer in my mind, hoping he wouldn't set up shop in the BARELY available space between the rocks about 5 meters away from me. I had clearly forgotten some of the words, as our boy flicked open one of those canvas camper chairs. Pretty tame, I thought to myself, watching him erect an umbrella in between his cluster of rocks. That's when he started whistling. I looked up, startled. Not because someone was whistling so loud that it could be heard OVER Sade's Your Love is King playing on my iPod (making full use of our new acquisition, The Bose In-Ear headphones) - it was in response to the surely impossible prospect of this little man being a little man WITH DOGS. On Beta Beach.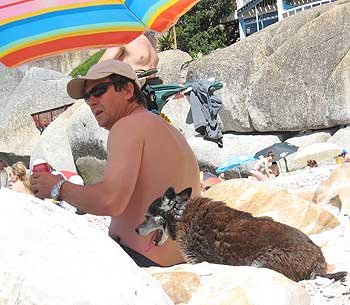 Nice dog.
I decided that, although UNHEARD OF on Beta Beach, these dogs are obviously the kind that just sit still and don't bother anyone. It'll be fine. I returned to my secret little world, closed my eyes and floated away.

That was until I felt a wet nose in my face. I opened my eyes and realised my worst fears had come true. The man's revolting, smelly dog was on the loose. Its disgusting snout was now INSIDE my bag, having a go at the crisps I bought from Woolies.

"Ah for fuck sakes," I exclaimed, sitting up to see where the dog's owner had disappeared to. Alarmingly, our boy had not escaped to ANYWHERE. He was EXACTLY where he was before, very relaxed, LOOKING at me and the dog - as though NOTHING was going on.

"Your dog, bru!" I pleaded to the man, pushing the WET mutt away from me, appalled by what was transpiring. I looked at him, expecting him to apologise, or jump up and get his dog and, hopefully, get the fuck off the beach. He didn't move a muscle. But he did respond:

"Come on, man, she's 16 years old," was his retort.

I was stunned.

She is 16 years old...

He went on to say that if I had a problem I should "call the cops."

Oh dear..... WHAT are we dealing with here?

He didn't quite get it. The dog's AGE was irrelevant. I mean, I fucking love dogs but there's a time and place for everything. It just wasn't about that. This wasn't a case of anyone hating dogs or being scared of the dog or ANYTHING else - this was a case of the dog BOTHERING people. I don't give a fuck if the dog has won a Pulitzer Prize and is a direct descendent of The Queen's Corgi's - that's not what it's about.

I explained this to the man, but he just shook his head. I got into the Sunday Times in an attempt to forget what was going on around me. A friend of mine and her boyfriend were also a few meters away and a few minutes later I looked up and spotted the guy pushing the very same dog away from him, disgusted. The dog scuttled away, with something in its mouth, a roll of sorts which had been acquired from the gentleman's packet of goodies next to him.

"You just don't get it, do you?" I asked the evil man who was, AGAIN, simply watching the events unfold. Again he told me the dog was 16 years old. It was too much for me and I informed the man of his unfathomable levels of selfishness and how he was single-handedly ruining everyone's day. I told him that it was PERFECTLY fine for him to take his dogs to Camps Bay beach or Llandudno beach, but people came to this beach to ESCAPE that kind of shit.

"Ooooh, CAMPS BAAAY," he replied in a mocking voice. The kind of overly-posh, larney voice people from Jo'burg put on to tease people from Cape Town. I looked around at my fellow beach-goers, who were shaking their heads in unison. This guy had some serious issues. I have no doubt that he still lives with his mother.

"You're a weirdo," I informed him.

"You should consider rehab," was his outstanding retort.

"You should consider wiping that secret 3 gig folder off your computer before the police get you!" I said.

He seemed miffed and went for a dip. I didn't know what to do. He simply couldn't grasp what was going on. He didn't understand that there was a time and place for dogs and a wet dog nose in one's face was NOT something one has to deal with on this beach. There was only one thing I could think of to let him understand the intrusion. I turned my camera's volume on full and started taking photographs of him.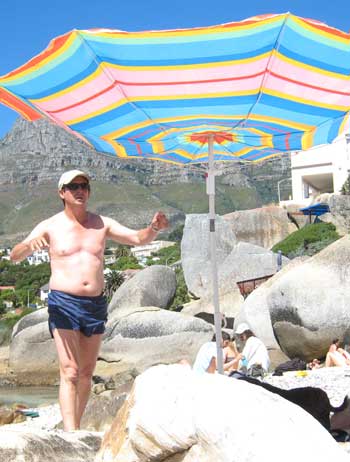 "Stop taking photographs of me," he said.

"But how else are you going to understand the intrusion you are causing for the rest of us?" I asked.

"What are you going to do with those those photographs?" he replied.

"I'm probably going to take them home and wank over them," I said.

"That's what I thought," said the guy.

A minute passed and, unhappy with the result, I said, quite loudly, "Or MAYBE I'm going to put them on the internet so that everyone can see what people like you look like"

His chest began to heave as he tried, unsuccessfully, to suppress the anger building up inside his weak frame. 10 seconds later he JUMPED UP and began dismantling his umbrella.

Then, without warning, HE CAME AT ME WITH THE BOTTOM PART OF THE UMBRELLA!

"GIVE ME THAT CAMERA!!" he screamed, hysterically - charging at me with the umbrella pole.

I didn't move a muscle. It was simply impossible that he would hit me, on the beach, with an umbrella. It wasn't going to happen. It COULDN'T happen. The day just couldn't get any crazier. And anyway, who hits someone else with an umbrella pole when the person isn't even defending himself?

That was when the guy gave a FULL WIND UP and hit me across my legs and shins with the umbrella pole - bending it over 45 degrees. I COULDN'T BELIEVE WHAT HAD JUST HAPPENED!

"Jesus Christ, bru," I shouted, jumping up, with the pole now in my hand.

"Wipe those pictures off that camera right now," he screamed, fetching the top part of the umbrella. He had the umbrella in his one hand and had also released the PEN he had from his shorts, and was holding it in his other hand - like one would a knife.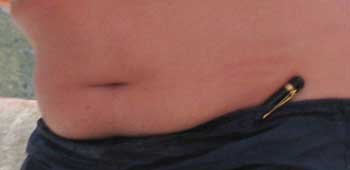 The pen - can be used as a sword.
I told the man to put the umbrella down and calm the fuck down. I said I would erase the pictures. Everyone sat down.

I fiddled with the camera as I packed up my things. I couldn't imagine myself staying there much longer.

"There, it's done. The pictures are gone. Do you want to see?" I asked the demented freak show.

"No, I'll take your word for it," he said.

Well, he shouldn't have, because there was no way in hell I wasn't going to keep those pictures for you to see.

Can you believe it?

This is the result of the attack. People have mentioned pressing charges against the guy but I mean, really, do YOU have the time to press charges against someone who's only defense for his dog sniffing faces and stealing food, is that the dog is 16?

No, you don't. These people are best avoided.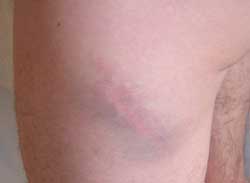 Substantial bruising..
Including very unnecessary glimpse of bum


Tennis ball swelling on left shin.
Not ideal.
Otherwise the weekend went very well.

How was yours?
(Monya, I hope you enjoyed that Sunday beach entertainment.)


Seth Rotherham
Editor
2oceansvibe.com
[permalink]
29 October, 2007
SPRINGBOK OPEN-BUS PARADE MAYHEM
Bus making it's way through town - right this very second!
[permalink]

John Smit's phone doesn't have MMS so he was unable to send us a pic at this exact point in time, as the Springbok bus is currently making its way around Cape Town. I asked if he thought it was going well and he replied, "so far I would say it's going well." Clearly tongue-in-cheek, as we note it is nothing short of a fuckshow! Luckily The D.J., who is also on the bus, has a phone which can MMS: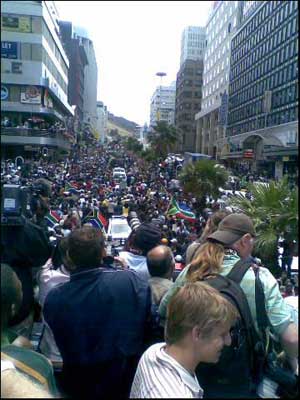 Mayhem. Pure mayhem.
It's a DOG SHOW!!!! But definitely looks like fun. I went into town to get a PC-CARD/USB adapter (which is no longer being produced, I was told by the uber-geek) and there were ALREADY people lining the streets - at 10am! Jeepers Hudders!

We were impressed with that pic, but needed to get closer. So we got this right now from The Loose Forward, taking a photo of our boy who doesn't have MMS on his phone, The Barn Dog - John Smit.

John Smit - making his cola-wars choice QUITE clear
We're hoping to get a short vid together from on top of the bus, but can't guarantee anything at this point. I've think we've done well so far.

What a wonderful place we live in.

I'll end off with a classic quote from somewhere in The Free States - "BOK BEFOK" - stunning!

Speaking of which, a big congrats to the Cheetahs on winning the Currie Cup and, in particular to Nick Goldblatt, who hails from "The States."

Chat later.

Whoah! Look at this!

UPDATE
Oh my God - The Loose Forward has gone above and beyond the call of duty and has managed to capture a MESSAGE FOR THE 2OCEANSVIBE READERS from Butch James, Schalk Burger and John Smit, whilst on the bus.
It's all a bit much! Look, the quality is not very sexual, but YOU try receive a video message on your ticky box and have it in Youtube in under 10 minutes..

I think I know a little boy who needs a lie down.


Seth Rotherham
Editor
2oceansvibe.com
[permalink]
17 October, 2007
VINYL RECORD PLAYERS ON THE COMEBACK
It feels so good - have you felt the feeling recently?
[permalink]

Umm, I'm listening to a record at the moment. No, I mean it - a record. A vinyl record. Not the kind that DJ's use when they "mix" and "scratch". No, no. I'm talking about the one used on the classic home vinyl record player. It feels nice. I bought it last week after accepting an invite to a relaxed drink at a friend's house.

I spent most of the evening drinking with the kids. My host's son (all 20-years of him) QUIETLY mentioned to me that he bought a fucking record player and a stack of vinyl. I grabbed both his legs together with my right hand, and his throat sideways with my left, like one might hold a bike's handlebars. I lifted him above my head like those Strongest Man in The World weightlifters do on TV. (Why does that programme never go away? Surely they should have decided by now? I mean, fuck, what else must they carry and run with?).

"What do you MEAN!!!" I screamed, as I pinned him against the wall at eye-level. "What you have just said is VERY RUDE because it has CONFUSED ME! What the fuck do you MEAN, son?!"

"A record player with vinyl records like from the 70's, 80's and 90's," he blurted.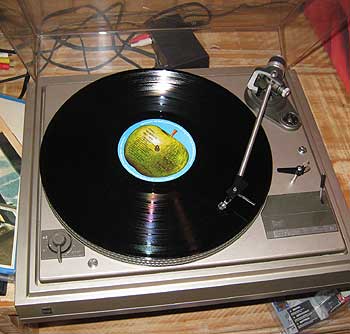 The classic home vinyl player - R400 - laughable
I dropped him to the floor and commanded him to stand at attention.

"Don't fuckin' talk about fuckin' record players from my youth as though I wasn't there! I fuckin' OWNED fuckin' RECORDS, bru! Like LANK fuckin' records. I was buying Michael Jackson on vinyl whilst you were drilling your mom's left, my boy! All the way up to the Bad album, I might add!."

Look, I just think he should have said that you bought a record player FROM MY YOUTH. I was embarrassed that it felt inside like our generation had let the youth down. I suddenly realised that we, I, had COMPLETELY forgotten about the classic home vinyl record player. Imagine future generations never feeling that feeling? And here I was, sitting in front of a 20 year old who had just bought his first one. I must sound like a 60 year old at the moment, but I REALLY am excited about this! I IMMEDIATELY felt a wave of pleasure as a little drawer in my memory opened its contents into one of the spare voids in my brain I keep available for moments like these - for analysis. I was jealous and excited, all at once.

The timing was perfect. It had been long enough. My life experiences were adequate for me to very clearly and concisely remember the home vinyl record player from my earlier years for what it really was - an experience; the sound quality was incidental. (Hope you enjoyed that last sentence as much as I enjoyed creating it for you. I'm in the mood for hyphens and semi-colons at the moment - it's sexy - where I gotta be ;-)

(I thought I'd just mention that my record player is currently playing Mello Yello by Donovan. It's amazing. Seems to work well with this classic Swazi I have next to me. It's almost like the the two may have met before)

So he shows me some of the vinyl that he bought - throwing around a bit of Phil Collins; you know, some Fleetwood Mac, Beach Boys - getting into it. I held a knife to his throat as he wrote down the details of the vinyl record shop in Observatory's Lower Main Road - Revolution Records.

Hmmm, Revolution Records..... I like it.

"It's just like the record shop in High fidelity, " The Junior Eccentric went on to say.

"I fucking beg your pardon????? I'LL BE THE FUCKING JUDGE OF HOW THE RECORD SHOP FUCKING LOOKS. OK? I'LL DECIDE if it's COOL or not!"

Jesus, people are losing their fucking MINDS around here!

Two days later at 9am I molested a joint and found myself inside Revolution Records at 85 Lower Main Road in Observatory, Cape Town.

Revolution Records
85 Lower Main Road
Observatory - Cape Town
Jeepers Hudders! It was BETTER than the one in High Fidelity!

"Grant" welcomed me and remembered serving the Junior Eccentric. "Ja, the Pioneer that had to have the band replaced?" he asked.

Nice, I like this place.

He helped me select two players (one for a mate) for about 400 bucks each and then Grant had to shoot off to fix some players at Voodoo Lounge in town. I was introduced to "Laurent" who was puffing on a cigarette as he prepared two cups of coffee. "Hi there," I said across the room to his back.

"You having?" he asked, turning around and passing me the one cup of jo. "One sugar, milk?"

"Perfect," I smiled. My body usually only accepts Vida e coffee, but I was prepared to make an exception that morning.

The P.A. called and I had to move the week's only permitted meeting (Tuesdays at 10h30), as I spent two hours playing record-shop record-shop with Laurent, at Revolution Records in Observatory. JUST what I needed! I bought a small pile of original records to get me going again (at R30 - R60 each - depending on demand and quality), not trying to prove anything with regards to what others may deem cool or not - simply buying what I felt like, the stuff I missed. And yes, they DID have Michael Jackson's Bad! I also found a bit of Fleetwood Mac, some Bee Gees, Beach Boys, Elvis, AC/DC, U2, Elton, Beatles, Visage, Dylan and a couple more. I had to restrain myself because the selection was so radical. This was clearly going to be a regular occurrence. Laurent cleverly selected Boston's "More than a feeling" to play in the shop, and placed the album sleeve on the "current track playing" easel.

"That's coming with me as well, thank you very much," I informed our boy.

We tracked down South Africa's greatest ever rock band, McCully Workshop's (Rupert Mellor, Mike McCullagh, Tully McCullagh, Richard Black) album Workshop Revisited and decided that was enough for one day. They didn't take cards so I promised to pay later that day over the internet (this is not an accepted practice and I wouldn't suggest it - take some cash - old school - nice).

I flew back to 2oceansvibe HQ, blinked through the meeting and wheelied home to The Paris Hilton house (The Interior Decorator is NEARLY done with The Safe House - to which I will soon return - to the haven of peace and protectedness nessness ness).

I wired my player to the surround sound system at home (using a very official muso looking gadget called a "pre-amp" or something like that. It's for if your system doesn't have an ACTUAL "phono" input at the back. You'll like it - it even has a second option to switch from "phono" to "mic" - oh very nice!) and selected the first record. McCully Workshop felt like the right thing to play.

And there it was, the reason why I missed it! Everything became so clear. It was the WHOLE PROCESS that we have lost with today's digital music muffshow. I can use the power of my mind to select crystal clear songs on my iPod these days - but where is the fun in that? I want to SEE the fucker TURNING AROUND! I want to hold something in my hand before I play it. Something bigger than a CD. I want to CHOOSE A SIDE. I want to have something that stops half way through, giving me timeous breaks to get up and stretch; as I work, CONSTANTLY, on maintaining good relations with higher beings. And, as so accurately pointed out by Leather Hands, I WANT to hear the odd little crackle..

Umm, I thought it pertinent at this stage to mention the fact that my grandfather, Lovell Procter, brought "Hi-Fi" to South Africa.

Thangyaverymuch

So there you go! It's RECORD TIME, my friends. It's not about your age - it's something that everyone should experience, something everyone else has missed. Choose whatever you want and just play it. Drink some red wine like I'm doing now (I've started drinking again) and just have it going in the background. It feels so good. Dylan's Highway 61 Revisited is on at the moment. It's so rare to listen to one artist's entire album these days. God, this is good

I couldn't be happier.

Honestly - I'm not lonely.

Seriously, I'm fine.

I'm ok, I suppose.

Look, we all get SCARED! We all cry ourselves to sleep at night.

I'm KIDDING! I'm fine! Seriously, it's not a cry for help. Seriously, I'm fine.

Except at night. I'm quite bad at night time. I wet my bed. Not with wee, with tears. But those are actually tears of joy. Something that happens when I think of you - the 2oceansvibe readers - the air that I breath.

Christ this article is long. I must apologise. I think it's this wine. It's just so good.

I'm going to wrap this up.

That's it, my darlings. That's all I wanted to say. Just get your ass down to Revolution Records in Observatory, say hi to the guys in the shop, and have a little look around. Ask questions. Choose stuff. Then go home, turn off the TV and play nicely. Pull the records out of the sleeves and pop them on the turn table. Make a mess with the covers. Piss your bird off. Have a mid-life-crisis trial run. Or, if you're old enough and think you're ready, maybe THIS is the right time FOR a mid-life-crisis? You gotta do it SOMETIME!?

Lift the arm carefully and place the needle gently on the vinyl surface and enjoy the crackle as the first track on side one gets closer and closer - just enough time to sit back on the sofa, pour a glass and light a joint (OBVIOUSLY I don't smoke joints, Mum! But it SEEMS like the kind of thing COOL people would do. I'm trying to appeal to a wide audience here).

Do whatever you want, but just get some vinyl in your life.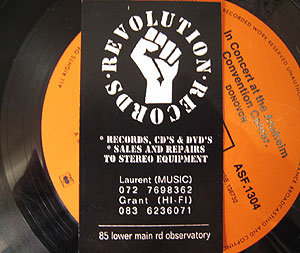 Oh, and, one of you have my Beastie Boys record License to ill. Can I have it back now please? You know who you are. Seriously, I'm not kidding, please give it back. I knew this day would come and I want it back now.

Thanks.


Seth Rotherham
Editor
2oceansvibe.com
[permalink]
p.s. This new vinyl vibe I'm going for is in no way related to my current fetish for red jeans



11 October, 2007
PRIORITIES
Get some
[permalink]

It's all there - you just have to get to it. Like with your car or something like that. I don't know - make a fucking plan.

Took these pics for you around 13h00 today, Thursday 11 October, 2007 - the Thursday everyone has been talking about since Monday....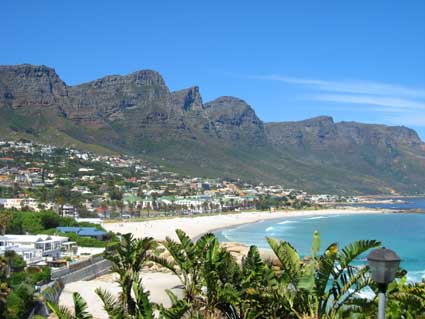 Where are you?

Seth Rotherham
Editor
2oceansvibe.com
[permalink]
28 September, 2007
"MY BAD"

IS

YOUR BAD
As Americanisms creep into the very fabric of our society
[permalink]

"Where were you yesterday? I waited an hour for you. I thought we agreed to meet for lunch?"

"Oh, God, yes I totally forgot. Sorry. My bad."

I fucking beg your pardon? YOUR bad? What in God's name are you talking about? What the fuck is a bad? Is this some sort of experimental social game that we're playing? Is everyone allocated a certain amount of "bads" per day and have to acknowledge when each one is used up? Are there "goods" as well? Can you rack up goods and use them to cancel out bads? What the muff is going on, man?

You're not going to get away with cutifying the situation with an Americanism that should stay an Americanism. You missed our lunch which I was going to forgive you for - but now, I'm afraid, we're never having lunch again - not if you're going to talk like that. Who are you anyway? Are your parents television sets? Cos that's what you were clearly raised by. You're a mini-TV and I'm just going to have to use the mute button on you.

Christ. It was fine to play American-American when we were kids, cos that was just how cops and robbers spoke - but we're all grown up now, guys.

Can we please act accordingly.


Seth Rotherham
Editor
2oceansvibe.com
[permalink]
17 September, 2007
2OCEANSVIBE DECLARES SUMMER OPEN
Come out, come out, wherever you are!
[permalink]

Oh yes! Crack open the shampiz, blow the dust off your shades, rub in the piz and promise not to behave - summer is here my baby and there's nothing you can do about it!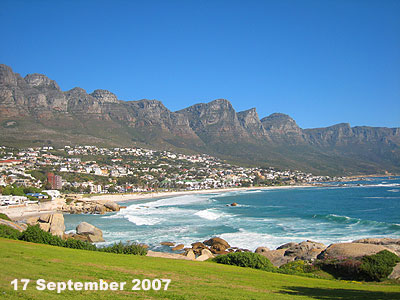 It's quite evident that summer has begun
Camps Bay was pretty empty when I found myself tip-toeing onto the beach, scared that a wall of clouds and accompanying rain would appear out of nowhere and gobble me up - sentencing me to a life of darkness living in caves with goths and tree people. But nothing happened. I cracked open my umbrella ella ella and calmly sat down on my towel, retrieving my iPod from the Carlucci's bag. I pressed play as the little black hard drive selected a song. That was when I new this was the beginning of summer. Out of NOWHERE, my iPod hit me with Long Cool Woman by The Hollies (click that link if you don't know what I'm talking about). OH MY GOD! I couldn't believe it. I fired up a tight little joint and took in my surroundings.

Hardly anyone else on the beach......, as I greased myself up and noticed that a glorious foreign woman to my right was clearly convinced that we had a connection. Hey take it easy, baby...it's gonna be a long summer....

One of our regular topless SMOKING-HOT blonde models left the beach after my first swim and only now am I really thinking about that ass she was throwing around on departure. God, you could crack a coconut on that thing! I think I know a little SOMEBODY who did some WORK during the winter. Good girl, Daddy is pleased.

I smashed a cocktail at Caprice, got back to the Bantry Bay pad (The Safe House is undergoing some alterations. Grrr!) and checked the weather forecast for the rest of the week.

Aaaah, look at that:


Laughable
If the top pic in this article is what they mean when they say "scattered clouds" and "22 degrees" (Monday above) then we're LAUGHING this summer. Maybe clouds is a new word for ass and they're referring to sightings of scattered ass everywhere.

Anyway, with the odd suspected drop of tame-rain on the weekend and more sun to follow, I think it's safe to say it - Welcome to Summer, people.

I'll show you some scattered clouds RIGHT THERE! Yeah, you like that?


Seth Rotherham
Editor
2oceansvibe.com
[permalink]
17 September, 2007
SETH RECEIVES MESSAGE FROM GOD
Crucifix carrying gentleman follows through with given task
[permalink]

Is it just me, or does this stuff happen to all of you? It's like The Truman Show or something. I feel like I'm being hit with these mind-blowing human-interaction incidents WAY too often. Just a couple of weeks ago I received a vision in the form of an angel wearing my orange Polo jersey - but I think that must have been a dream because she seems to have vanished.. I couldn't imagine things could get more crazy until I found myself driving along the Constantia Uitsig road in Constantia last week..

Up in the distance was a figure. I laughed to myself because from that far away it looked like the guy was carrying a cross of sorts - like a crucifix. IMAGINE! I mused to myself as I drove closer and closer to the guy, slowly realising that what I thought was true.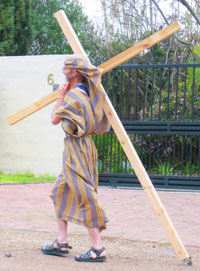 A vision
"JESUS," I shrieked during a phone call I was conducting with The Hand at the same time.

"What happened," asked The Hand.

"No....nothings HAPPENED, it....it..........it's JESUS.....I think Jesus is in Constantia! There's this guy carrying a crucifix down the road! What the fuck is going on here, man?"

"Naah, that guy's been doing that for years" reacted The Hand, calmly - as he should.......BEING The Hand.

I ended the call and parked on the side of the road ahead of him, waiting for him to get closer to me. I didn't know what I was going to do with him when he got to me, I'd just have to ride it out and see. Thank GOD I brought my camera. I popped it onto video mode and met the lone crusader - here is the interview:
So there you have it! If you for some incredibly sad bizarre reason are NOT able to see that video, I'll break it down for you:

Mark, the messenger from God, received a mission from The Lord through prayer. Poor guy! I must say that I count myself quite lucky with the mission I was set - that of keeping you smiling and to rid the world of bad people, idiots and losers. Shame, Mark got one of the more strenuous tasks, I'd say. To build and carry a crucifix on his shoulder! And not only that - I asked what sort of timeframe God was looking at for this particular mission. He said that, although he had been doing it on and off since 1991, this time he was going to continue doing it for "a lifetime."

A LIFETIME!? That is HECTIC BRU!

Bad luck - but good, I suppose. It's definitely going to keep you from sinning! I mean PHYSICALLY you won't even be able to get THROUGH the doors at Maverick's, let alone LUST over Eastern-European tricksters in a haze of liquor, pop music, smoke and sex.

Mark - just chilling..
So he (Mark) said God had a plan for all of us and that everything was happening for a reason. Religious or not, I told him that SOMETHING was definitely going on because I SOMEHOW remembered my camera and therefore had NO option but to put his video on 2oceansvibe - as a gift to the readers. So we kill two birds with one stone; I entertain the readers and Mark gets his message out even further.

Didn't Noah kill two birds with one stone or something? They fell out the sky and hit a rock and turned into wine I think. You'll have to look it up - don't quote me.

Seth Rotherham
Editor
2oceansvibe.com
[permalink]
28 August, 2007
THIS SEASON'S

MUST HAVE

ITEM
The Carlucci's canvas shopping bags
[permalink]

We're doing stealth-cool this season, boys and girls, and those in the know have already agreed on this season's most sought after item. The Carlucci's shopping bag.

With the overflow of Louis and Chanel on the Atlantic Seaboard it will be the hard-to-find locally exclusive, absurdly cool, distinctive symbol of of things understatedly hot - The Carlucci's Bag.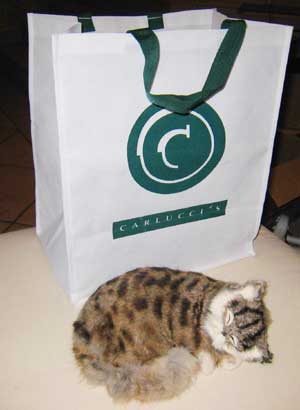 Homer enjoys the Carlucci's bag
I got mine today.

As a regular at Carlucci's (one of the stop-offs on the Cape Town Super Circuit), one develops a rapport with the manager and people on the till. I gave it a full go this week and pumped our boy with a R10 note into the tip box next to the till (noting that there was a R20 there already - something they must SURELY plant there - to "set the tone" as it were). Anyway, he was impressed with my gusto and bid me an exuberant evening.

I went to Carlucci's again this afternoon after a very exciting pre-summer cheeky hour-or-two on the beach. I was escorted through the shop and advised on what a great response the new Graham Beck sparkling was getting. I was amazed at the hands-on approach to service I was receiving. Giving in, I grabbed five of the bottles as I was awarded what was as close as one can get to a virtual applause from our boy.

We got to the till after agreeing that some people were indeed going to the beach today. We had a brief prayer session hoping and pleading that this was indeed summer breaking through after the HORRIFYING four-or-so months of winter we had managed to survive (as we (spoilt Capetonians) spend the whole of summer lamenting over how much longer it will last). It was at this point that the guy said to me, "Look, I'm going to give you one of these bags," as he looked at me with an expression that indicates that this is quite a big deal. I was well aware of the coolness and exclusivity that surrounds the simple, clean, distinctive canvas bags and acted normal, just DYING to get out of the shop so that I could celebrate in private.

So that's it, people. I've got mine. I'm ready.

I'm seeing it on the beach this season; filled with towel, snacks, drinks, music, phone, wallet and pot.

Seth Rotherham
Editor
2oceansvibe.com
[permalink]
28 August, 2007
WHEN YOU'RE ON TOP OF YOUR GAME
Microsoft Paul Allen's yacht, Octopus, cruises into Cape Town
[permalink]

I received an mms on my phone (Well, it's the HTC TYTN, so it's more a lifestyle than a phone) from The Marketer on Sunday morning. It was a picture he must have just taken on his phone (also a lifestyle). It looked something like this (click to enlarge) :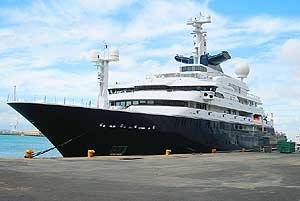 "Octopus" - read the message on the phone
Oh my sweet fuck, I thought to myself, as I dialed his number, urgently wanting to know if this was a prank, or if Microsoft Paul Allan's yacht, the fifth largest super yacht in the world, Octopus (the second largest not owned by a head of state) was actually docked in Cape Town.

"It's there," he confirmed.

I must say I was a little miffed that I wasn't first phoned, urgently, before time was wasted on taking a photo and mms'ing it to me. I mean, what if it suddenly had to leave!

I instinctively phoned The Entrepreneur and said I would pick him up immediately to go and have a look. We headed for the boat, two cameras on hand - just in case.

R100 got us through the security gate as we approached Octopus from behind (QUIETLY from behind). Enjoy these pics. Click to enlarge.

Octopus enjoys it from behind

A tidy shitter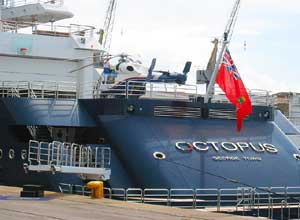 A little chopper for the boys
Two words - Mind Fuck.

It's like nothing you can imagine. The boys on The Atlantic Seaboard swooning over their Gallardo's need to get everything into perspective and raise their game a little bit. Yachts like this shit out the likes of Cape Town's previous perves, The Ferretti 761 (you might remember when Caprice took us out for a day on the Ferretti), from the side of the yacht just to get to shore.

Noting the two luxury 4X4's parked next to the yacht, we agreed that although vast, wealth of this sort was certainly attainable. We just had to work a little harder. Please enjoy the helicopter on the back (one of three, including the Sikorsky S76). To the top-left of the zoomed in pics of the helicopter above, you will also note the basketball net above the garage.

I took the liberty of finding some pics on the web universe for you. These pics include, the submarine, the swimming pool, the downstairs bar and spa, a couple of the yacht's tenders (part of seven boats docked in the yacht's transom, used to fuck around with and get to shore).

Enjoy.


Here we see the naughty little Sikorsky S76 (one of three choppers) on the back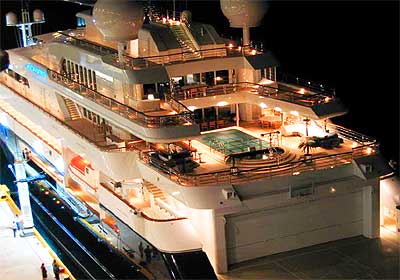 The pool deck. Note, the lower part of the boat in the pic is where
the chopper was parked earlier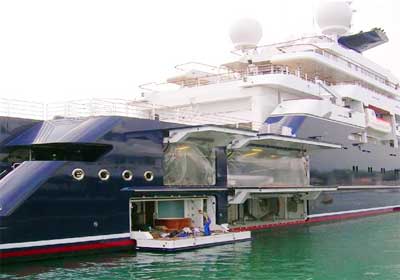 A little bar and spa where we can hang out on jet ski's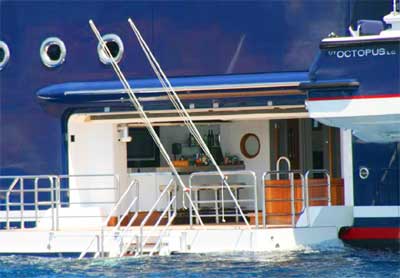 Make it a Windhoek, ship-mate!

Octopus farts out one of the "tenders"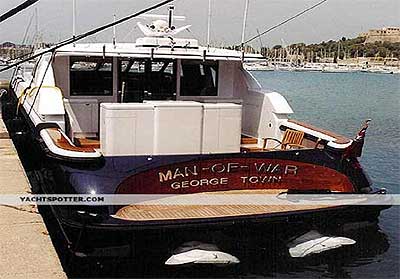 One of seven "tenders"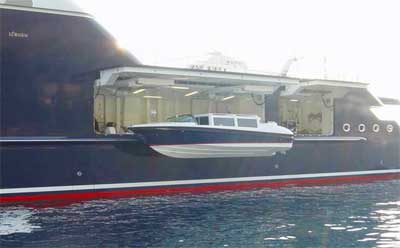 Aah, look! Another one!

A quiet sub
So that was quite fun, hey? I don't know how long the thing is in town but if it is still here you simply MUST try and take a look. It'll blow your socks off. It's parked at the harbour's "D-berth." Turn right at the first circle as you come into the Waterfront's main entrance - heading towards The Clocktower. Go straight and turn right at the next (might be one after) circle that comes up after that. Drive straight through and it'll be on your left. Look carfefully cos there is a building in the way. You can get to a fence facing the front of the yacht quite easily which is more than enough to enjoy it. Or you can be a little crafty and also try your luck getting through the gate on the other side. Wear your smooth-talking shoes and visit and ATM before you go.

Have a good look at it.

Aim higher, guys.


Seth Rotherham
Editor
2oceansvibe.com
[permalink]
17 November, 2006
THE CAPE TOWN FRIDAY RULE
For the LAST time now - LOUD AND CLEAR
[permalink]

You know, just when I thought everyone knew the rules, some arsehole always seems to phone about business, or schedule a meeting, after one o' clock on a Friday.

Absolutely bizarre! Who ARE these people?

Can't you see everything work related ceases to exist after one on a Friday? Can't you see that even the "working" Capetonians drink beers at their desks from one on a Friday?

Here is an idea of things to do on a Friday. Have a look at these pics taken last week when the ocean forgot how to make waves for five days.
(With apologies to the ex-pats)
Back to the story. I'm talking about those guys who like to pretend. You know the ones I'm talking about. Those 'meeting hunters' who feel that nothing can be accomplished without a physical hour together. They duck and dive and cheat and lie to trick you into having a meeting. But that's not the end of it - they've got your hand and they're not stopping till they rip the whole fucking arm off.

"Hey Seth! I was thinking we should have that meeting we chatted about towards the end of the week. How does that sound?".

[I'm already quite edgy at the mention of the words "towards the end of the week". To be QUITE honest, I personally can't find a more comfortable time than 10h30 on a Tuesday for a 40 minute meeting]

"Umm, ja.....cool....I suppose. When were you thinking?", I stutter.

[I use a tone of voice that, I hope ,indicates how HORRIFICALLY awkward I am feeling. My tone of voice could probably be compared to that of a 10 year old boy boy reluctantly agreeing with a priest that playing with his penis is a good idea]

"Well, I was thinking three o' clock on Friday"

[Sweet Mary, Mother of God. Is this guy on crack?]

"I beg your pardon", I allow him to rethink.

Our boy is clueless, "I said three on Friday is looking good for me", he repeats.
WELL ITS NOT LOOKING GOOD FOR ME, FUCK NUT!
And so we are forced to lie about a conference that is going on "the whole of Friday". Shame on you for making me lie!

I don't know who these people are and I don't know what they're trying to prove, but no-one is impressed. Maybe they're new in town and they haven't heard about the rule. Maybe they're from Jo'burg and they're trying to show us how HARD and LATE they work. Well I am VERY impressed! You guys work VERY hard, now get me a gin and tonic with a twist of lime.

If you MUST have a meeting on a Friday, the only one you can do is the one at 10h30 at Caprice. That's the one that goes on until the sun sets. Chat about business for ten minutes, then relax-ay-vu. In fact, I think that is what I''m supposed to be doing with James Stewart tomorrow. We're collaborating on a new album.

Are we on, Jammo?

Seth Rotherham
Editor
2oceansvibe.com
[permalink]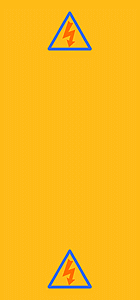 PLAY THE WORLD'S
RICHEST LOTTERY!
CLICK HERE


CLICK HERE FOR
NEW GOLDFISH CD
"Perceptions of Pacha"


BUTLERS PIZZA
(Cape Town's #1)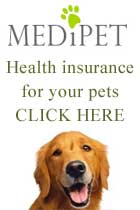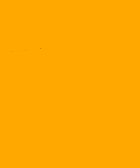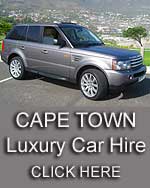 Sea Point



Gorgeous 3 bedroom
furnished ground floor apartment with
private courtyard.
R12,000 a month
CLICK HERE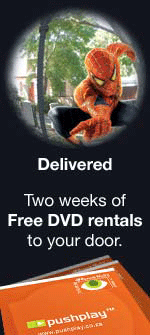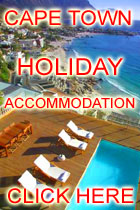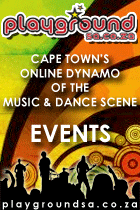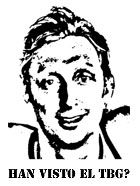 Have YOU seen the TBG?
CLICK HERE
To order your TBG
TBG-shirt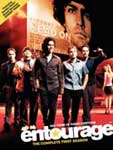 ENTOURAGE DVD
SERIES 1, 2 & 3
CLICK HERE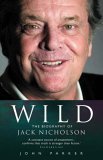 JACK NICHOLSON
BIOGRAPHY- "WILD"
READ REVIEW &
BUY THE BOOK
CLICK HERE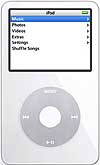 IPOD FROZEN?
CLICK HERE
to reset iPod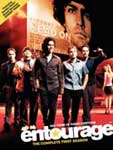 ENTOURAGE DVD
SERIES 1, 2 & 3
CLICK HERE


YOU MUST READ
THIS BOOK
CLICK HERE


CLICK HERE FOR FREE VODACOM
UPGRADE CHECK

IMPORTANT
MESSAGE
SETH TALKS TO
THE PEOPLE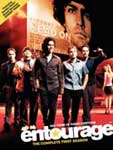 ENTOURAGE DVD
SERIES 1, 2 & 3
CLICK HERE


BELOW YOU WILL
FIND A LIST OF
SETH APPROVED
CAPE TOWN
THINGS & SERVICES